If you want a car that drives like a MINI Cooper, but with more interior space and a higher ground clearance, the MINI Countryman is your best option. Since its introduction in 2010, it's never been sold without an internal combustion engine. The hybrid model with an electric range of up to 25 miles doesn't count since it doesn't offer the full benefits of driving an EV.
The upcoming 2025 MINI Countryman will be its first all-electric model, which will make it even more exciting to drive if you love the go-kart experience. But that's not all; it will be the largest MINI Countryman ever made and bigger than any MINI vehicle. The gasoline-powered MINI Countryman model will also be available with a six-speed manual transmission. It doesn't get any better than this.
The all-electric MINI Countryman will be offered in two models — the Countryman E and Countryman SE. The MINI Countryman E is fitted with electric motors on the front wheels that can produce 150 kW/204 horsepower and 184 lb.-ft of torque. If you step on the accelerator, it should hit 0 to 62 mph in about 8.6 seconds.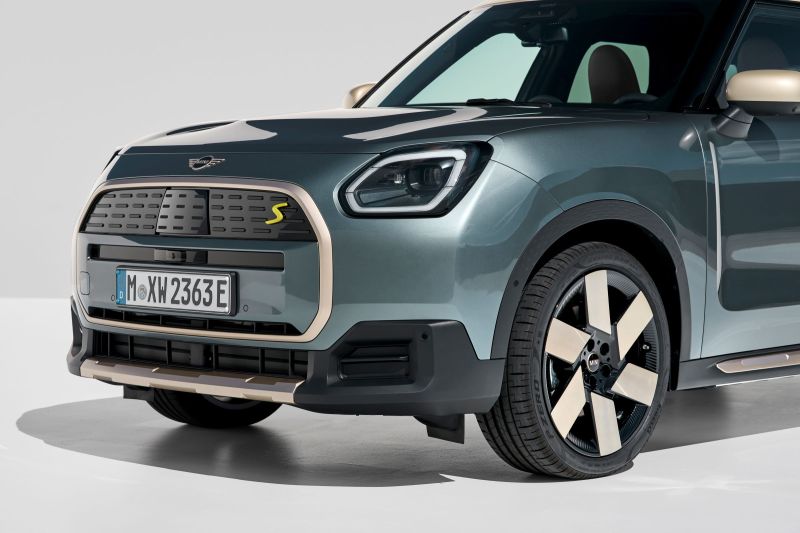 The MINI Countryman SE is where things get more interesting. It comes with two motors for an all-wheel drive performance that makes it thrilling to drive. It's also the most powerful MINI Countryman ever made since it can deliver up to 313 horsepower and 364 lb.-ft of torque due to its 230 kW motors. As for the acceleration, it can achieve 0 to 60 mph in 5.6 seconds — but it's still not quicker than the turbocharged MINI Countryman JCW.
Even though the MINI Countryman SE has a better performance than the MINI Countryman E, it has a lower battery range. More succinctly, it has a range of 269 miles, while the Countryman E offers a range of 287 miles. This isn't surprising, considering Countryman SE has traded a longer battery range for top-tier performance — the faster it accelerates, the quicker the battery drains. Nevertheless, the range of the MINI Countryman EV is still impressive if you compare it with its competitors like the Kia Niro EV and Hyundai Kona Electric, which have a lower battery range.
Interestingly, the new electric MINI Countryman EV is more of a small SUV than a large MINI. It has been redesigned with a longer wheelbase, a higher exterior, an increased width, and larger wheels. Since it doesn't have an engine, it offers more interior space and a bigger luggage compartment.
It also comes with all the interior features available in the recently unveiled new MINI Cooper Electric, including a central OLED display, intelligent personal assistant, and panoramic glass roof. Besides that, other optional features, such as massage and trailer hitch that aren't available on the MINI Cooper Electric, have been included. Of course, BMW didn't forget to add the Go-Kart Mode.
The 2025 MINI Countryman EV is expected in U.S. dealerships by September 2024, while the 2025 gas-powered models are expected to be delivered in early May of next year.
Editors' Recommendations