We here at The Manual have covered plenty of RVs, from go-anywhere, off-road-ready models to utilitarian, ultra-light travel trailers. However, if you're looking to really road trip in style, few companies do it better than Airstream. The iconic brand is stepping up its game yet again with the 2018 Airstream Atlas Touring Coach, its most luxurious, most chic, and most expensive coach to date.
To be clear, this is an RV for those who feel "only the best will do." The list of customizable, high-end finishes includes teak inlays, leather seating, and exotic fabric accents.
The Atlas packs a surprising amount of essential and luxury features into a compact space. A full 73-inch Murphy Suite folds into the wall when not in use. There's a three-piece bathroom with Kohler fixtures and a swanky kitchen that's probably better than the one in your apartment. The hideaway, 40-inch smart TV disappears into the countertop at the push of a button; centralized touchscreen panels provide ready access to the lighting, entertainment, and climate control systems; and a Bluetooth-enabled Samsung Soundbar with built-in woofers pumps out high-end audio.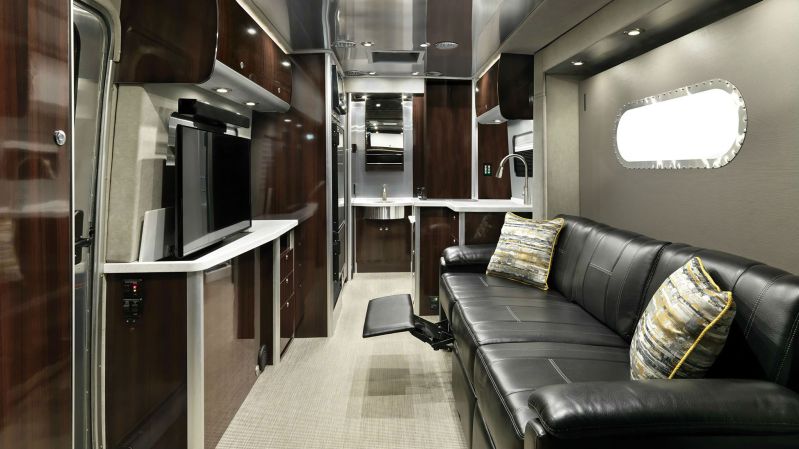 The list of other legitimately useful features is just as long, including a tankless water heater to ensure unlimited, instant-on hot water; a quiet 3.2kw diesel generator; a power sunroof with sunshade; and standard solar panels to provide all the electricity you're going to need to power these high-tech features.
Airstream partnered with Mercedes-Benz to incorporate some of the car maker's most revolutionary tech into the Atlas' inner workings. Every coach includes a solid list of standard safety features like collision prevention assist, multiple exterior cameras, lane-keeping assist, and Load-Adaptive ESP, and Air Ride Suspension systems for an ultra-smooth ride. Plus, a boatload of airbags is at the ready in case your road trip gets a little too exciting. The entire affair is powered by Mercedes' 3.0L V6 turbo diesel engine to balance power and fuel economy.
Like everything in Airstream's catalog, the Atlas doesn't come cheap. Add in the Mercedes-Benz underpinnings, and it's no surprise the price tag starts at a cool $215,900.
Feature image courtesy of Airstream/Facebook.
Editors' Recommendations