On August 21, 1959, Hawaii officially became the 50th state in the U.S. and in no time at all American travelers embraced their newfound tropical vacation destination. Fast-forward 60 years and the state still tops the bucket-lists of Americans.
The island chain composed of black, white, and green sand beaches, crystal clear waters, and year-round sunshine, is also home to some of the world's best and most relaxing beach resorts. One such resort is the Westin Hapuna Beach on Hawaii Island's Kohala coast. Built in 1994, the property recently underwent a 46 million dollar renovation which saw The Westin Hapuna Beach turn away from the traditional beach resort draw of too much sun and alcohol, and instead reoriented its focus on health and wellness.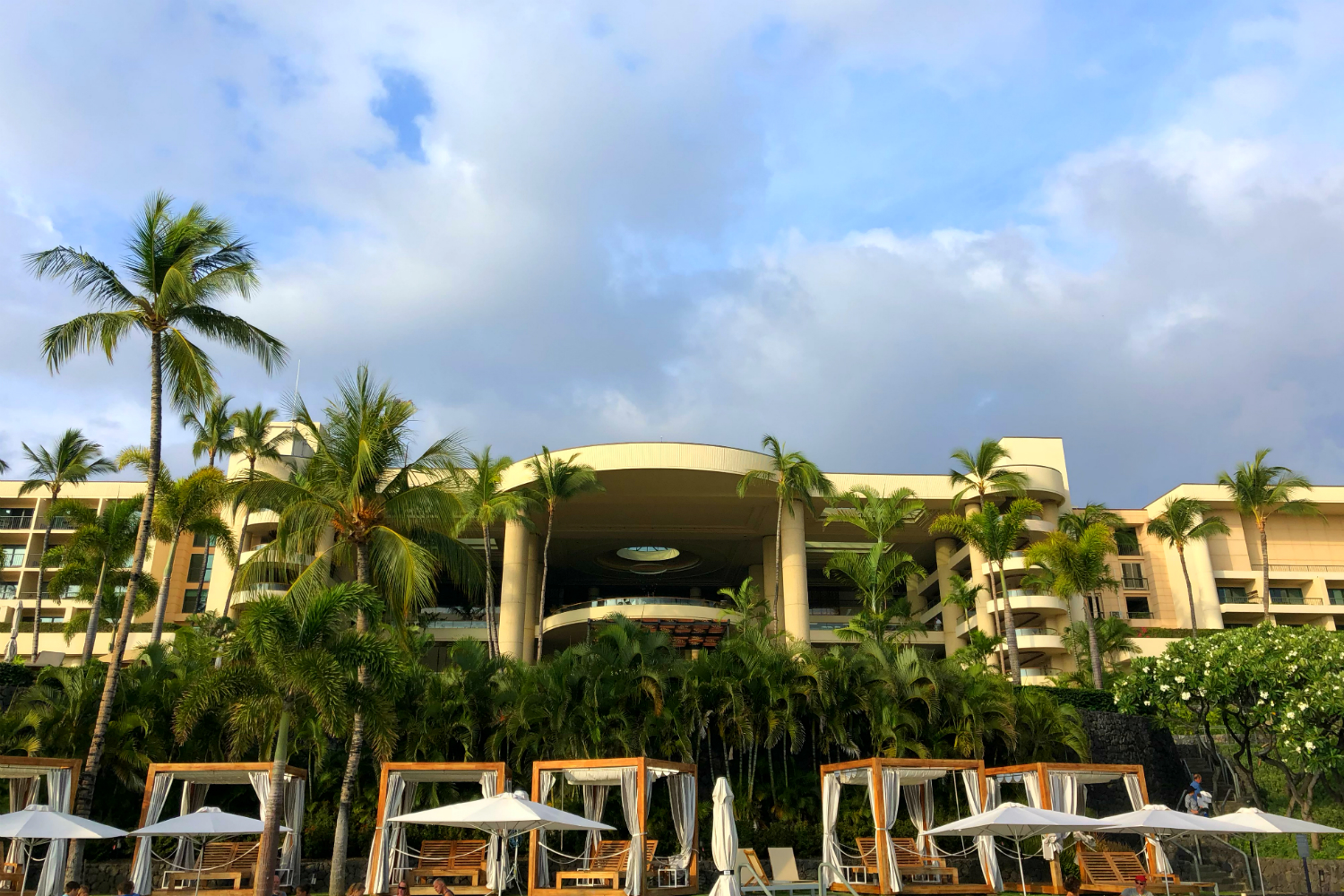 Supporting that endeavor is the resort's updated look. Gone are the 90s architectural elements and instead, a refined, almost Mid-Century Modern meets Relaxing-Spa-Sleek aesthetic dominates. Upon entering the hotel, guests are welcomed first by an expansive and breathtaking view of Hapuna Beach and the Pacific Ocean beyond. The multi-story, open-air lobby that makes up the heart of the resort is home to the check-in and concierge services on the upper floors, and, down a stunning double-staircase with a water-inspired chandelier above, the dining areas, bars, lounge spaces, and terraces that lead out to the multi-level pools reveal themselves before emerging onto the stunning centerpiece of the property – its vast, sandy beach.
Accommodations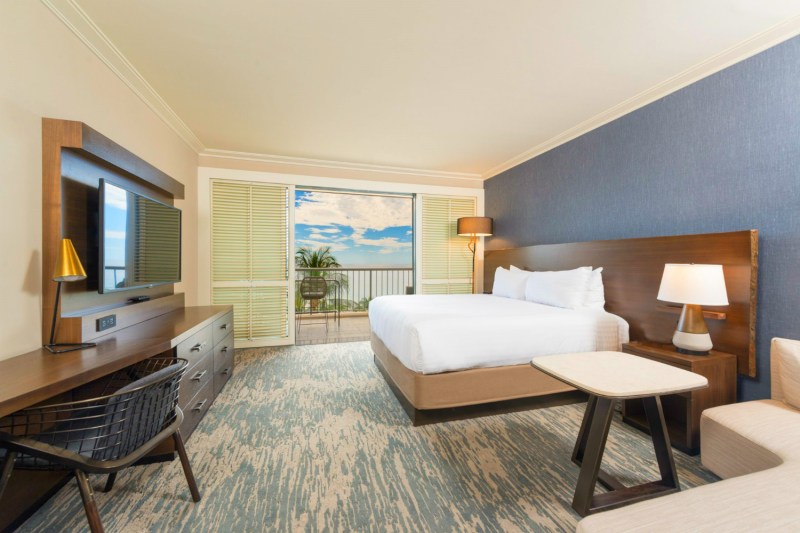 Enhancing the property's public areas are recently refreshed room and suite options for any type of guest – whether a solo traveler looking to get away from it all, the honeymooning couple, or the family man with 2.5 kids in tow. Room categories range from king partial-ocean view rooms to premiere ocean suites. All rooms, no matter their location offer ocean views and private lanais that feature soft, comfortable outdoor furniture. Each of the 249 guest rooms and 17 suites also features the brand's signature Westin heavenly bed (a pillow-topped mattress specifically designed to cradle you like a sleeping baby), flat-screen TVs, data ports, a Westin Heavenly Shower, double sinks, a wet bar, and a seating area. Overall, the rooms are spacious and well-appointed with tasteful and comfortable furnishings, large glass patio doors that look out onto the ocean, and soothing color schemes that lull guests subconsciously into a deeper state of relaxation (at least, that's how we felt).
Beach and Pools
While hotel rooms are well and good, what everyone really goes to Hawaii for are the pools and the beaches and The Westin Hapuna Beach has both in spades.
Hapuna Beach
Hapuna Beach is a half-mile long crescent of white sand edged by green hills and rocky cliffs and bordered by ultramarine waters that are calm enough on most days for swimming, snorkeling, and floating. The Westin Hapuna Beach offers lounge chairs and umbrellas – which are a true necessity if you plan on spending more than a half-hour at the beach since it gets very hot and the sun can be fierce. But enduring the heat and light is worth it to relax on one of the best beaches in the state of Hawaii. Be aware, that the beach, like all beaches in Hawaii, is open to the public and this particular one also happens to be a state park, so occasionally crowds do form, but they mostly stick to the southern end of the beach opposite the property.
Pool
Two pools make up the freshwater fun at the Westin Hapuna Beach, with the larger of the two designated as the general pool area where both children and adults can swim, float, play, and relax. Ringed by cabanas, loungers, and umbrellas, the lower pool is large, warm, and welcoming. Grab a drink from the nearby bar and sit a spell as your kids splash in the shallows. If you're without children though, you're going to want to head up to the adults-only pool.
The sound of trickling water drowns out the usual resort noise and provides a place for peaceful rest and restoration.
Adults-Only Pool
The resort's adults-only pool is smaller but far more relaxing. Small koi ponds dotted with lily pads are perched above the pool and boardwalks and seating areas are interspersed on small platforms. It's touches like these that make the adults-only pool truly integral to the property's goal of health and wellness. The sound of trickling water drowns out the usual resort noise and provides a place for peaceful rest and restoration. We spent the majority of our pool time in the adults-only pool (and hot tub) and didn't regret it in the slightest. Like the lower pool, cabanas, loungers, umbrellas, and palms surround this space, ensuring there's always a shady spot to take a few moments out of the sun.
Health and Wellness
Hapuna Spa by Mandara
Do not go to Hawaii without treating yourself to a massage or a spa day. Sure, some men might find getting a massage daunting (if you're one, please read our guide on what to know before you book your first appointment), but we can guarantee that after the first ten minutes of feeling awkward, the gently kneading of muscles and the working out of knots will make you forget you ever had feelings and emotions like stress, tension, anxiety, and anger.
While any treatment from the Hapuna Spa by Mandara will send you off into a spa-drunk la-la-land, we recommend the Hawaiian Lomi Lomi Massage, the traditional massage of Hawaiian royalty; the deep tissues massage; the fire and ice massage which involves heated basalt stones, an ice-cold gel, and melted wax; and the myofascial release treatment – a process where a therapist uses rollers on your major muscles to work out knots and soreness and increase mobility. You can also get a few crazier treatments like sound wave therapy and hand and feet acupressure.
Westin Workout Center and Crossfit Studio
Just because you're on vacation doesn't mean you can let your fitness goals lapse. The Westin Hapuna Beach Resort wants to help you in any way they can. In fact, if you forgot your workout gear, their lending program will set you up with a fresh set of New Balance clothes and kicks for the duration of your stay. Once you get your workout gear, head down to the Westin Workout Center and Crossfit Studio to get your sweat on. The gym has it all: Cardio equipment, free-weights, a squat rack, and literally an entire area dedicated to Crossfit – not something you see in your average resort of hotel, meaning you'll never have to miss a WOD while on vacation at Hapuna Beach. The gym is open 24/7 too, allowing easy access for early risers and night owls alike. The Westin also offers fitness classes such as spin, barre, body sculpting weight-lifting classes, cardio classes, and water fitness education.
Activities
While many people head to Hawaii to literally lie on a beach for seven days, others want to branch out and be a little more active. Working out and spending some time on self-care at the spa are all well and good, to really experience Hawaii Island, it's best to take advantage of one of the many outdoor activities that The Westin Hapuna Beach has to offer. From kayaking to snorkeling to volleyball and surfing — Hapuna Beach has it all. Additionally, further inland, the 175-mil long Ala Kahakai trail winds its way around the property, making for a perfect jaunt through Hawaii Island's dry, northwest coast.
For fans of golf, the resort also boasts an 18-hole golf course designed by none other than Arnold Palmer. Additional golf amenities include a driving range, putting green, clubhouse, rentals and lessons.
And finally, when in Hawaii, take the opportunity to educate yourself in the local culture by participating in one of the Westin's many cultural activities that occur throughout the week. Offerings include learning to chant, lei making, and hula lessons, among others. For more information, see the property's Aloha Ambassador in the hotel lobby.
Dining
Dining options abound at the Westin Hapuna Beach Resort. Start your day with a delicious and fresh breakfast buffet at 'Ikena Landing. With everything from traditional American breakfast ingredients like bacon, eggs, sausage, and pancakes to traditional Hawaiian foods like poi to more Asian-influenced foods, there's a breakfast for anyone with any taste. And, keeping with the Westin's theme of health and wellness, fresh fruits, yogurts, smoothies, and greens abound for those who want to keep up their healthy diet while vacationing in paradise.
For drinks, snacks, or coffee during the day or evening, head to the Piko Coffee + Bar area for Kona Coffee, grab-and-go lunches, delicious drinks (like the classic Mai Tai), and small bites. Perfect for after-dinner drinks or a midday snack, Piko Coffee + Bar also offers up unparalleled views of the beach and headlands beyond.
If hunger strikes while at the pool or beach, head over to Naupaka Beach Grill for salads, sandwiches, poke bowls, drinks, beers, and other lunchtime and midday food and beverages. And finally, when it's time to do dinner at the Westin, make reservations at Meridia, the Westin Hapuna Beach's signature dining experience built on a Mediterranean menu full of locally sourced and healthy ingredients. Craft cocktails, traditional drinks, and local beer also make an appearance on Meridia's drinks menu.
Travel Packages
Silver Jubilee Package
For $25,000, two guests will receive: 7 nights/8 days suite accommodations; a Jeep rental car; helicopter transportation between Kona Airport and the resort; $2,500 food credit; $250 credits each for beach activity rentals, Mandara Spa at Hapuna and Mauna Kea Resort Shopping; unlimited golf at Hapuna Golf and Mauna Kea Golf Courses at Mauna Kea Resort; a private cooking class followed by a romantic dinner for two; complimentary daily pool cabana; a one-hour photo portrait session; Moonlight Manta Snorkel; premium seating at Mauna Kea's award-winning Lū'au; Big Island Spectacular tour with Blue Hawaiian Helicopters; an island snorkel cruise; and choice of one Hawai'i Island eco-tour adventure with Hawaii Forest and Trail. To reserve, guests must call 808-880-3301.
25th Anniversary Package
In celebration of the resort's 25 years, they are offering special savings on accommodations, golf, food & drinks and beach rentals throughout 2019. Guests will receive 25% off nightly room/suite rates; 25% off green fees at Mauna Kea Golf Course and Hapuna Beach Golf Course; 25% off beach rentals and activities; and 15% off at Meridia Restaurant. This offer is valid for stays taking place through December 21, 2019, and requires a minimum stay of six nights and seven days. To reserve, guests can book online using promo code ER7 or call 808-228-9290 and ask for promotional code ER7.
Editors' Recommendations