Hawaii is one of the most unique places on the planet, with so many captivating qualities we won't even try to count them all here. Instead, we'll focus on one in particular — the Rainbow State's many romantic restaurants.
Taking your special someone to Maui or the Big Island for a week by itself is nothing new and remains a gift that keeps giving long after you return to the mainland. However, a visit to America's charming archipelago can be place immediately in your vacation hall of fame with the right meal in the right spot. It could be anything from world-class seafood on a rooftop in Honolulu to slow-cooked pork in Kauai, enjoyed al fresco right next to the beach.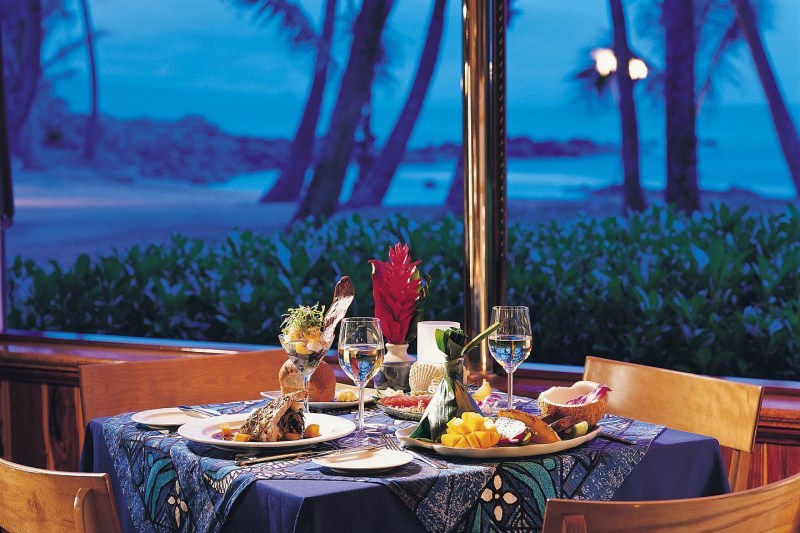 Now, it's worth mentioning a few things. While you're probably in vacation mode and throwing your ethical compass to the wayside, do recognize that the vast majority of Hawaiian ingredients are imported. Yes, your meal will be expensive. Yes, it probably took more resources than usual to make that meal possible. Don't let that sway you; simply acknowledge it and plan accordingly. When you're not going for that once-or-twice-in-a-lifetime dinner, though, seek out local farm stands, cook at your place, or sniff out eateries that support local growers.
There are also plenty of tourist traps, all made tolerable by the fact that it'll probably be 74 degrees while you're eating with the smell of tropical flowers filling the air. But worry not, we've done our homework and set you up with the restaurants that will absolutely wow you and your significant other. Here are the most romantic spots to dine in Hawaii.
Big Island
ULU Ocean Grill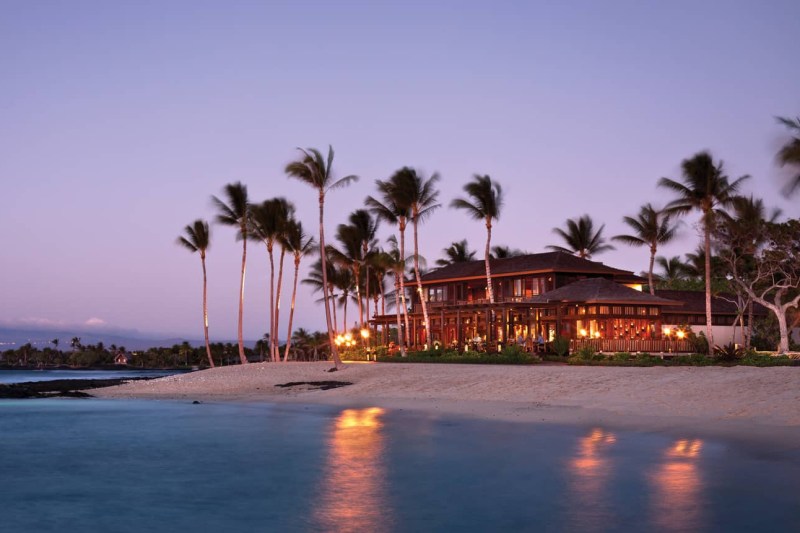 Oceanfront, check. Four Seasons, check. The ULU Ocean Grill has a lot going its way, stationed in a remarkable hotel on the Kona side of the Big Island. There's a tiki flair, for sure, but tastefully so. If you like omikase, this is a great spot to do just that. The menus also feature a solid beverage program along with quality steaks and some incredibly fresh seafood options. The octopus comes atop some red-hot charcoals and the broiled King Crab leg is a wonder to behold. All of this, of course, while sitting on one of the best lanai's in the land.
CanoeHouse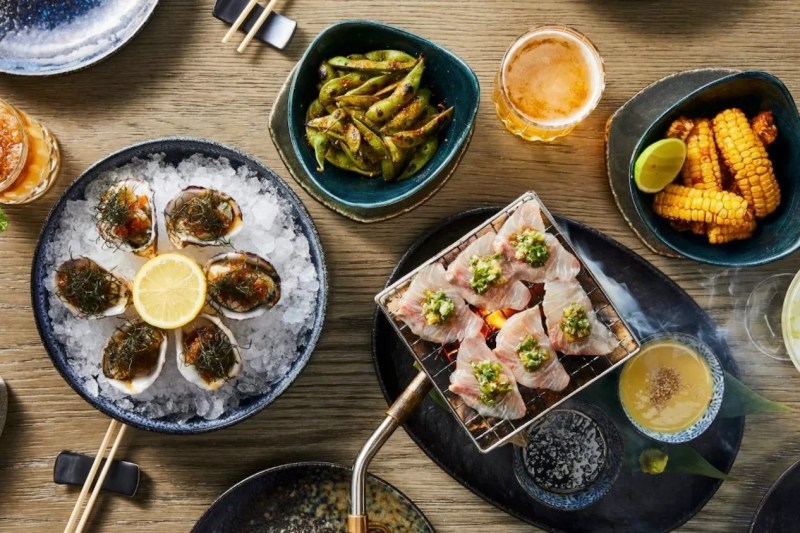 CanoeHouse resides in one of the most picturesque spots on the Big Island, in the northwest corner near the charming small town of Puako. The restaurant is fetching in every way, from the adorable bar to the organic decor and setting that simply slides right into a lapping ocean shore. Typically, when there's a tasting menu we say go for it and that's certainly the case here. The chefs are skilled and can nudge you in a direction that will satisfy every last taste bud, whether that's a marinated Big Island chicken, smoked pork jowl, or radish salad with crispy salmon skin.
Maui
Morimoto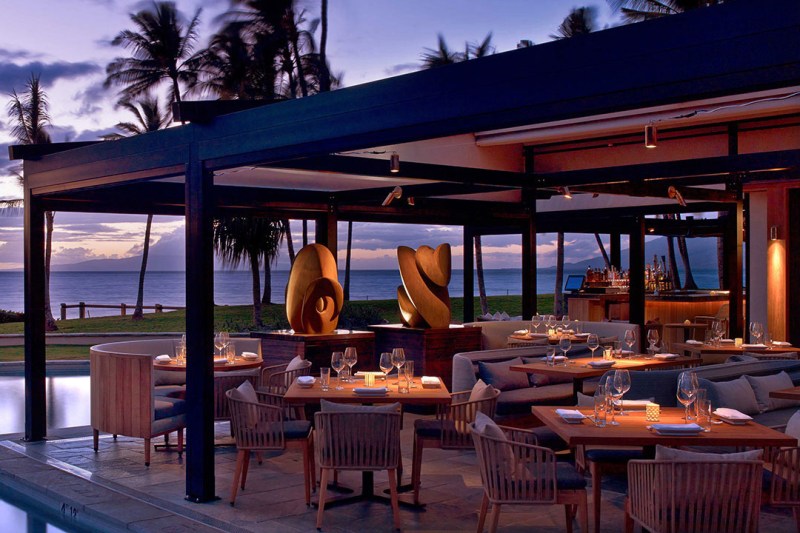 Dining poolside is fun but not always elegant. It very much is at Morimoto, though, where the chic al fresco setup mirrors the artistry that shows up on the plate. It's hard not to feel like a celebrity here, dining at a very private establishment. Most know the Morimoto name, at least from Iron Chef fame. Here, the lauded Japanese chef is at his very best, creating contemporary dishes and a chef's menu that's not to be missed. The chef loves to riff off of classic recipes and make them his own and the drinks list is more than impressive, whether you're after a cocktail, wine, sake, or shochu.
All of the raw meat appetizers are great, from poke tacos to wagyu beef carpaccio and tuna tartare. The steak game here is great and there's always a local catch of some kind that's worth inquiring about (and sometimes prepared right at your table). Come for a romantic late lunch and let it spill into an early dinner. You're going to settle into the cozy furniture nicely and just about everything on the menu is inspired and worth checking out.
Mama's Fish House
The wait to get into this longstanding restaurant on the north shore of Maui usually runs anywhere from three to six months. So, plan ahead. There are many reasons why this place has captivated diners since it opened its doors back in 1973. The views are remarkable but so too is the food, built around tight bonds with local fishermen and plated before some eye-catching Polynesian decor. Mama's Fish House is a worthy icon, where you can wallow in wonders like macadamia nut crab cakes, mahi mahi stuffed with lobster, or Polynesian-style salmon cooked in a ti leaf. And you can do it all to the tune of amazing service and an atmosphere you just don't get anywhere else.
The Mill House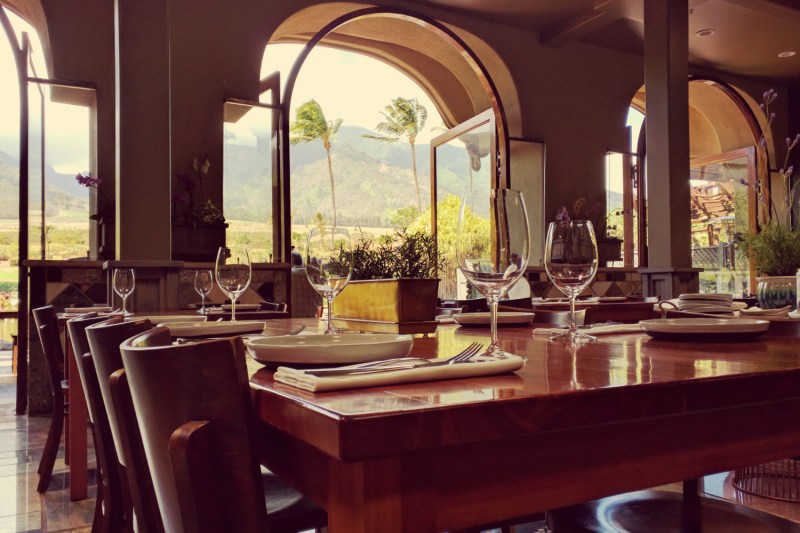 There's romance in the hidden places, too. The Mill House is set in inland Maui in a town called Wailuku, touting extraordinary island views. It's a plantation with a bunch of draws, including a great restaurant. You and yours will love the chef plates, like sliced fish crudo or pork musubi. If tonight is a major night, go for the steak, cut from local livestock, treated to a coffee glaze and joined by potato puree and caramelized ali'i mushrooms. So what if you're not on the beach. You're at an old mill house overlooking a breathtaking valley, and eating well to boot. You'll feel a little like a local in on a delicious secret, making the meal all the more memorable.
Oahu
Hoku's
If you want a memorable meal out while in Honolulu, hit Hoku's. The restaurant, set in the luxurious Kahala Resort, is where chef Jonathan Mizukami flexes his pedigree. The culinary mind worked a number of Michelin star-awarded restaurants before landing in Hawaii, and he merges French traditionalism with local nuance and some new-age magic. If you're not up for a full dinner this is a great spot to brunch. And if you're not into meats, there's a stellar eight-course tasting menu built around veggies.
The most romantic move is probably the grand tasting, a rotating eight-course affair showcasing area surf and turf. There's so much attention to detail with these dishes, evidenced by the confit of Hawaiian bigeye, served with roasted hearts of palm, mushrooms, Meyer lemon, puffed rice, and smoked fumet. And you can't beat that sunset light that filters through the big restaurant windows, rather romantically.
Senia
Romantic dining should be sexy and Senia knows as much. The dishes are among the best looking along the island chain, worthy of a spot on the gallery wall. The menu is so playful and charming it's practically flirtatious, from snack items like smoked ahi cigars with tamarind and yuzu aoili to citrus cured hamachi served with lilikoi, grapefruit, and charcoal oil. Plus, the atmosphere is steamy, from the velvet booths to the elegant bar stools. Stick around for dessert, as it tends to be very tropical and ideal with a corresponding nightcap to finish off a perfect evening.
La Mer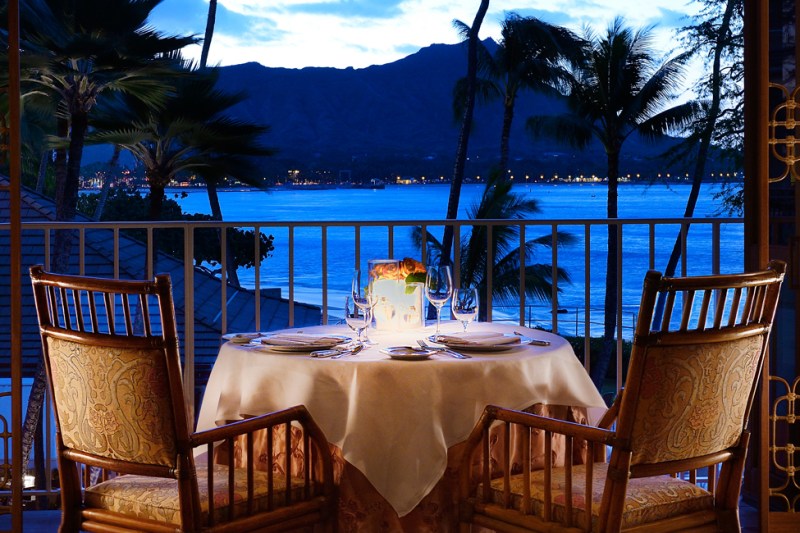 Go to Hawaii for the beaches and volcanoes and stay in Honolulu for the food. There are high-end options all over, but few as highly rated as La Mer. As you can see, the dinner theater is quite nice, especially if you get a prime table staring right at Waikiki Beach and Diamond Head beyond. It's formal in all the best ways, so dress the part and ready yourself for some truly posh service. It's a classic, having been on the scene for more than three decades, and it's a realm where you're invited to be decadent. Think seared foie gras, caviar, and truffle-adorned dishes executed expertly. You and your partner will leave very, very happy.
Kauai
Beach House Restaurant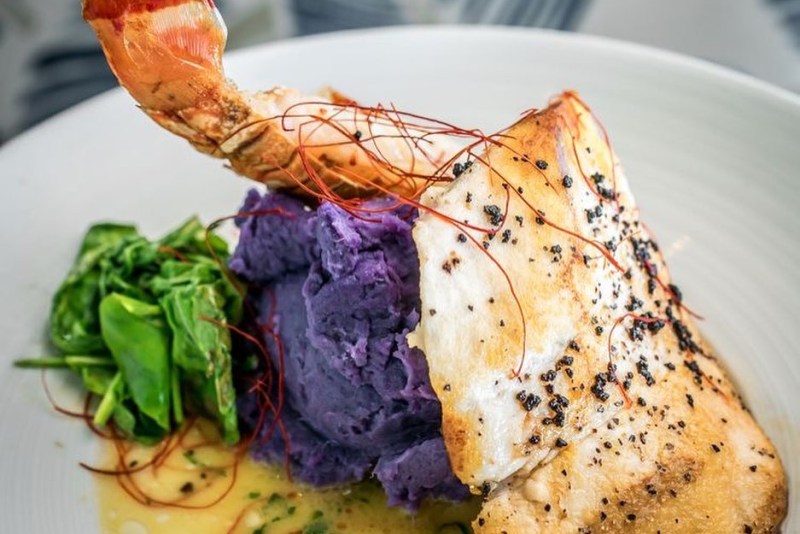 At Kauai's Beach House, start with a signature cocktail and ease your way into some lobster-deviled eggs. Move on to a generous salad made from area ingredients before diving into some seared ahi or a seafood pasta. There's a lively atmosphere at play and there's a good chance you'll befriend the folks at the table next to you, and maybe even buy them a round. After a leisurely and satisfying meal, you'll want to get married there, as many do.
Editors' Recommendations