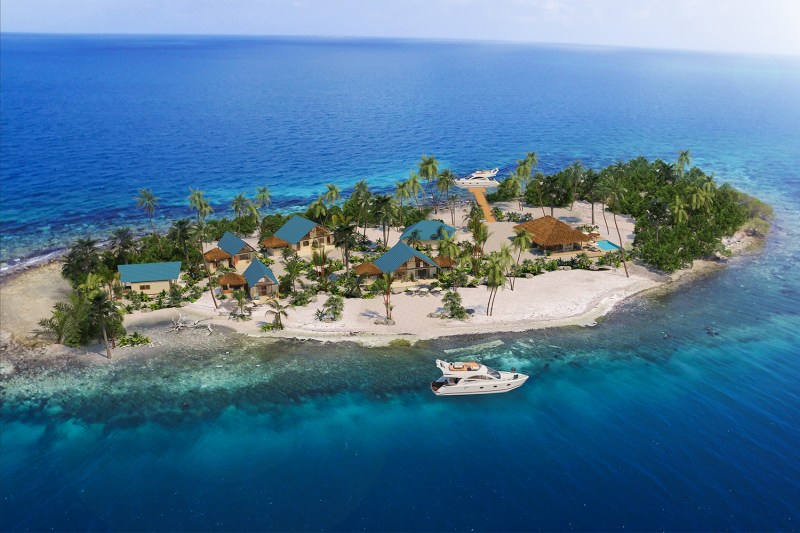 According to this year's top travel trends, 2019 is shaping up to be the year of spontaneous travel and the digital nomad. However, it's also looking to be the year of big group travel — nearly half of Americans planning a getaway with four or more people. Vacation home rental provider VRBO is kicking off the trend with their Win the Island Sweepstakes, an over-the-top, all-expenses-paid vacation for you and your entire squad.
Just one lucky winner will score the opportunity to bring seven of their closest friends to Kanu Island. The stunning private retreat is located off the coast of Placencia in Belize. The ultra-luxurious accommodations include a weeklong stay in the island's five exclusive beach homes; an on-call gourmet chef; a massage therapist; a personal concierge; unlimited use of kayaks, paddleboards, and snorkeling gear; and 360-degree views of the Caribbean Sea from the island's acres of pristine beaches. The grand prize package also affords the winner a $5,000 travel stipend to get you and your closest friends to and from the island. Should you wish to escape "back to reality," the mainland is just a few minutes away by private ferry.
For the unlucky among us who don't win the Win the Island Sweepstakes, The Enclave on Placencia Caye will be available for rent for $2,925 per night. If that sounds a little too rich for your blood, consider that, with a maximum capacity of 28, that breaks down to just $105 per guest nightly. That's less than a three-star hotel in most medium-sized U.S. cities.
VRBO's Group Getaway Collection includes other group-friendly properties to cater to every type of dream vacation for you and at least a dozen friends. Nashville's The Gallery Loft, for example, is a designer artist studio perfectly situated in the Historic Printer's Alley district amid the city's famed nightlife scene. Chateau de la Paix is a stunning 19th-century French chateau located near Omaha Beach in Normandy. For a true ultra-luxe Mediterranean getaway, Villa Elena offers up to 17 guests a private pool and lush gardens with panoramic sea views overlooking the Amalfi Coast.
Even amid the stunning tropical destinations of Central America and the Caribbean, Belize stands out. The tiny coastal country is home to almost every imaginable form of outdoor adventure from diving with whale sharks near the iconic Blue Hole to trekking with jaguars in the jungle to hiking centuries-old Mayan ruins.
Entering the contest is simple: visit VRBO's official Win the Island Sweepstakes page by the end of this month, fill out a few basic contact details, and you're in. Winners will be announced sometime after March 1, 2019.
Editors' Recommendations