With good reason, Belize is routinely ranked as one of the best dive destinations in the world. But there's also a lot going on in this pint-size Central American country topside and on land. Here are a few of our favorite places to play, eat, and sleep in coastal Belize.
PLAY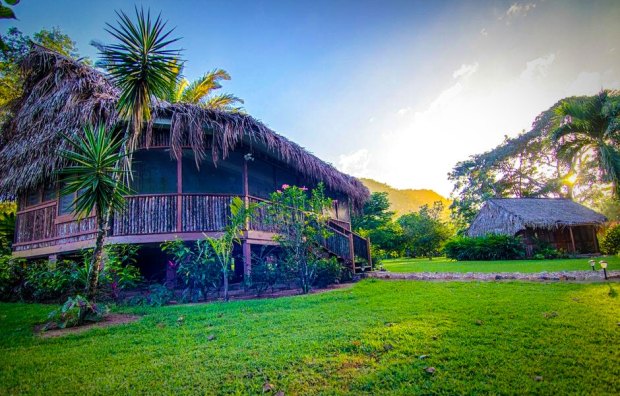 Twenty minutes inland from the Caribbean Sea, the Mayflower Bocawina National Park is home to some of the country's best land-based activities. With more than 7,000 acres of rainforest to explore, travelers can choose from dozens of adventure tours. Ziplining, rappelling, cave canoeing, and deep spelunking are all on offer. With a dirt-cheap entry fee, visitors can also opt to explore the park and its untouched Mayan ruins on their own (assuming they're okay with the occasional jaguar encounter).
Related: An Island in the Sun: Pelican Island, San Blas Islands, Panama
EAT
From a culinary perspective, Belize does two things very, very well: ceviche and marinated pork. The former is easy to find throughout coastal Belize. It's not a particularly difficult dish to create — seafood, lime juice, a bit of vegetables, and seasoning. But the quality of the country's locally-caught seafood takes the typical ceviche experience to a whole new level.
Habanero Mexican Cafe & Bar in Placencia offers a taste of authentic Mexican with a helping of traditional Belizean plates as well. Their Cochinita Pibil (sometimes called "Pibil Pork") is a centuries-old Yucatec-Maya dish of slow roasted pork. The meat is marinated in citrus juices and seasoned with garlic, onion, allspice, and annatto seed paste before being wrapped in banana leaves and roasted for several hours. It's big, bold, and (with the requisite Marie Sharps hot sauce) plenty spicy! Wash it down with a Belikin (the country's national lager) and watch the sun set over the adjacent marina.
SLEEP
For a taste of "real deal" Belize, the tiny fishing village of Hopkins has plenty to offer. Its rocky, unpaved roads, open-air artisan shops, and general "rough around the edges" vibe all provide a sense of authentic Belizean charm. Situated in the center of town, the rustic Coconut Row Guest House may not look like much from the outside. But it's hard to argue paying $75 USD nightly for a private, modern cabin twenty feet from the Caribbean Sea.
Travelers — particularly honeymooners and gentlemen looking to impress — will find much more in the country's western style accommodations. Twenty miles offshore from the town of Placencia, Hatchet Caye Resort offers exclusive accommodations on a stunning private island. Guests have direct access to the Belize Barrier Reef (the world's second largest after Australia's Great Barrier Reef) with some of the best snorkeling and water-based activities on the planet. The reef is situated on a migration path for dozens of marine species, including whale sharks. This level of luxury doesn't come cheap, but the nightly rates are a pittance relative to comparable accommodations elsewhere in the world.
Editors' Recommendations