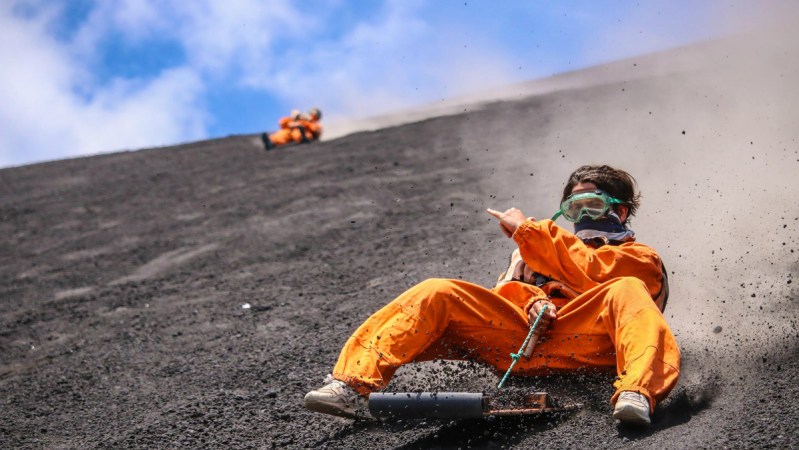 Volcano boarding, or volcano surfing, is just as intense as it sounds … but you won't be riding through a barrel of liquid magma. Volcano boarding is an extreme version of sandboarding, which you can do all around the world. With volcano boarding, however, you need just the right type of volcano, and currently, there are only two places in the world where you can do it. One: Nicaragua. Two: Republic of Vanuatu, a South Pacific island.
Most notable for volcano surfing, though, is Cerro Negro ("Black Hill" in English) outside León, Nicaragua, an inactive volcano where people come from around the world to strap into a board and shoot down at speeds of roughly 30 mph. Yes, you'll be dusted with black soot once you reach the bottom, but consider it a badge of courage! And those grains are important. The soot that covers Cerro Negro gives the volcano the perfect texture ripe for boarding. So far, roughly 40,000 thrill-seekers have taken the plunge (or slide, rather).
How It Works
Join an excursion group that knows what they're doing, provides the gear, and transports you to and from the volcano. Bigfoot is one such company — you'll conclude the day at their exclusive Bigfoot Beach House — or there's Mas Adventures and Tierra Tours.
The out-of-pocket cost is roughly $38, according to Trip Advisor, plus a tip for your stellar guides. (Keep in mind, fellow adrenaline junkies, that hobby skydiving is $250 a pop.)
When it comes to preferred departure time from León, opt for the afternoon. That way your adventure ends as the sun sets over the black hills. Would you rather arrive by rental car instead of a tour? To each their own. Be ready for some rough "roads" on your way to the base. Oh, and leave your luxury watch and any clothes you don't want getting filthy behind.
Once you've arrived, sling a wooden sandsurfing board over your shoulder and trek up Cerro Negro. The path is narrow but defined, and the hike itself is epic. Be prepared for mighty winds as the elevation rises, but take pleasure in the lush and green vegetation of the surrounding hillsides. At the top, enjoy a glimpse of the Pacific Ocean before suiting up.
Slip on your full-coverage, mouth-to-ankle jumpsuit; leather work gloves; and protective eye goggles. Make sure your shoes are sturdy and cover your feet (some places will also provide metal sandsurfing boots). Obviously that means no sandals, boys. Unlike the ocean, you won't find multiple boarders heading down at the same time. Here it happens one by one, and eventually it'll be your turn.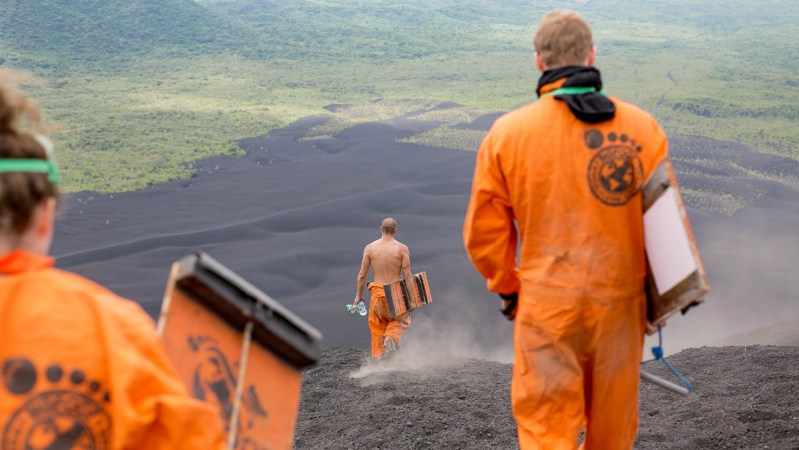 Depending on your athleticism or daring, you can ride the volcano board like a snowboard or surfboard, or you can sit on it like a sled. Once you push off, the distance from top to bottom gets covered quickly, especially if you have a need for speed (pull up at the rope connected to the tip of the board to go faster).
Note: Just because you stand up doesn't mean you'll go faster. Sitting is often more fun because your low center of gravity propels the board, especially if the track is smooth from previous use.
Keep in mind, people do get injured when they lose control of the board, so test the waters (or lava?) before going all in on your first run. If you do lose control, relax and breathe, because you're gonna get scraped up either way. Tensing your body can result in greater injury.
The ride will be rough, as volcanic rocks aren't as smooth as the waves or snow. However, the boards are covered with a layer of metal on the bottom, so don't worry about damaging your tush. In the same tune, don't try skimming your hand against the ground as you're surfing down. Rocks. Are. Sharp.
Feel the rush? Yeah, buddy! Volcano surfing is no joke. It was rated No. 2 on CNN's "Thrill Seeker Bucket List" and as the No. 1 thing to do in León on Trip Advisor.
Finish the day with a hand-rolled Nicaraguan cigar. You've earned it.
Editors' Recommendations