Leon, Nicaragua is one of the best towns in Central America for adventure travelers. It appears bashful at first sight; small, desolate streets lined in the faded glory of golden, copper, turquoise and emerald Spanish Colonial buildings belie that this is Nicaragua's second largest city. It's hot and humid. Oppressively so during my 3pm arrival—a two and a half hour journey from the Managua airport via taxi and public bus—so most everyone's inside.
Once settled at my hostel—La Torguga Booluga ($16 for a private room), I grabbed an ice-cold 50 cent beer while I waited for the sun to take a chill pill, and began organizing the next four days. I probably should have done more research—my room was un air-conditioned, and I later found out that the nicest hotel in town, Hotel El Convento, a gorgeous peristyled hacienda with AC, a swimming pool and filled with antiques, began at only $97 a night. But for now I was glad of the company. A Swiss girl who was living in Leon for a few weeks to learn Spanish, gave me an evening tour of the town.
As soon as the sun broke, the streets filled with "tias" and "abuelas" gossiping while lazing on 70s styled sugar cane rocking chairs sitting outside their homes with the doors wide open to reveal reliquary's worth of Jesus paraphernalia. Children played in the street and groups of young adults congregated outside of taquerias. With absolutely no tourists, save for the few backpackers scattered about, Leon was happening all around me, completely unaware of itself. It felt plucked from a Gabriel Garcia Marquez novel, more so than any town in South America. It's the rare Central American city that feels so safe once the sun goes down, and before I even started the adventure in earnest, I'd fallen in love.
Leon is between 3 and 5 hours northwest of Granada, Ometepe and San Juan del Sur, Nicaragua's most popular tourist attractions, so one of the most common questions hotel owners and locals ask is, "Why are you here?" My answer, like most of the others who ventured this way—to climb and surf active volcanoes.
Volcano Surfing
Cerro Negro is a gunpowder black cone of pebbles and ash that stands in stark contrast to the surrounding rolling green hills and perfectly blue sky. It is just 2,388 feet above sea level and formed in 1850, making it one of the youngest and most active volcanoes in the world. And it's the setting for a burgeoning adventure sport called volcano surfing (or volcano boarding), that started in 2006. It's about an hour and a half drive from Leon through sugar cane, corn and sesame farms. Once there, you're given a volcano board (a plank of wood with a reinforced bottom) and a jumpsuit so that volcano ash doesn't get into your clothes. After an hour hike up, we ambled around the active crater, taking sweeping 360 degree photos of the countryside. Our guide kicked up some of the dirt to show just how active the volcano was: just a few inches down, sulfuric gas began to escape. Our path down is a 1500-foot drop at 45 degrees and we're told our max speeds can go up to 30 miles per hour. I approached it toboggan style, as did everyone else, sitting and controlling speed by digging my boots into the ash. It was a thrilling 10-minute joyride. Our guide surfed down snowboard style, on two feet. We were back in Leon by about 2pm.
Possibly See Lava Boil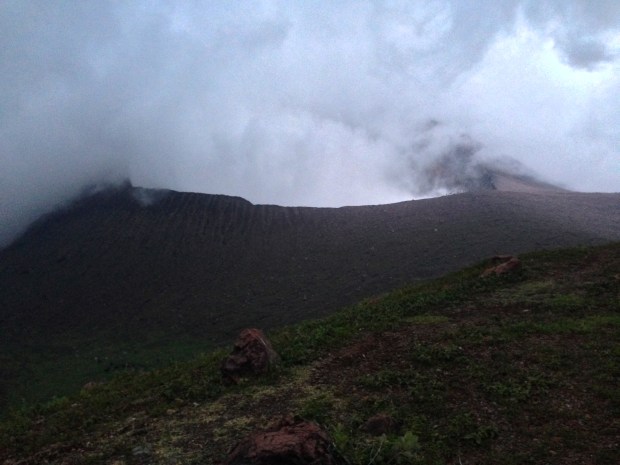 Telica is one of the few places in Central America where you can see lava bubbling inside of a volcano. There are a few ways to approach seeing it—morning hikes, sunset hikes or multi day camping experiences. Since it's rainy season and mornings are oppressively hot, I shoot for the sunset hike. It's about an hour and a half drive from Leon and the hour or so hike up is very easy, minus the constant plume of toxic, sulfuric gas that the wind relentlessly sent in our direction. Luck was not on our side and the gassy wind obstructed any possibility of an upclose view of the lava. And then a storm rolled in. It thundered loudly and I saw lightening so close that I could see the liquid like detail of its bolt. Our guide nervously told us to hustle down. Once off the summit, we were safe and the 45 minute, wet run-walk back to the van was thrilling in and of itself for being in such close proximity to a storm…on an active volcano. It wasn't what I had hoped for, but it was a unique experience.
The Hardest Volcano in Nicaragua to Climb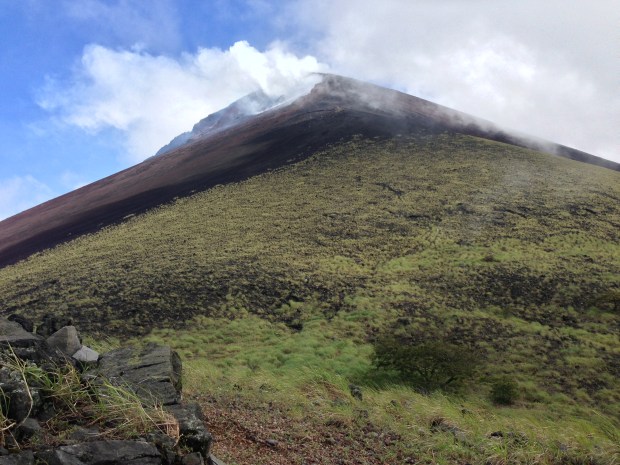 Bragging rights are fully earned on Momotombo, widely considered the hardest climbable volcano in Nicaragua. It begins in the swampy jungle, but soon becomes a steep, superheated oven of volcanic ash. "One step up, two steps back," is a common phrase associated with this monstrous peak, and one that I found true as I began snow angel-ing my way up on the treacherous last 45 minutes of the 4 hour ascent. Added to the challenging terrain is the sun. I sweat off any SPF within 10 minutes of hiking and, in a heat-induced craze, had stripped down to a tank top so I could maybe catch a breeze. I came back with the worst burn of my life. I've climbed ice capped, 20,000-footers in the middle of hail storms that were less scary. But the summit was worth it. At the top is an angry crater few ever get to see, set against the brilliant countryside. And the camaraderie of the group extended well past our hike down as we met up for beers later that night to relive the harrowing experience.
Las Peñitas Beaches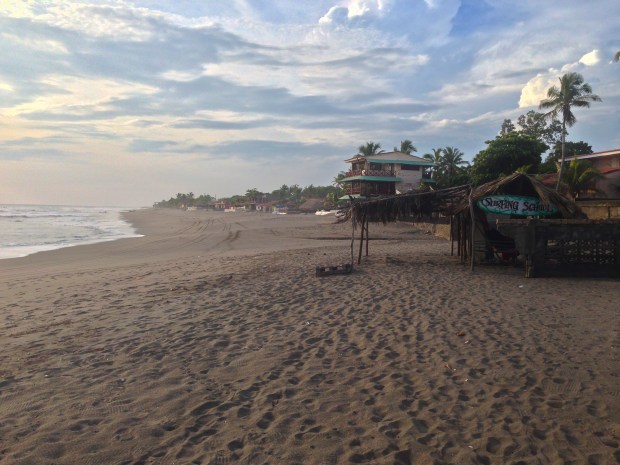 It's not all hard work in Leon. It's actually possible to summit a volcano (or surf it) and then finish the day at the beach (maybe taking surfing lessons), which is what I did after surfing Volcano Negro. The public bus from Leon to Las Peñitas is 50 cents and takes about 45 minutes. Ask the driver to take you to the second "playa", which butts up to a natural reserve called Isla Juan Venado. To the left, the beach stretches out for a few miles with natural pools and beach rivers where fishermen keep their boats, until it hits a mangrove. I wandered and watched as fishermen climbed into the boats and motored them over the crashing waves at the shore. To the right, the beaches are smaller but still quiet. A few lazy looking surfing schools and hostels, homes and restaurants line the beach. I found "Bar la Curvita" where ate a plate of freshly fried fish and downed a cool Toña beer for $2 while the sun dipped into the ocean.
Leon Cathedral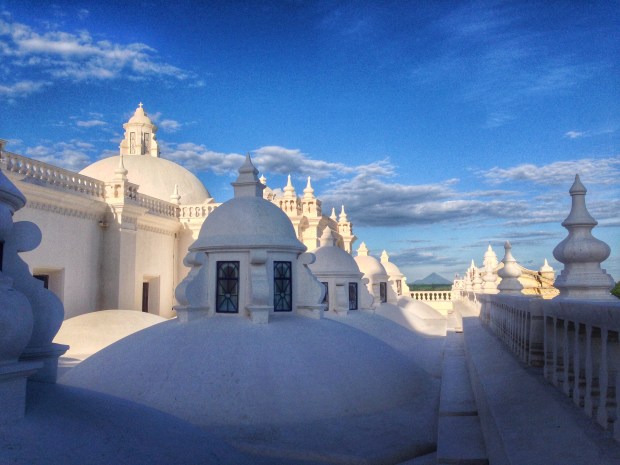 Leon is best explored early morning or at dusk. It is magic because it exists for itself; you're just there to see it, so grab a map and just wander. But, the one tourist place you should see is the rooftop of the Leon Cathedral. It is painted white daily (shoes must be removed before walking) and is covered in minarets that resemble something out of Turkey or Greece. From there, you can gaze out upon the entire city plus the green countryside and take one of the best photos possible in Latin America.
Nicaragua Vacations specializes in customized tours of Nicaragua.