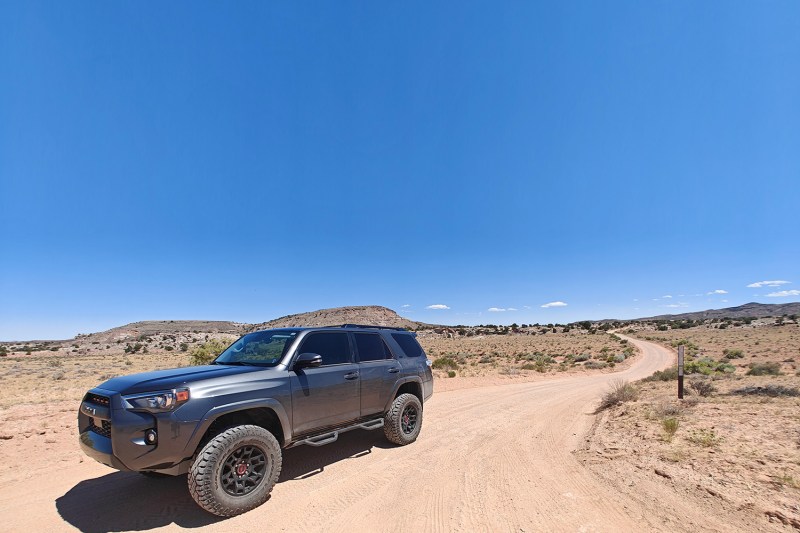 Most travelers don't like renting a car. But it's a necessary evil to be able to get around while we're on vacation, visiting family halfway across the country, or needing a way to get from the conference to the hotel and back again on our latest work trip. Whatever the reason, the process is rarely fun. It's tedious, time-consuming, and usually involves a lot of legalese-laden paperwork most of us never read or understand. Something about not taking the car to Mexico or driving it into the ocean, I think?
Some big-name rental agencies caught onto this recently. Years ago, Hertz began offering special Hertz Collection vehicles, like its Premium Collection (which includes BMW convertibles, Infiniti sedans, and Mercedes SUVs) and the Adrenaline Collection (full of supercharged Mustangs and Camaros). But those are only available at limited airports, and the rental process is still a hassle and very expensive. Unless you're renting a fancy car for your wedding or another special occasion, the cost is probably a factor.
In the words of the inimitable Billy Mays, "There's got to be a better way!" I'm happy to tell you there is. It's called Turo. At the risk of making a very lazy analogy, it's essentially Airbnb for cars. I tested out the service on a recent trip to Utah and found it far more convenient than the traditional rental car route. Plus, it was cheaper, and the car selection was way more interesting. If you're looking for Turo reviews, here's my first-hand experience with a Turo car rental.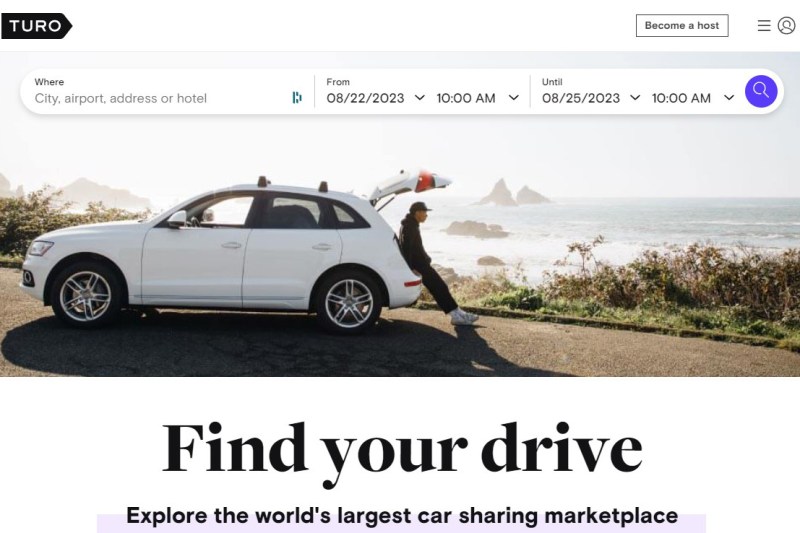 What is Turo?
Similar to Airbnb and other property-sharing services, Turo is a car-sharing marketplace. Almost anyone with a halfway decent vehicle can offer theirs for rent. They pick the available dates, the daily rate, and have the option of offering additional add-ons — things like unlimited miles, prepaid fuel, or roof racks — for a fee. Prospective renters search Turo's website like they would when searching for a vacation rental. They find the car they like, pick the dates, supplemental insurance, and any add-ons, and confirm the reservation.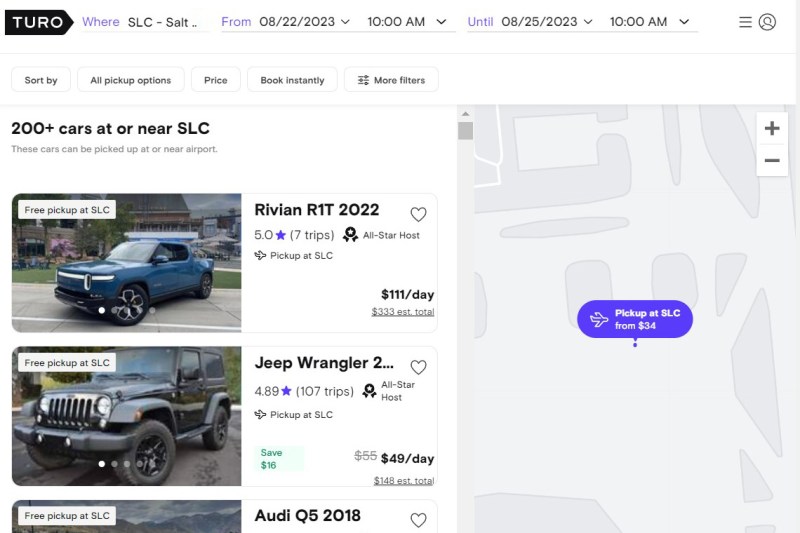 Finding a rental car on Turo
The site allows you to filter by make, model, vehicle type (e.g., SUV, Minivan, Pickup Truck, etc.), number of seats, and more. The search also includes a "Category" dropdown with options like "Fast and Fun," "Backroads-Ready," and "Elite," in case you're looking for inspiration without knowing exactly what vehicle you might want. You'll find almost every imaginable make and model of car available, from entry-level compact sedans to beefy, 4×4 rock-crawler Jeeps to fully-optioned minivans to Bugattis.
Not surprisingly, I found that the number of cars available is related to the size of the destination. There are more vehicles and a better selection in larger cities versus small Midwest towns, for example. The vehicle types usually correlate to the destination, too. So, you'll find more convertibles available in, say, Miami versus Fargo, North Dakota. In my case, plenty of Jeeps and 4Runners were available in Salt Lake City — not surprising, considering how many travelers head to Utah for camping and outdoor adventuring.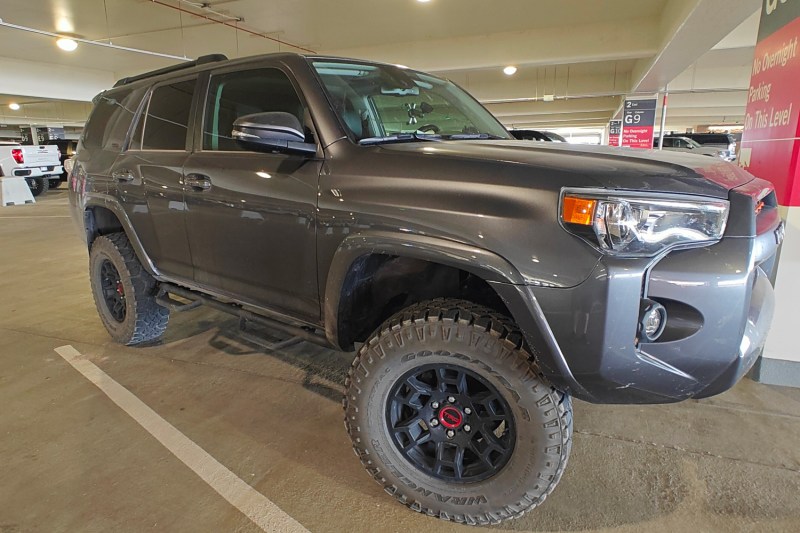 A review of the Turo car-sharing marketplace and my rental car experience
I had planned to arrive in Salt Lake City (SLC) and head east to spend a few days in and around Capitol Reef National Park. I narrowed my preferences to either a Ford Bronco (my first choice), a Toyota 4Runner, or a Jeep Wrangler. When I started my search a couple of months out, I found plenty of listings for all three vehicles. But I made the mistake of waiting too long, and all of the Broncos were rented by the time I decided to book — a reminder that the inventory can change quickly on Turo, especially during peak summer travel season.
I was able to score a 2023 4Runner SR5 Premium with beefy offroad tires and a three-inch lift kit. It was the perfect rig for exploring the wilds of southern Utah. It's the sort of vehicle that just isn't available from any traditional rental car company that I'm aware of. What's more, even if I found a company with a vehicle like this, it'd be hard (if not impossible) to guarantee that exact make and model when it came time to pick up my ride. In most cases, they only guarantee a category, like "Compact Sedan" or "Pickup." With Turo, you pick the exact car you want to rent, and it's guaranteed.
Some owners offer airport pickup (for an extra fee, in some cases), but I got lucky and picked up the 4Runner without a surcharge. After landing in SLC, I walked straight from my gate to the airport's hourly parking garage. Contact-free pickup meant the keys were waiting for me in a lock box on the truck's trailer hitch, and the owner had already texted me the code. I gave the truck a once-over inside and out to confirm everything looked good, then I snapped a dozen photos to upload through the Turo app to prove everything was in working order. I texted the owner to confirm everything looked good, started up the 4Runner, and was on my way.
During my five-day rental, I had zero issues with the vehicle. It was showroom clean and meticulously maintained. The owner responded to the few questions I had in a matter of minutes. Because of Turo's user feedback system (similar to sites like Airbnb and eBay), it's easy to find well-reviewed owners with high-quality vehicles, so I knew I was renting from someone professional.
How much does a Turo car rental cost?
The total cost will, of course, depend on the type of vehicle you're renting, where you're renting, what insurance plan you choose, if you opt for add-ons, and potentially how many miles you drive. This is the breakdown for my five-day trip picking up and returning in Salt Lake City:
My rental included way more miles than I knew I would need, and some owners offer unlimited mileage either for free or as a paid add-on. You can save money by booking early and booking for multiple days or even a week.
The most expensive line item on any Turo rental (aside from the daily rate) is the insurance. In most cases, you'll probably want to opt for Turo's own insurance. But this might be unnecessary if your existing auto insurance carrier provides coverage. It's worth calling them to confirm, though, so you're not left with a potentially exorbitant bill if you get into an accident or your Turo ride is otherwise damaged or stolen.
Some owners offer paid add-ons that vary depending on the destination and the type of car you're renting. In coastal locations, for example, you might find convertibles available with children's car seats, beach chairs, and beach umbrellas as optional accessories. In Utah, I saw quite a few rentals (including my own) offering optional coolers, camp chairs, portable refrigerators, and even premium rooftop tents. With the right rental, you can basically "kit out" your vehicle for whatever adventures you have planned without worrying about packing your own gear. Again, this is something that just isn't available from traditional rental car agencies.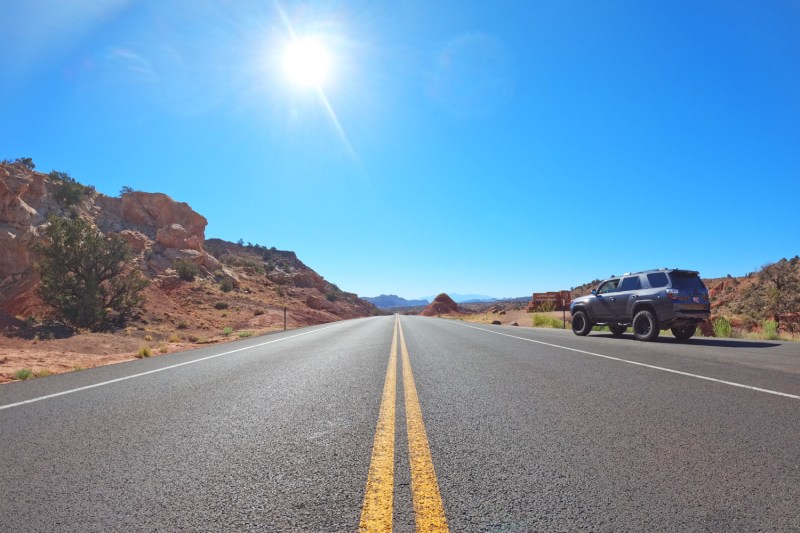 Final thoughts on my Turo car rental experience
Renting through Turo was significantly easier than the usual hassle of hunting around for the airport rental car counter, having to possibly take a shuttle to get there, waiting in line for who knows how long (I had to wait for over two hours in Miami once), signing a ton of confusing paperwork, dodging the usual "hard sell" of the rental company's extra auto insurance, finding your vehicle in the sea of rental cars in the garage, and — well, you get the gist.
From the time I touched down in SLC to driving out of the parking garage, it took less than 15 minutes. That's mostly because all of the formalities and paperwork were handled through the Turo website before I arrived, so all I had to do was land, find my car, and go.
Bottom line: I would recommend a Turo car rental to anyone for the convenience, the savings, and the "fun factor" of being able to find a car you actually want to drive rather than one you're stuck with out of necessity because it was "what they had on the lot."
Editors' Recommendations