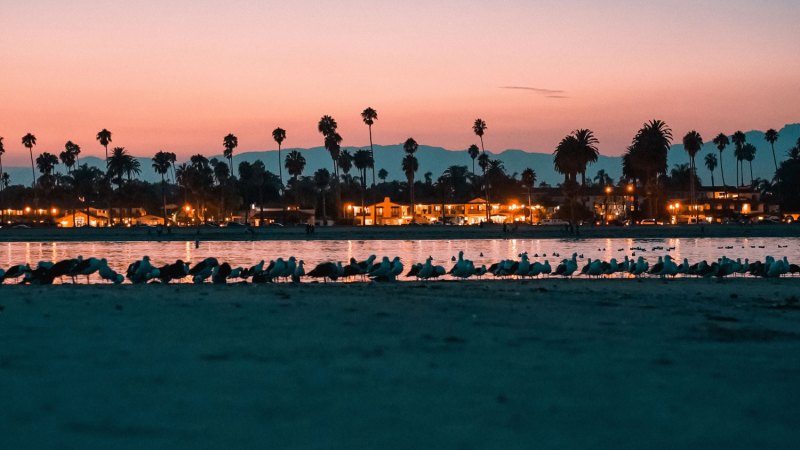 Santa Barbara has long held visitors enthralled.
Its mission architecture, seen throughout the city, makes it a unique cultural destination. Restaurants featuring locally sourced produce and meats have always been de rigueur. And with abundant sunshine throughout the year, weary winter-phobes have flocked here during the colder months. Here are our selections for where to eat, play, and stay in this charming Californian city.
Play
Santa Barbara has plenty of spots to keep you busy. Any visit to the city wouldn't be complete without a trek to the Old Mission. Founded by the Franciscans in 1786, the well-preserved landmark is still home to the friars, welcome in the sacred garden, cemetery, church, and museum portion of the facility. Pro tip: The Mission lawn is a fabulous place for a picnic surrounded by rose gardens. This is also the only public space in Santa Barbara where you can drink alcohol. Get a feel for life in SB as you watch locals throw Frisbees, have a game of bocce ball, or play fetch with their dogs.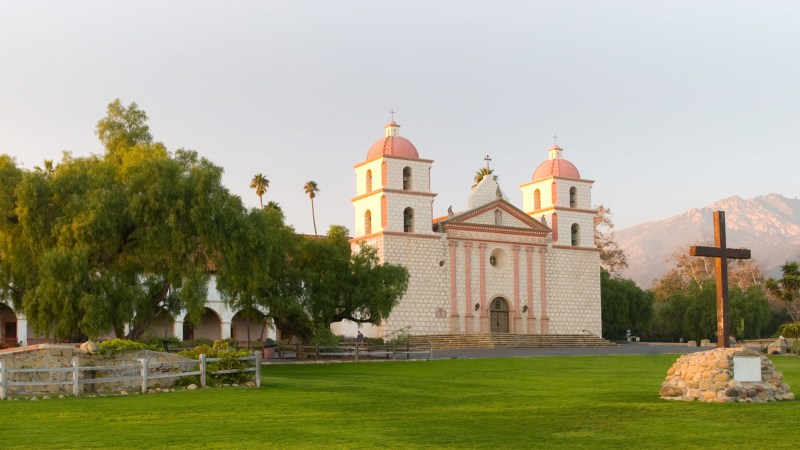 Like the Mission, El Presidio is a relic from the past. Built in 1782, it was the last of four Spanish fortresses in coastal New Spain. Exhibits run the gamut from historic photography to lectures on how life was like in California in the 18th century.
The Santa Barbara Courthouse is a masterpiece of Spanish Colonial Revival design that offers a citywide view from atop its tower. If you're lucky, the attendants will let you ring the bell (feel free to imagine you're in Notre Dame). During the summer, you can set up a lawn chair, unwrap a picnic, and enjoy an outdoor movie in the Sunken Gardens with residents of all ages.
The Santa Barbara Museum of Art boasts permanent and temporary exhibitions throughout the year and features Asian and European art and a number of antiquities. For you analytical types, the Moxi Museum is a newer addition to Santa Barbara's discovery scene. Here you can explore hands-on science exhibits that intrigue adults and children alike. During the summer months, the Moxi also hosts exclusive after-hours parties with drinks, music, a rooftop dance floor, and a chance to explore the exhibits at your leisure (you may want to leave the kids at home for this one).
With a name like the "Funk Zone," how could this downtown hangout be anything but a good time? Converted warehouse buildings, graffiti murals, tasting rooms, breweries, and hip restaurants serve as a magnet for SB's socialites. One of our favorite hangouts is Fig Mountain Brewery, which hosts live music each weekend.
Santa Barbara is renowned for its scenic beaches, but equally breathtaking is the view of the harbor, pier, and city center from open water. We recommend a sunset cruise on the Double Dolphin, or, if you prefer something a bit more active, rent a kayak or paddle board and make your own adventure.

Eat and Drink
Santa Barbara boasts a plethora of great restaurants, including a number of authentic Mexican eateries. Our favorite, Santo Mezcal, is an up and coming spot that puts a modern spin on traditional Mexican cuisine. Try a mole dish from Oaxaca or go the seafood route and order ceviche de pulpo (octopus). As you might, Santo's Mezcal list is incredible and its cocktails, divine. Located adjacent to the Hotel Indigo lobby, Santo Mezcal is a short stroll from the pier and the Funk Zone.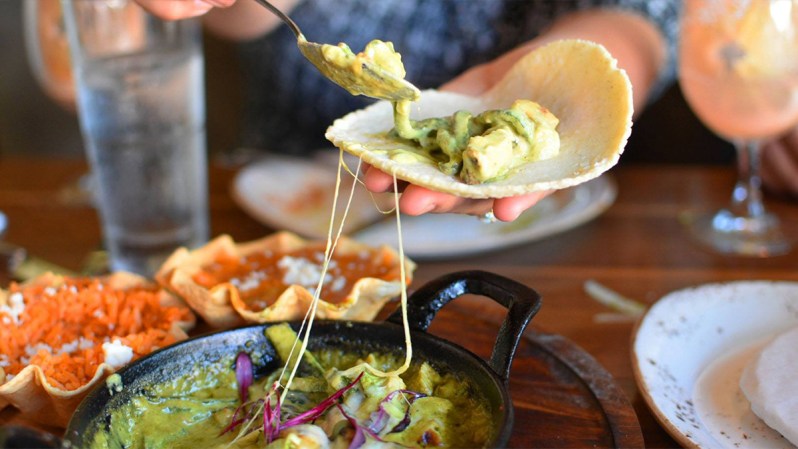 For choice cocktails and amazing water views, head to the Four Seasons' Ty Lounge. Sit by the cozy fireplace or relax on the outdoor terrace as you sip on an authentic bellini and nosh on Spanish tapas. The warm ocean breezes will transport you to another world.
Since it opened in 2013, The Lark has remained a dining hotspot. Situated in the historic fish market building in the city's artsy Funk Zone, the restaurant caters to a well heeled, food-centric crowd. Opt for the patio at twilight and start off with a class of Santa Barbara red. The menu is to be enjoyed family style and portions increase in size as they increase in price. The crispy brussel sprouts are a particular fave, thanks to the garam masala and Medjool dates. The bone marrow crushed beef cheeks are also mouthwateringly good.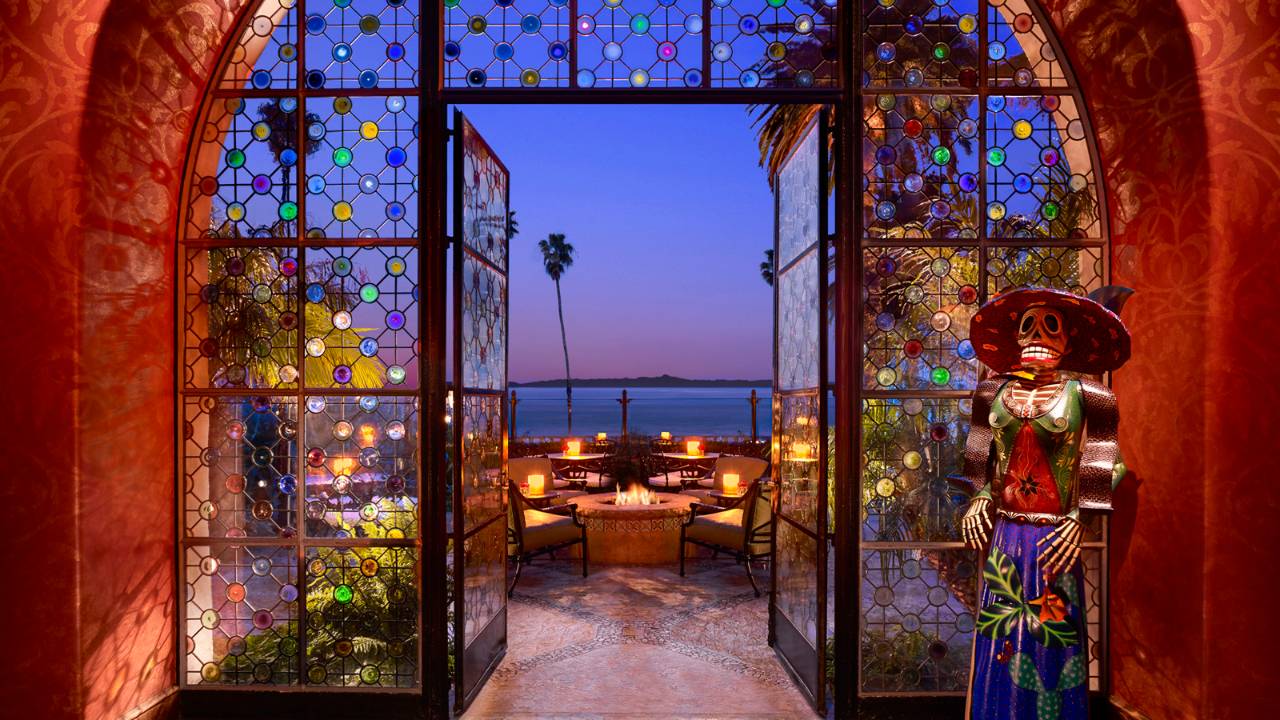 At the heart of downtown Santa Barbara, Scarlett Begonia is tucked away in delicate courtyard. This restaurant features contemporary American cuisine and uses organic, sustainable products exclusively. Scarlett Begonia is best known for their weekend brunch, where diners enjoy a mimosa and a stack of lemon ricotta pancakes while soaking in the sunshine on the outdoor patio.
Zaytoon is a fresh Mediterranean cafe with sublime atmosphere to match its exquisite food. Dozens of fire pit tables cover an expansive outdoor patio. Perfectly seasoned lamb or chicken skewers accompany generous portions of pita and hummus. If the food and feels aren't enough, belly dancers will entertain guests on select evenings.
For something a bit more low key, the Santa barbara Public Market offers a variety of vendors and flavors, inspired by the public markets in Madrid, Spain. Feast on Mexican food at Corazon Cocina or noodles from Empty Bowl – and don't forget a glass of wine or a beer from the bars inside.
The town is also home to 26 urban wineries, featuring everything from Viognier to Grenache and Cabernet Franc. Start your tour at Sanford on popular State Street, venture down to Au Bon Climat and end your day at Deep Sea Tasting Room on the pier. Science fiction lovers will find Area 5.1 Winery of particular appeal.
Stay
Lodging in Santa Barbara has always had a historic but elegant feel. The Bacara Resort (a Ritz-Carlton property) is about as glitz and glamor as you'll find intown. Truly in a class of its own, this resort boasts salt water pools, world-class massages, and stunning views of the brilliant blue ocean.
But who needs fussy when you can have cool? The Wayfarer has become the go-to spot for young men and women looking for a chic place to stay that won't break the bank. Challenge your friends at the gigantic Connect Four and Zenga games in the lobby or relax by the cozy pool on a hot day. Rooms are inviting, with subway-tiled bathrooms featuring C.O. Bigelow amenities and beds enveloped in crisp white duvets and yellow throw pillows. Flat-screen televisions are available in every room — even the dorm-style accommodations — and the helpful staff offer a wealth of knowledge about the local area. Grab a bottle of local vino and mingle with fellow guests in the open and airy kitchen on the ground floor.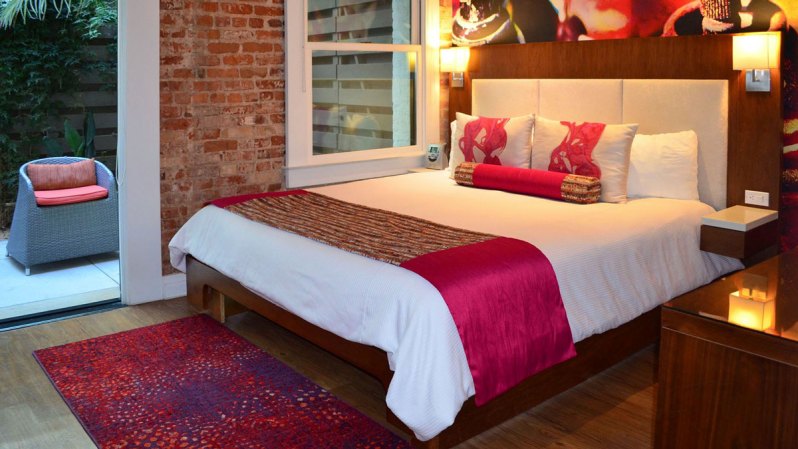 Hotel Indigo is another affordable, trendy place to setup camp. Small, but elegant rooms encourage you to explore the best of downtown Santa Barabara; the Funk Zone, gallery shops, and pier are all a short walk away.
Perched in the hills, Belmond El Encanto is an enchanting place to capture all of Santa Barbara's charm without any of the commotion. Surrounded by lush gardens and foliage, this place is perfect for a weekend of relaxation and comfort.
Editors' Recommendations