A trip to Japan isn't complete without experiencing onsen, or natural hot springs. Though you can find these bathing facilities in the city, there are resort towns all over the country with ryokans and hotels that are built around the natural wonders. If you're spending time in Tokyo and need a break from the hustle and bustle, jump on a quick 35-minute bullet train ride southwest to Odawara. Situated on the Pacific Ocean's Sagami Bay, south of the Hakone Mountains, the quiet, scenic city is a popular holiday destination for locals and tourists alike. After touring Japan for almost two weeks, we stopped at the Hilton Odawara for a one-night stay before heading back to Tokyo and finishing out our trip. If you find yourself in the area, you absolutely have to check out this beautiful property.
When you arrive at Odawara station, jump on the hotel shuttle, which will take you on a 20-minute ride up the mountain to the resort. The property is remote, so you'll have to ride the shuttle to go back into town. But after stepping inside the Hilton Odawara, you won't need — or want — to leave the property until it's time to check out.
Upon check-in, the friendly staff will show you to your newly renovated room. There is a style for every need, whether you're traveling with family or require a nook to get work done. We're partial to the Japanese Western Deluxe Rooms, which include plush beds and modern decor as well as a Japanese-style room where you can roll out sleeping mats or settle around the low table for afternoon tea. The spacious bathroom is designed with a separate shower room and Peter Thomas Roth bath products to provide a spa-like experience. Every room has a private balcony that offers sweeping views of Sagami Bay, the surrounding mountains and the property's lush grounds.
Hilton Odawara has three restaurants and two lounges where you can grab a bite. Brasserie Flora is the main dining room and features elaborate breakfast, lunch, and dinner buffets with everything from fresh sushi to succulent, roasted meats to a dessert bar with a chocolate fountain. Make a reservation and spring for the all-you-can-drink package so wine, beer and spirits are on the house all evening. The resort has two seasonal restaurants that open in the warmer months—Garden Restaurant Casareccio, which serves Japanese-style BBQ, and Poolside Restaurant Aquafe, a sunny spot to grab a sandwich or curry after a dip in the pool. The Ocean and Lobby Lounges offer all-day snacks, tea and libations.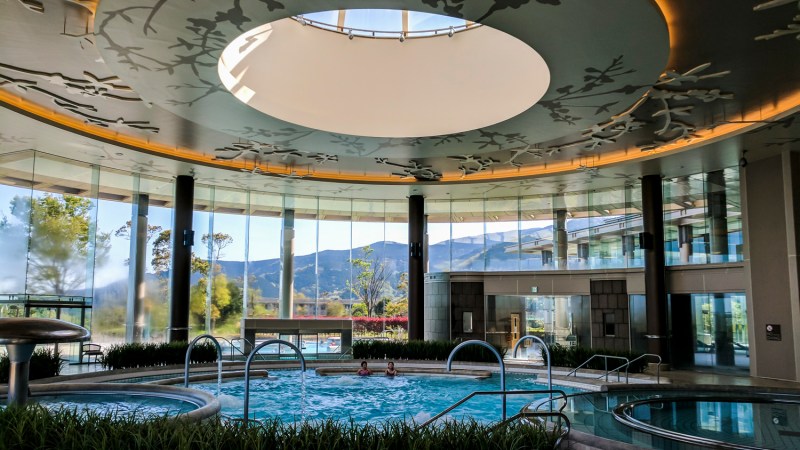 If you've come to Odawara to experience the onsen, you don't have to leave the property to take a dip in the hot springs. The baths are separated by gender and the main pools in each room offer sweeping views of the Pacific. There's an open air bath, sauna, and cold pool as well.
Once you've had your fill of the onsen, head downstairs to Hilton Odawara's spectacular Bade Zone, a collection of 11 pools, a sauna, and steam room. The pools vary in temperature and feature details like jets, water spouts, and underwater stone loungers facing the hotel's lush grounds. There's even a sliding door you can push open if you want to swim from the indoor pool to the outdoor pool. Enjoy a workout in the property's 24-hour fitness center or luxuriate even more with a treatment at onsite Aqua Beautè Spa.
Now for the really fun details. Whether you're a kid, an adult or somewhere in-between, there are a dozens activities to keep you occupied during your stay. Practice your swing at the indoor, eight-lane driving range or pick up a game of tennis on the outdoor courts. The Hilton Arena features table tennis and badminton courts. But our favorite part of the hotel is the Amusement Center, which is action-packed with a full arcade, 10 bowling lanes and five private karaoke rooms so you can sing the night away (or at least until they close at 10 p.m.). There's a bar downstairs where you can purchase snacks, beer, and Strong Zero, a sugar-free, lemony canned cocktail that clocks in at 9 percent alcohol. It's delicious.
One of the properties most stunning features is its glass chapel, which offers an unobstructed ocean view, even if the weather isn't perfect. While Hilton Odawara would be a great place to get married or celebrate another milestone event, just being there feels like a special occasion. If you're looking for the ultimate Japanese resort getaway, you've come to the right place.
Original photography by Max Schwartz.
Editor's Note: This article is part of The Manual's larger Journey to Japan travel guide. Over the course of a month, our writers had the pleasure of experiencing Japan in all its forms, from high-rise bars in Tokyo to traditional tea ceremonies in Kyoto. We hope this series will not only inform, but inspire you to take your own trip to the Land of the Rising Sun.
Editors' Recommendations