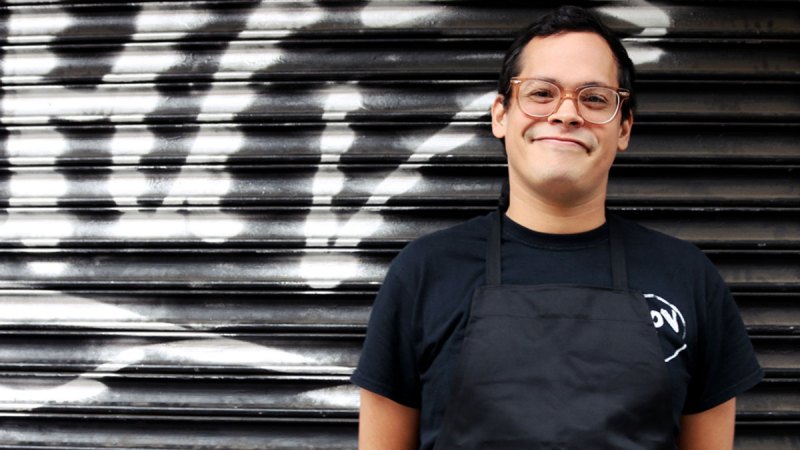 Most of us have been to a bar hidden in the back of a restaurant. A restaurant hidden in the back of a bar—now that's a different story. We've introduced you to dinnertable before, a cozy speakeasy eatery tucked behind a back door in Garret East. It was once an Italian joint, helmed by husband and wife team Scott Tacinelli and Angela Rito. When they accepted another opportunity, Tacinelli and Rito wanted to make sure dinnertable was in good hands, rather than shutting the operation down. And so, they enlisted the expertise of Chef Ricky Arias.
Arias has Puerto Rican roots and a passion for Japanese food. He's a veteran of New York Sushi Ko, and his expertise comes through in dinnertable dishes like a Crispy Uni Paella Ball and Bluefin Tuna Zuke. His food is playful and serious at the same time—he's not afraid to experiment with flavors, but he's conscious to let each ingredient shine through. After a delicious meal at the restaurant, we caught up with Arias to find out what ignited his passion for Japanese food, the inspiration behind his favorite dishes and which albums are playing in the dinnertable kitchen right now.
Your passion runs deep for great Japanese food. Do you remember when you really started getting into the cuisine? Was is a particular meal or experience?
I will never forget my introduction to Japanese cuisine. When I was in eighth grade, a friend and I competed and won first place in a Model UN Club meet. His parents were taking us for a celebratory dinner and during the decision making to pick the restaurant, they heard that I had never had sushi. To me it seemed like they ordered the entire menu, but, at the first bite of warm seasoned rice and raw fish, I was in love.
Since the beginning of my career, Japanese food has been very prevalent. My first cooking job when I was 17 back in Puerto Rico was as assistant to a sushi chef in a fast casual restaurant in a strip mall. There I learned about an array of ingredients that were totally foreign to me, but most importantly, they taught me how to correctly use a knife.
Are there any specific techniques that you learned during your time at New York Sushi Ko that you integrated into the dinnertable menu?
My time at NY Sushi Ko was integral in the development of my technique and further honing my skills. There are many things that I learned from Chef John Daley that I have brought into dinnertable. One of the things I learned from him that is essential to the restaurant is the treatment of tuna. One of our most known dishes is our Bluefin Tuna Zuke (pickled tuna).With ingredients like this, there is a true art of the processing of the fish. The most important thing I learned at NY Sushi Ko was to respect the product—let the fish speak for itself. It's not necessary to muddle flavors in order for you to create the perfect bite.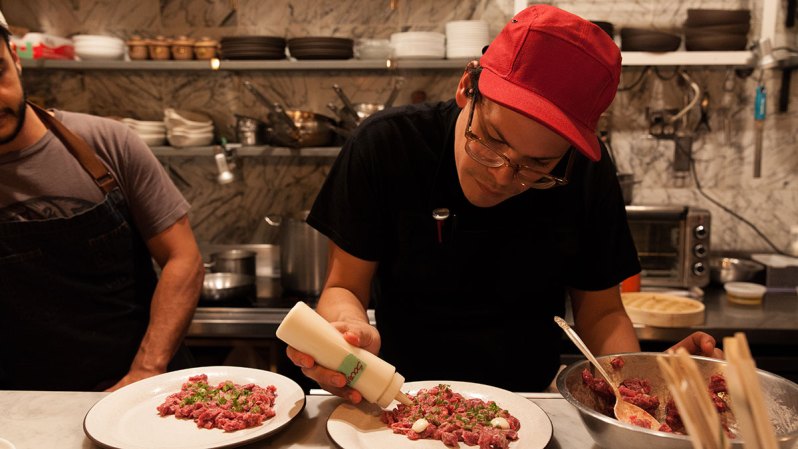 What are some of your favorite dishes on the dinnertable menu? What was the inspiration behind them?
My two favorite dishes on the menu right now are the Scallop Ceviche Tostada and the Coconut Panna Cotta.
The Scallop Ceviche Tostada is a dish that truly represents where I am as a chef right now, but most importantly reflects my personal passion. During the 6-month course of the restaurant being open, my sous chef Yuval Ochoa (who is Mexican) and I have been sharing a mutual love and appreciation for traditional Mexican food, especially those very unknown regional dishes. We have a serious case of taco fever. During one of our long conversations during prep time, he talked about a very dear dish to him called Scallop Tostada. It's a very simple dish, but it's packed with flavor. I decided to do a play on that dish. The scallops are from Hokkaido, Japan, and they're lightly cured in a fresh coconut milk/yuzukosho dressing, pigeon pea (the national bean of Puerto Rico) and miso puree, radishes, and caviar on a crunchy corn tostada. At first one would think it's not customary to eat beans and raw scallops, but believe me, it works.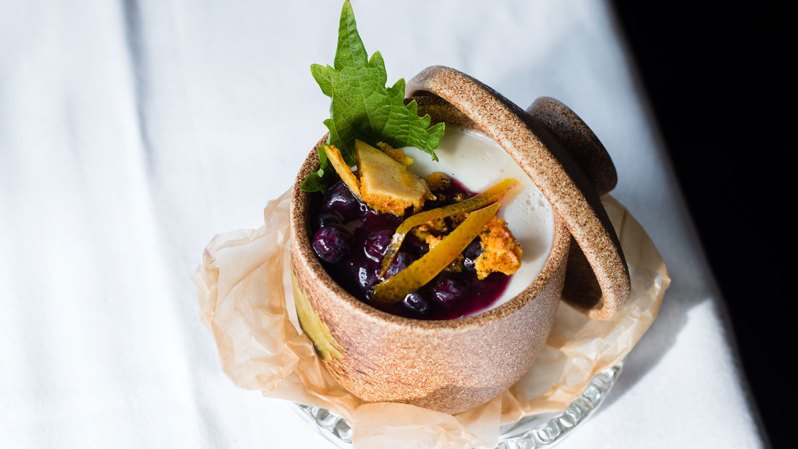 Our pastry chef Jackie Legge has truly outdone herself with this last dish. She has taken one of the most boring and simple desserts and turned it into something super well executed, fun and delicious. Her coconut panna cotta is soft and just firm enough to keep together. Jackie makes a simple hand picked blueberry and mirin reduction and tops it off with candied orange and confectioners honeycomb. The mixture of flavors and textures combined with the simplicity of the dish makes it amazing.
Spring is finally here and it brought a whole new bounty of produce. What ingredients are you most looking forward to cooking with this season?
We just launched our springtime menu and we have TONS of seasonal vegetables coming in. We have two dishes that are very spring forward. The first is the Greens, Eggs and Duck, which is confit duck with spring greens—a mix of frisee, watercress, raw and cooked asparagus, spring onions, and a slow poached egg on top. Of course, it's served with a side of bread to sop up all the goodness.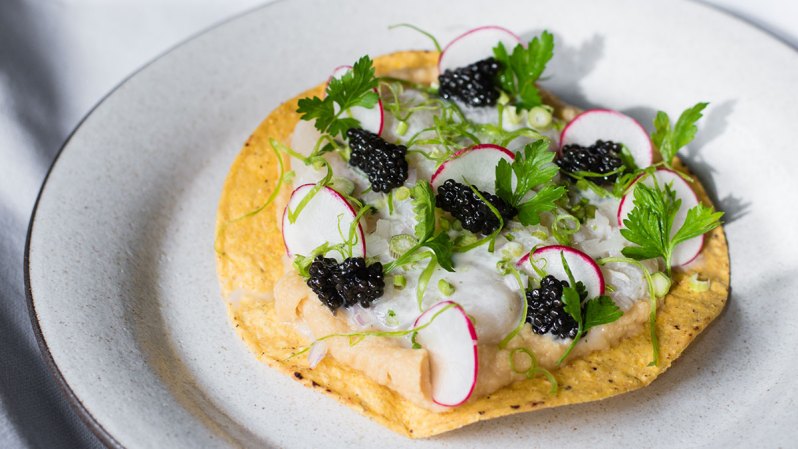 Another spring dish we're featuring on the menu is out Market Fish. For now, we're doing charred King Mackerel with fresh favas, ramp leaves, kale, pickled ramps, edamame, pea puree and mizuna (Japanese mustard greens). These two dishes are basically springtime on a plate.
What album(s) are you currently playing at the restaurant?
So this question needs two answers. During service, lately I've been playing a lot of Wackies Records. It's a NY-based reggae and dub record company that curated some of what I believe to be the best reggae artists in history. Other than that, we have started to inject more Latin music into the restaurant. Amigos Invisibles from Venezuela and Todos Tus Muertos from Argentina are just two of the artists we've been playing. Now, during prep time, it's a different story. Dinnertable is a staff of three chefs, myself included. Lately we've been trying to mix it up, so for fun we're playing music that we thought was horrible when we were young, but yet, know every lyric to. Needless to say, the playlists have been particularly strange. Tons of Selena (Yuval's favorite), Shania Twain, Alejandra Guzman, Menudo, Maná, JLo and Devo just to name a few of our "sing along go-to's."
Your house miso sausage is one of the best we've ever had. Any chance we can get the recipe?
Most definitely you cannot have the recipe to our miso/sugarcane sausage (sorry!!). It was months of trial and error, and I really can't give away my secrets. But I can give a couple of pointers: Only use good quality pork and marinate your meat one day before, as the miso and sugar cane will get to work in breaking down the fat and season the meat. Use all natural casings. To cook the sausage, slowly simmer it in miso soup and then sear it in a cast iron skillet.