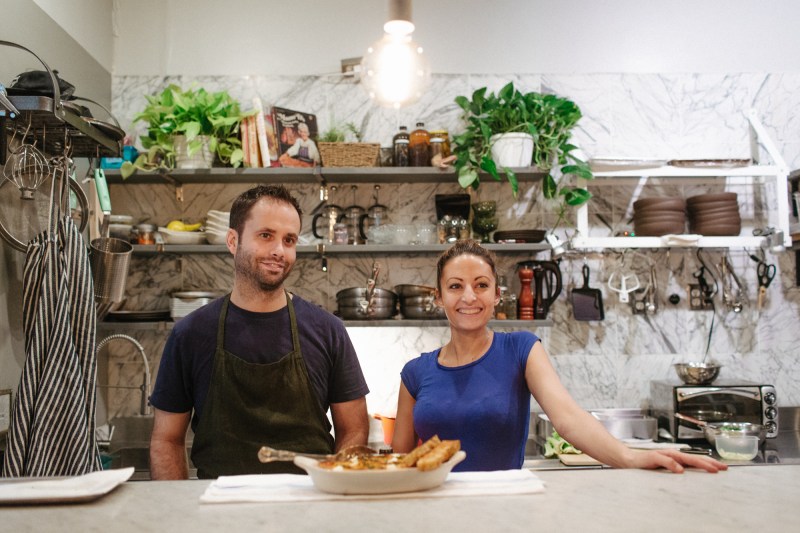 Feasting is a column dedicated to cooking, grilling, eating and discovering what's on the menu across America and the world.
We've all been to a speakeasy – one of those clandestine bars hidden behind a telephone booth, in the basement of a historic inn and even in the bowels of another restaurant. But it's not often you walk through one of the best cocktail bars in NYC, only to find a home-cooked meal behind a sliding door in the back of the room.
Accessed by ringing a doorbell in the back of The Garret East, dinnertable is a reverse speakeasy, of sorts. Slip in through the sliding door, and you'll find yourself worlds away from the bustle of the cocktail bar out front. In fact, it's designed to look and feel like someone's home, a cozy escape from the madness of its surroundings, and we like it just fine. Helmed by husband and wife team Chefs Scott Tacinelli and Angela Rito, the menu is a sophisticated version of what you might expect from sitting down to dinner with an Italian grandmother. Smoked short rib tartare with horseradish and marble rye sits on the table next to the duo's spectacular lasagna bolognese for two, a classic recipe made new with a few unique touches to make it their own. Both Angie and Scott come from big Italian families and are former chefs at Manhattan's Quality Italian, so it's safe to say they know their stuff.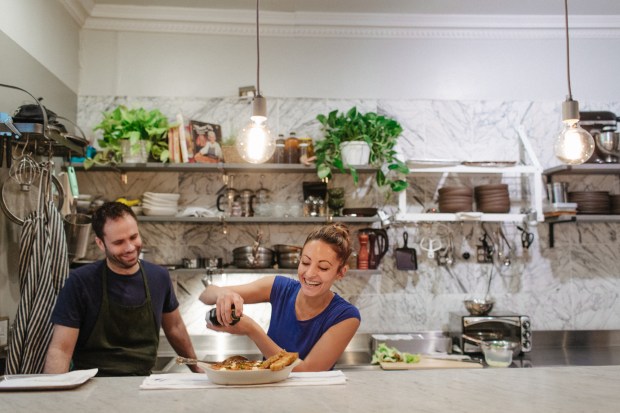 We loved the food at dinnertable so much, we decided to spend an afternoon in Scott and Angie's kitchen. And we really wanted to show you how wonderfully they work together, so we enlisted the help of Max Schwartz to create a beautiful photo story for this piece. Check out his visuals, our convo with Scott and Angie and a step-by-step recipe for lasagna bolognese below.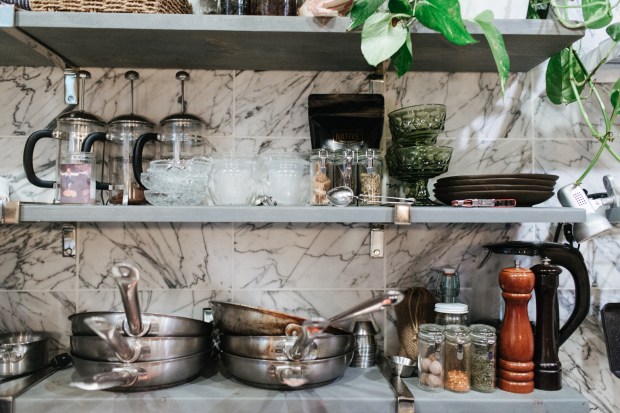 You both worked at Quality Italian, a big volume Manhattan restaurant. What made you want to start your own thing?
We've always wanted to work in a smaller environment where we could feel more attached to the food. Working in a big restaurant, our jobs began to entail more administrative and management work and less actual cooking. We chose careers as chefs because we want to make people happy with our food, and we want to enjoy the experience of preparing that food for people as well. At dinnertable, we're able to cook for guests right in front of them, serve them and see their reactions as they enjoy what we've prepared. It's very rewarding.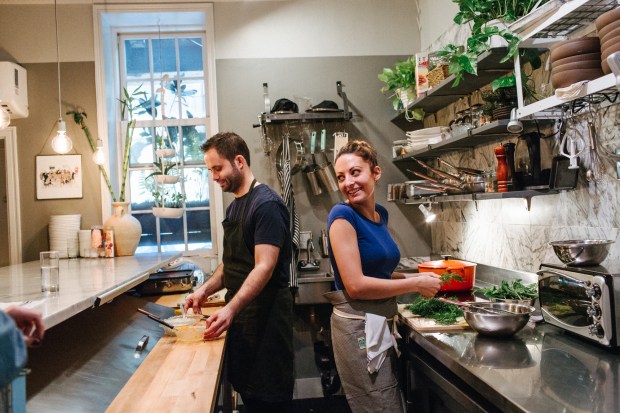 As you both come from large Italian families, what are some of the most valuable cooking techniques you've learned along the way? Any family recipes you've adapted for the dinnertable menu?
The biggest thing we've both learned from our families is the importance of cooking food with a lot of heart and soul. Angie's family lives far away (in Cleveland), so sometimes she imagines she's cooking for her family and evokes family memories while preparing food for the restaurant, which really helps her put a lot of love into the food. Lasagna was Scott's grandmother's specialty, so we had to put one on the menu in her honor.
True Italian cooking puts the main focus on quality ingredients. What are some you swear by? 
We swear by really good Parmigiano-Reggiano (minimum of 24-months aged). We also like to use very high-quality olive oil like taggiasca olive oil from Liguria and only San Marzano DOP tomatoes.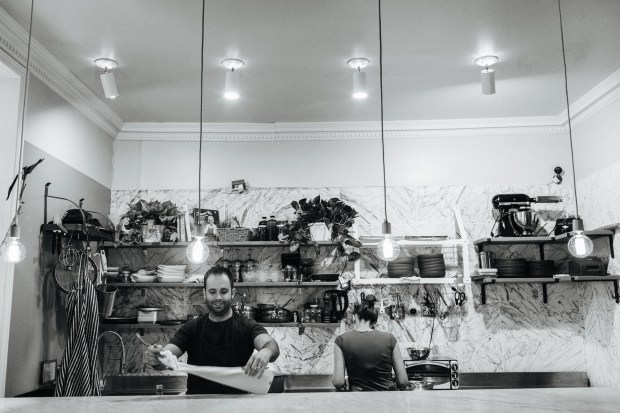 You live and work in (almost) the same neighborhood but spend most of your time in the dinnertable kitchen. When you're not working, what are some of your favorite places to grab a bite?
We love to eat out and usually try not to visit the same restaurant twice, but we make exceptions for a handful of favorites: Estela (for unique and inspiring food), Cocoron (for our favorite soba noodles in the city), Ivan Ramen (for great ramen, right on our block) and Great Jones Cafe (for some of our favorite NOLA-style cuisine in a super cozy atmosphere).
Related: How to Cure Proscuitto at Home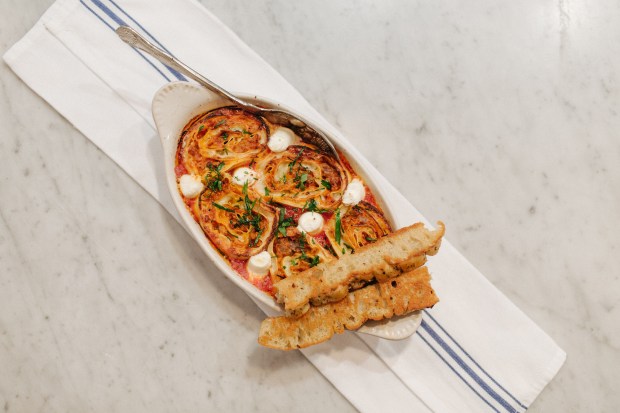 Your lasagna bolognese is truly one of the best we've ever tasted. Could you please share the recipe with our readers so those not in NYC can experience the goodness?
dinnertable's Lasagna Bolognese
For the pasta:
1 C plus 2 tablespoons "00" flour
7 tablespoons durum flour
8 egg yolks
2 whole eggs
Mix dough in a food processor until it comes together into a ball. Wrap with plastic wrap and allow to rest for 30 minutes. Roll dough into large square sheets with a pasta roller to desired thickness. Cook pasta sheets in salted, boiling water. Allow to cool.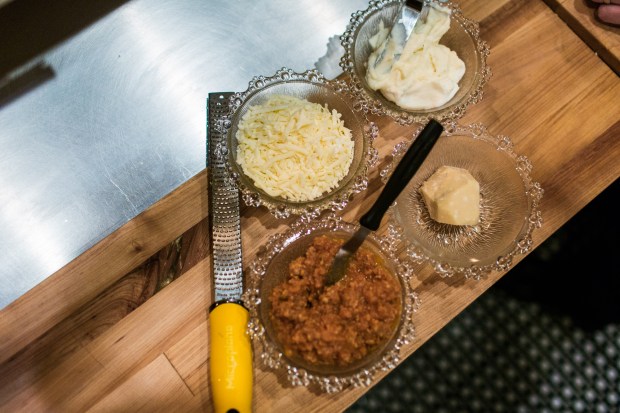 For the béchamel:
1# unsalted butter, cut into cubes
1 pint "00" flour
2 quarts cold whole milk
2 shallots, sliced
2 pieces bay leaf
4 sprigs thyme
1 teaspoon black peppercorns
Salt
Melt butter in a heavy-bottomed pot. Add shallots, bay, thyme and peppercorns. Cook over low heat until shallots are translucent. Add flour and stir well. Cook over medium heat for five minutes, stirring constantly. Add milk and stir. Cook for 10 minutes, stirring constantly. Season with salt to taste. Remove from heat and strain through chinois. Set in refrigerator to cool.
For the Bolognese:
1# sweet Italian sausage
1/4 # pancetta, processed in food processor
1# ground veal
2 tablespoons olive oil
1/2 C tomato paste
1 C white wine
1-pint whole milk
2 pieces star anise
2 Spanish onions, chopped coarsely
4 cloves garlic
5 ribs of celery, chopped coarsely
2 carrots, peeled and chopped coarsely
2 small cans San Marzano DOP Tomatoes, processed in food processor
Salt
Process onions, garlic, celery and carrots together in a food processor. Set aside. Sear sausages and veal in olive oil in a heavy-bottomed pot over high heat. Remove from pot and set aside. Add pancetta to the pot and cook over medium heat until crispy. Add processed vegetables and cook over medium heat until soft. Add tomato paste and stir. Cook for five minutes. Add wine and allow to cook until fully evaporated. Add veal and sausage back into the pot. Add milk and San Marzano tomatoes. Stir well and cook over low-medium heat for two hours. Season with salt to taste. Remove from heat and place in refrigerator to cool.
For tomato sauce:
2 cans San Marzano DOP tomatoes
3 cloves garlic, smashed
2 sprigs basil
4 tablespoons olive oil
Salt
Sugar
Heat olive oil in a heavy-bottomed pot. Add garlic and cook over low heat until soft. Add tomatoes and bring to a boil. Immediately remove from heat and add basil. Season with salt and sugar to taste. Place in refrigerator to cool.
To assemble lasagna:
Lay out a pasta sheet on a clean countertop. Spread a thin layer of béchamel evenly across the pasta sheet. Place another sheet of pasta on top of the béchamel.
Spread a layer of bolognese evenly across the second pasta sheet.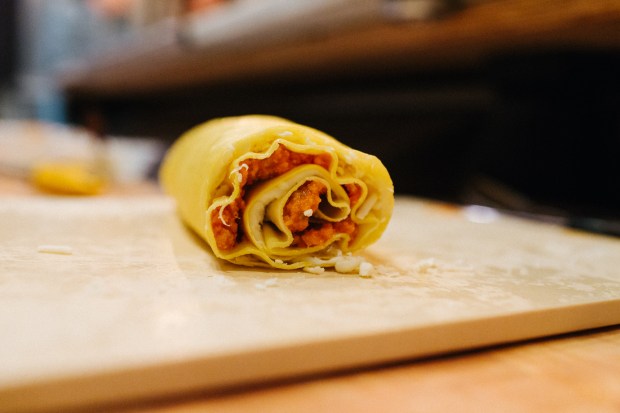 Roll the layered pasta into a log. Place in refrigerator to cool.
When cool, slice the lasagna log into pinwheels. Remove garlic and basil from the tomato sauce. Ladle the sauce into a casserole dish to cover the entire bottom of the dish. Lay lasagna pinwheels into the casserole until the dish is full. Bake in a 400-degree oven until pasta edges are golden brown. Serve.
To learn more about dinnertable and to see the full menu, visit them at dinnertable.nyc.
Original photography by Max Schwartz.
Editors' Recommendations