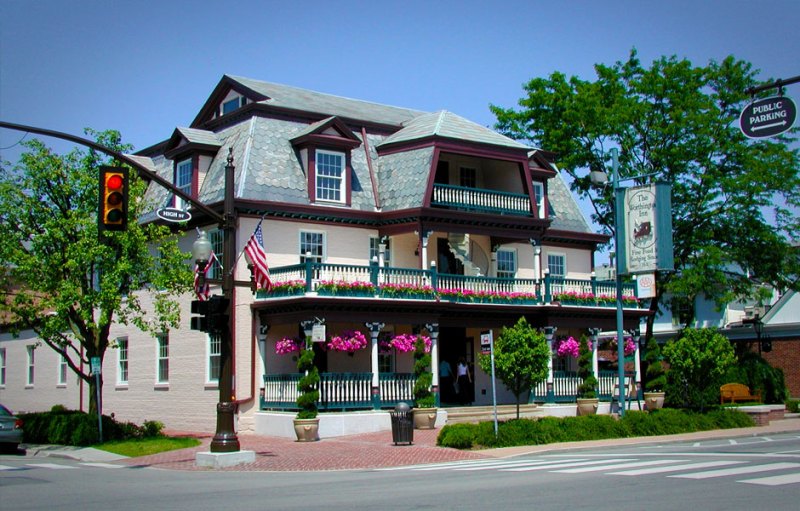 We love a good speakeasy here at The Manual, that's no secret. We're about them all, from the truly clandestine to those spots hidden behind secret doors that everyone still knows about. Between the air of exclusivity and some of the top mixology programs in this country, they make for some of the best cocktail experiences you can have. So when we heard about Ezra's in Worthington, OH, an underground speakeasy that only opens a few times a season, we had to learn more.
Located in the historic Worthington Inn right outside of Columbus, OH, Ezra's is run by Donnie Austin and Cris Dehlavi. Both industry vets – Donnie owns and operates House Wine, a local shop and hangout, while Cris runs the bar at M at Miranova – they had been talking about a side cocktail project for years before launching the popup in 2014. To learn more about Ezra's, we caught up with the duo to talk about their inspiration behind it, why they chose the popup format and what's next for the cocktail menu this season.
Let's start from the beginning. How did the idea for Ezra's come about?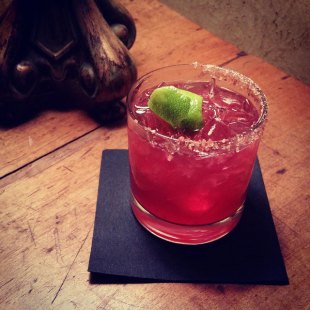 Donnie: Cris and I discussed some type of cocktail project around our full-time roles for a couple years. This setup came to mind, and it just made sense.
Cris: Donnie and I talked about it over coffee and it just sort of happened. We weren't sure if it would work or not, so we were thrilled when the first one sold out!
Ezra's is located in the historic Worthington Inn in Worthington, OH, a Northern suburb of Columbus that was founded by a band of settlers called the Scioto Company in 1803. Ezra Griswold was the first of the group to arrive because he came by oxcart instead of on horseback. What about Ezra himself inspired you to name a speakeasy after him?
Donnie: I've always been intrigued by Ezra Griswold and the founders of Worthington through my love of history. He traveled by oxcart and showed up first. He served drinks to friends and visitors and then became the first to acquire a liquor license. He soon built the Griswold Inn to host guests in Worthington. We just found it fitting to honor Ezra and thought it tied well to our space at The Worthington Inn, a historic landmark dating back almost 200 years.
Ezra's isn't open all the time, giving it an exclusive feel when you do pop up for business. How often do you typically open your doors? How long is the waitlist at this point?
Donnie: We try to gather almost monthly, but it varies quite a bit around our schedules. And because of the space and setup at Ezra's, we have to limit the number of cocktail drinkers. The number of people who've been interested in or have attended is probably five times the number of people we can host. We try to accommodate as many as possible, so it's first come first serve for membership for a night.
Related: Feasting: SRO, New York's First and Only Pizza Speakeasy
You offer a few different exclusive cocktails during each tasting. What do you look to for inspiration? Seasons, current cocktail trends, etc?
Cris: I always make the cocktails seasonal. Fall might include pumpkin, whiskey, brown sugar, cinnamon and fresh nutmeg while spring brings fresh thyme, citrus vodka and orange liqueur. I also look to new trends in the cocktail world as well as new spirits to Ohio. I create four new and original recipes each time.
Do you ever think Ezra's could become a permanent establishment in Columbus?
Cris: Not in this exact location, but yes, with the right location it absolutely could.
Donnie: Our current setup is definitely meant to be a transient space, and it just feels right based on what we're both doing now. She creates amazing cocktails on a nightly basis at M and I sell wine and beer across the street. Who knows what it could become, but we're enjoying it now.
What is your favorite cocktail to drink at the moment?
Cris: I've been on a bitter and gin kick. Which really, in the world of classic cocktails, is a Negroni. Although, I also like the Boulevardier which is the same drink with bourbon instead of gin.
Donnie: I'm on the same page as Cris. I'm always into a Manhattan or Boulevardier. A Manhattan is my safety net when ordering at restaurants or bars. I lean more toward whiskey in the cold months and gin in the warm months. Go big or go home.
Editors' Recommendations