Feasting is a column dedicated to cooking, grilling, eating and discovering what's on the menu across America and the world.
You have no doubt heard of and probably been to a few speakeasy cocktail bars in your day. But a pizza speakeasy? The prospect hadn't even crossed our minds until we heard about New York's first and only for Neapolitan-style pies, SRO. Opened last month by world-champion pizzaiolo Giulio Adriani, the 24-seat restaurant is hidden behind a secret door inside Espoleta Tapas & Wine Bar in NYC's Bowery neighborhood. The menu at SRO (which stands for Single Room Occupancy) changes daily, save for a few essential pies that are always on the roster, with a $38 tasting menu format that includes an appetizer, pizza, dessert and wine or beer for each person. While we tucked into a few delicious pies, we chatted with Giulio about how the idea for a pizza speakeasy came about, how he experiments with ingredients and what's next for the restaurant.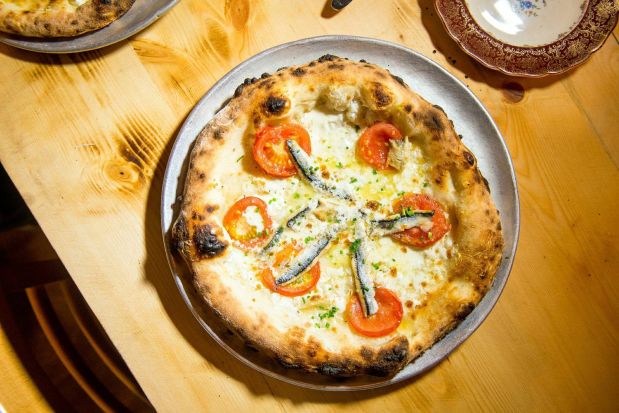 SRO is New York's only pizza speakeasy. What was the inspiration behind the space? Why did you decide to make it a speakeasy rather than a traditional restaurant?
I was always attracted to the prohibition period. And when I first arrived in NYC, the place to go was Employees Only, a cocktail bar that sits behind a psychic reader. I made friends with the owner Dushan Zaric, and it became my favorite place. When I started to restructure my business after the separation from Forcella, this was the first thing that came to mind: a secret pizza place for special pizza lovers where it was possible for me to express my creativity and actually talk with every single customer. It's a hidden gem in the world of pizza where turnover and money are not an obsession.

You used to helm Forcella, famous for the fried pizza crust you created. Lucky for us, that famous pie, the Montanara, is on the menu at SRO. Did you just flash fry pizza dough one day or is it something you've eaten your whole life?
Fried pizza was served in my home in Italy for decades, and my grandma was a master at making it. Adding the oven finishing to this technique just removes a lot of grease and gives the opportunity to add and melt the mozzarella, resulting in an extremely good final touch to something that is already delicious.
Your pizzas run the gamut from traditional Margherita to experimental pies like guanciale, grape and hazelnut. With a menu that changes daily, how do you find inspiration for new pies? Do you reinvent traditional recipes, look to seasonal ingredients, etc?
This is actually the fun part of SRO. It is all about experimenting with toppings and getting immediate feedback from customers. I go to the farmers' market as often as possible and speak with suppliers to see what's good and available. The recipes I make are sometimes totally experimental and sometimes simple revisions of old classics.

Pizza is pretty much the perfect food for any meal. Have you ever thought about opening a spot for breakfast pizza? What would you put on your pie first thing in the morning?
Soon SRO will start serving brunch. I love to put eggs and guanciale on pizza to reproduce the flavors of one Italian classic, The Carbonara. That would be my to go breakfast pizza!
To make a reservation, email sropizza@gmail.com or visit sropizza.com.
Photo Credit: Gabi Porter
Editors' Recommendations