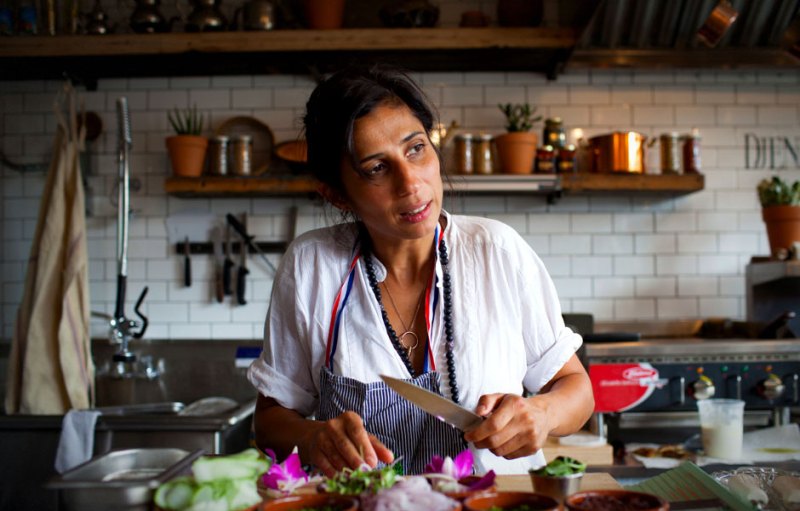 Feasting is a column dedicated to cooking, grilling, eating and discovering what's on the menu across America and the world.
You know we're fans of badass female chefs here at The Manual. So when we heard Brooklyn restaurant vet Samia Behaya opened Djenna out of an old shipping container behind cocktail bar LOT45 in Bushwick, we had to discover her inspiration behind the operation. Check out our conversation to learn more about the resilience of her first Williamsburg restaurant and how her heritage influences the menu at Djenna.
Did you start in the kitchen at a young age or was it something you just fell into?
I actually studied accounting in school, but cooking was always my passion. I come from a large family, the second youngest of seven siblings. When my mom was at work, I would prepare our meals, but she was the only one who knew. I was always watching her as she prepared the food, so she slowly let me take the lead until I learned enough to do it on my own.
You opened Simple Cafe in Williamsburg back in 2006, which is practically a thousand years in New York time. What do you believe are some of the factors in its continued success, especially in a neighborhood that's changed as much as Williamsburg?
The south side has always been a tough spot for growth in Williamsburg, but I managed to stay open for nine years. I've always felt like a true member of the community, so I've done my best to make the restaurant change along with the neighborhood. I'm constantly reinventing and investing in new ideas to keep it exciting without losing the essence of the space I've created. At its core, Simple is a comfortable, familiar place for people to come and enjoy a good meal, but I believe the ability to expand on the experience is what's kept me going.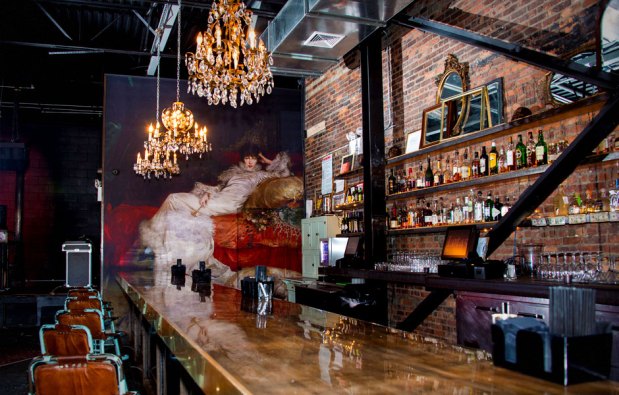 I am also a huge fan of collaboration, which I think is a big part of Simple's continued success. In 2009, I opened BEP@SIMPLE along with Ane Nyugen. The idea behind BEP, or "kitchen" in Vietnamese, was to provide a different cultural experience in an already recognizable space. So we started one of the first pop-up concepts in Brooklyn, and it really took off. It started as one day a week and now operates on a regular schedule Monday through Friday.
Then, in 2012, after visiting the shop Merci, in Paris, I wanted to transform the restaurant into more than just a dining experience. Another friend and seasoned stylist, Serap Bahadir, was looking to open up a boutique selling home goods and jewelry from her native Turkey. I decided to merge the two ideas and built a shop called BERLYN65 within Simple Café & Restaurant. While the boutique mainly focuses on Turkish towels, blankets and throws, the inventory is always evolving to include new and talented local artists. Both concepts have received great support from the community and reflect the changing culture of the surrounding environment.
Most recently, you opened Djenna at LOT45 in Bushwick. How did you come up with the idea to run the kitchen out of a converted shipping container in the bar's outdoor area?
A mutual friend introduced me to Ramon, one of the LOT45 owners, in March 2014. I knew they wanted to open a food truck; but when I went to see the space, it was clear it had to be something different, not just another thing on wheels. I remembered a recent article about building out of shipping containers, and Ramon and Linda coincidently had the same idea when I spoke to them about it. We knew it would be a challenge because it required a full build out and the inside space was limited, but we are all so pleased with the results. It's the kitchen I've always wanted, and I'm so happy to go to work and cook there every day.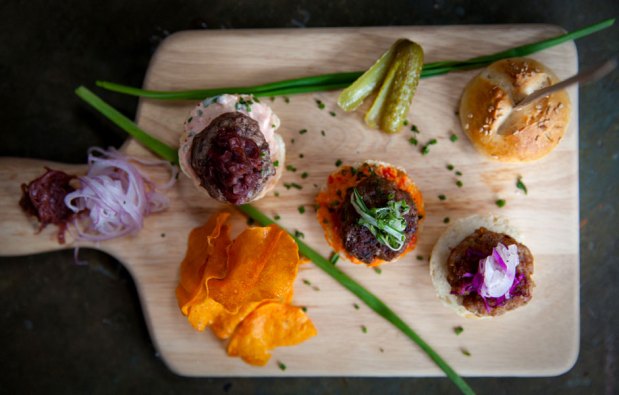 At Djenna, you serve refined street food inspired by your French and Algerian background. What are your favorite elements of each cuisine to play up on the menu?
After being open for a few months, I've learned the trick to any food truck menu is to keep it familiar and easy to eat. People respond to things they can relate to. At the same time, I wasn't okay with just being average and spent a lot of time coming up with menu items that were different and seasonally appropriately. Some new additions include our version of the classic American meatball sub, where I took an old family recipe of slow cooked lamb meatballs with roasted tomato sauce and garnished it with cumin and coriander spiced carrot, prune and fresh cilantro. The contents are similar, but the flavor is on a whole different level. Plus, it's served on our homemade cumin bread that's baked fresh with each order. Another new menu item is the Algerian fried chicken wings. Made with raz al hanout, a traditional North African spice, there is a subtle sweetness in each bite. Our spinach and ricotta bourek could be compared to an empanada except it's wrapped in a thin filo dough and served with babaganoush dipping sauce. What's normally heavy and fried suddenly becomes light and airy. The oysters in a raspberry mignonette are also popular. People are always so surprised we serve that dish, but the point was to make the menu more elevated than your drunken 2am taco stand or pizza fix.
What are some of your favorite ways to meld the flavors of both cultures into one cohesive dish?
The French colonized Algeria, so the two cultures have been integrated for a long time. I think it comes down to highlighting key ingredients in traditional dishes. For example, North Africans cook with a lot of dried fruit and nuts. So, adding mixed nuts to a cheese soufflé and serving it with dried apricots combines common ingredients to both cultures in a unique way. It's all about balancing the appropriate levels of salt, sugar, and spice.
What can we expect to see from you in the near future. Is there a certain type of restaurant you'd love to open next?
So far, all of my restaurant ventures have happened organically, so I can't speak to the future. I can say I'm very interested in the idea of expanding in commerce and experience-based dining. The great thing about LOT45 is the space has so much potential – the possibilities are literally endless. We are currently exploring the idea of an outdoor urban market highlighting local talent so people can eat, drink and shop. It's expected to open in spring. I can't give away too many details but stay tuned because it's going to be big!
Editors' Recommendations