Feasting is a column dedicated to cooking, grilling, eating and discovering what's on the menu across America and the world.
Even if you don't believe in New Year's resolutions, we can all agree it's good to have healthy eating habits. Don't get us wrong, we love to indulge more often than not, but it's easier than you think to make wholesome meals that taste just as good as they make you feel. To make it even simpler, we asked some of our favorite chefs for their go-to recipes that are just as tasty as they are nutritious. Check them out and keep that resolution rolling a little longer.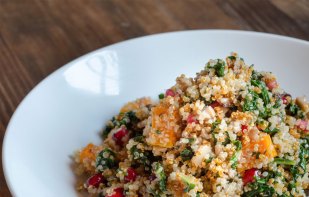 Crispy Quinoa Salad – by David Rotter, Executive Chef at Boulton & Watt and Forrest Point
Ingredients
Dressing
3 sprigs mint leaves chopped
3 tablespoons champagne vinegar
3 tablespoons fresh orange juice
1/4 cup chopped orange segments
1/4 cup extra virgin olive oil
1/4 cup blended oil
1/2 teaspoon honey
1 Teaspoon peppercino
Salt and pepper to taste
Mix all ingredients until blended
Salad
1 bunch cleaned kale (sautéed with garlic)
1 butternut squash cleaned and diced into medium cubes. (Toss with salt pepper and olive oil. Roast till tender at 375)
1 pomegranate-worth of seeds
1 quart of quinoa cooked
Method
After cooking the quinoa, divide into two portions. Place half on a cookie sheet and bake at 350 for 10-15 minutes until crunchy. Place remaining quinoa into a bowl with kale, butternut squash and pomegranate seeds. Once the rest of the quinoa is sufficiently crunchy, let it cool for a few minutes then add to the bowl. Mix all together, toss with dressing (reserve some to drizzle on top), salt and pepper to taste and divide into four plates. Drizzle each serving with a touch of dressing and serve.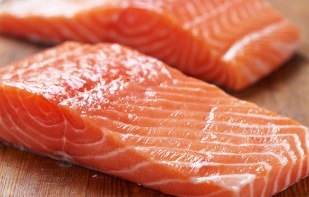 Manuka Glazed Roasted Side of Ora King Salmon – by Chef Matt Lambert
Ingredients
Cure
1 side of ora king salmon pin boned, skin on
¼ cup salt
¼ cup sugar
Zest of 5 oranges
Zest of 1 lemon
Zest of 1 lime
Roasting
Sliced citrus (orange, lemon and lime used for zest)
2-3 sliced fennel bulbs
2-3 cinnamon sticks
1 bunch rosemary
1 bunch thyme
1 bunch lemongrass
Sliced ginger
Manuka Honey Glaze
¼ cup manuka honey
2 tbsp fennel pollen
1 tsp ground roasted coriander seeds
Method
– Combine salt, sugar and citrus zest in a bowl and mix to create salmon cure
– Distribute salmon cure on the flesh side of salmon, wrap with plastic and place in the fridge overnight to cure
– When ready to roast, rub the salmon to remove the bulk of the cure. Leave any remaining on surface, do not wash with water
– To infuse more flavor during roasting, place sliced citrus that you already zested, fennel, cinnamon, rosemary, thyme, lemongrass and ginger (or any combination you prefer) in the bottom of the pan before roasting. This way, the aromatics can infuse the fish with added flavor as it cooks
– In a 350F oven, roast skin side down in a roasting pan for around 10 minutes. I prefer this gorgeous fish to be medium – medium rare, but you can leave it in for longer if you prefer a more well-done fish
– While the salmon is roasting, combine the manuka honey, fennel pollen and ground, roasted coriander seeds in a small pan over medium heat. With a pastry brush, halfway through cooking, coat the salmon with the glaze.
– Discard skin once removed and again brush with manuka honey glaze. Serve hot on a large dish garnished with fennel, mustard frill and peppery herbs like upland cress and watercress, as well as any additional fresh herbs you have left from your roasting
Classic Roast Chicken – by D'ARTAGNAN
Ingredients
1 Green Circle Chicken, about 3lbs
2 tablespoons duck fat
Coarse salt
Freshly ground black pepper
Method
Preheat oven to 450 degrees F. Remove neck and giblets from the chicken cavity. Pat chicken dry with paper towels. Generously season, inside and out, with coarse salt and freshly ground black pepper. Truss chicken with butcher's string. Rub softened duck fat over the skin. Place on a rack in heavy roasting pan. Roast for about 1 hour or until chicken is golden brown and an instant-read thermometer inserted into the thickest part of the meat registers 160 degrees F. Remove chicken from the oven and allow to rest on a cutting board for about 10 minutes.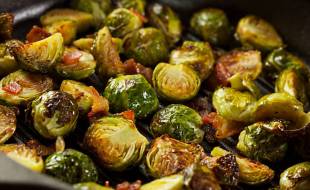 Cider-Braised Brussels Sprouts with Bacon & Apple – by D'ARTAGNAN
Ingredients
1 lb Brussels sprouts, trimmed and cut in half
3 tablespoons butter
4 slices hickory smoked bacon, chopped
1 medium shallot, peeled and finely chopped
1 Granny Smith apple, cored and diced
1 cup fresh unfiltered apple cider
1 cup chicken broth
1 tablespoon sugar
Coarse salt & freshly ground black pepper
Method
– Prepare an ice water bath, set aside. Bring 3 quarts of salted water to a boil in a medium saucepan. Blanche the Brussels sprouts for 2 minutes. Drain. Add Brussels sprouts to the ice water bath to halt cooking. Drain and set Brussels sprouts aside.
– In a large sauté pan over medium heat, melt 1 tablespoon butter. Add bacon and shallot. Sauté until the bacon is almost cooked and the shallot is translucent, about 6 minutes.
– Add Brussels sprouts to the pan, cut side down. Cook until lightly browned, about 4 minutes. Stir in diced apple, sauté about 1 minute.
– Add cider and chicken broth. Stir in sugar. Turn heat to medium-high and bring the mixture to a medium boil. Cook until the liquid has reduced to a glaze and the Brussels sprouts are cooked through. If too much liquid boils away before Brussels sprouts are tender, add additional liquid.
– Season with salt and pepper. Remove from heat and stir in the remaining 2 tablespoon of butter, gently folding to coat. Serve.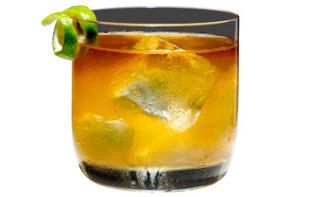 Cali Intense – by Caliche Rum
Ingredients
2 oz Barrows Intense Ginger Liqueur
1 oz Caliche Rum
Club soda
Lime (optional)
Method
Mix together the rum and ginger liquor and pour in an ice-filled glass. Top with club soda and garnish with lime.
Editors' Recommendations