Feasting is a column dedicated to cooking, grilling, eating and discovering what's on the menu across America and the world.
Whether you grew up eating poutine, call them disco fries or are a newbie to this messy, cheesy Canadian dish, one thing is for certain: these gravy-smothered fries aren't going anywhere anytime soon. As poutine has made its way down south the last few years, restaurants in different cities across America have been adopting their own versions from the traditional to those topped with things like pork belly and fried eggs. We rounded up some of the best in the country so you can get your poutine fix right now.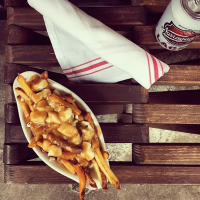 Mile End Deli – New York
Opened in January 2010 by Noah Bernamoff, Mile End has always had a simple mission: to produce and serve the Jewish comfort foods of Noah's Montreal youth. Along with the house-made cured meats and fish and some of the best Matzo ball soup in town, Mile End's poutine is as legit as it gets. Choose from the traditional with cheese curds and roasted chicken gravy or go all the way and add brisket.
P'tit Soleil – Los Angeles
Did you know the word "poutine" was often used as slang for "mess" when the dish originated in rural Quebec, back in the 50s? Serving up authentic Quebecois small plates and Canadian beers, this intimate bar is serious about poutine – they have an entire menu dedicated to the dish. Try the traditional or go for one of their specialties like the Poutine Marat with sliced filet mignon, mushrooms and a cognac cream sauce.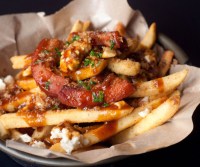 The Blind Butcher – Dallas
Located in Dallas' Lower Greenville Avenue neighborhood, The Blind Butcher serves up fine quality food in a casual, pub-like setting. And their ultra-rich poutine menu has something for everyone. Vegetarians can enjoy the mushroom variety while carnivores will love digging into the pork belly or duck versions. Add an egg or foie gras to really turn up.
Bottlefork Bar & Kitchen – Chicago
With an impressive bar program and menu with both big and small plates meant for sharing (even though you might not want to), Bottlefork came in hot last year and is still riding the wave. Their poutine, made with kennebec fries and Wisconsin curds, is toasted under the broiler to get it extra crunchy and gooey before it's topped with braised beef cheeks for the win.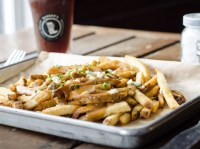 Banger's Sausage House & Beer Garden – Austin, TX
If you're a beer drinker, you definitely need to check out Banger's which has more than 100 brews on tap. They also have the largest sausage selection in Austin, but you're here for the poutine. And their traditional version is spot-on. Thick-cut fries with flavorful gravy and cheese curds is the perfect complement to a duck or antelope sausage.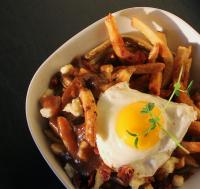 Brooklyn St. Local – Detroit
Deveri Gifford and Jason Yates moved from Toronto to Detroit in 2012 to open a restaurant that serves good, honest food in a welcoming environment. And so Brooklyn St. Local was born, and they're dedicated to sourcing local ingredients from urban farms and using sustainable practices to decrease their environmental footprint as much as possible. There is a poutine for everyone on this menu, from the traditional with beef or mushroom gravy to the breakfast poutine, topped with a sunny-side up egg and bacon or tempeh. There's even a vegan version for all you veggie folks out there.

Duckfat – Portland, ME
We love just about everything at Duckfat from their mouthwatering panini to their rich gelato milkshakes. But you can't leave the restaurant without going in on some of their famous hand-cut Belgian fries, fried in, you guessed it, duck fat. Go all the way and get the poutine, made with locally-sourced cheese curd, duck gravy and fresh chives.
Editors' Recommendations