You just arrived in Austin, TX for famed music, film and interactive conference SXSW. Sure you have tons of bands to see and parties to attend, but Austin is also an wonderful city that needs to be explored for its amazing restaurants, shopping and natural beauty. Ditch the travel guide and listen up: we visited this incredibly cool city more than a few times and asked some locals to give us an insider's look on where to eat, drink and shop. Check out our recommendations below and get the most out of your SXSW journey this year.
Shop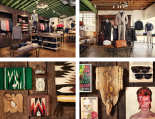 STAG Provisions
As the "modern-day general store for every man," it doesn't get better than STAG. Stocking everything from clothing, antiques, accessories and grooming essentials from the best and brightest brands, they pair high end with low, mix vintage classics with new collections and meld the unexpected with the nostalgic. And with brands like Billykirk, Burkman Bros and Kika NY, it's the one-stop-shop for everything cool.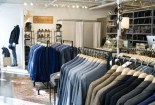 Service Menswear
If STAG represents the East Coast, Service Menswear definitely holds down the West. Swimwear from brands like Sundek and Quiksilver Originals will have you ready to dive into Barton Springs, and street wear like RVCA and Vans have your outdoorsy side covered.
Room Service Vintage
If thrifting is more your thing, stray from the string of vintage haunts on South Congress to find much better deals. There are a ton of great stores, but Room Service Vintage was a personal favorite. With everything from cowboy boots to barware to vintage Playboys, you could spend hours searching every nook and cranny.
Eat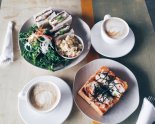 Sa-Tén
Located in the Canopy creative community, this cool new spot serves up coffee, tea and delicious Japanese toasts and plates. There's a type for everyone, from the extra savory Pork Sausage or Sriracha Mayo Smoked Salmon toasts to the vegetarian-friendly mushroom and egg varieties. Don't miss the Chicken Katsu with Curry, best ordered with a side of anchovy toast for the full menu experience.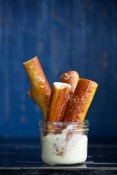 Odd Duck
It's a tale as old as time in Austin, when a great food trailer turns into a brick-and-mortar restaurant, and Chef Bryce Gilmore did the most with his shiny new outpost of Odd Duck. The menu is focused on seasonal and local ingredients with dishes like goat lasagna with spinach, béchamel and brussels sprouts and a refreshing risotto with cauliflower, goat cheese and grapefruit.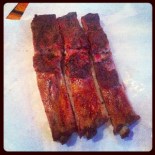 Rudy's Country Store and Bar-B-Q
As pork rib enthusiasts, we did our research before heading down south and conjured a list of BBQ places to try. But our Austin friends suggested we ditch the hyped joints and hit this tried and true spot, and the locals are always right. Order at the counter, cafeteria style, by the rib, slice or pound. Tell the crew you're a newcomer and they'll let you try before you buy.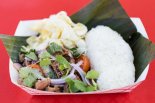 Thai-Kun
Named one of America's Best New Restaurants in 2014 by Bon Appétit, this food truck specializes in "O.G. Thai" from chef Thai Changthong. Located at Whisler's on the East Side, be prepared to eat some of the spiciest food in town with dishes like Beef Panang Curry and Waterfall Pork, grilled and sliced with Tiger Cry sauce. Grilled Bread with Peanut Curry Sauce and Black Noodles will help put out the fire.
Related: Best BBQ Spots Across the U.S.
Drink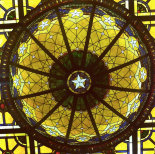 The Driskill Hotel Bar
If you're looking for a good date spot or just a strong cocktail in a swanky lounge, the Driskill Hotel bar is the epitome of Southern charm. Pony hair upholstery, stained glass ceilings and a haunted grand staircase lend ambiance as a live bluegrass band provides the entertainment.
Rio Rita
Head to the East Side of Austin for, in our opinion, pretty much the best bar patios in the country. But our favorite has to be Rio Rita for a colorful backyard and killer cocktail menu. You won't regret ordering the Bloody Mary, or any of their concoctions for that matter. Try the sinus-clearing habanero shot if you dare.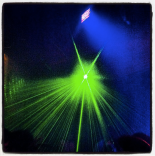 Barbarella
If you're looking to dance and go a little HAM, Barbarella is the place to drop it like it's hot. Unpretentious for a club, busy nights feature three DJs – upstairs, downstairs and patio – so you can choose your own musical adventure.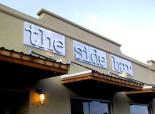 The Side Bar
Drinks here are cheap, and we mean like really cheap. Located right in the middle of downtown, it's the perfect place to stop in for a drink or shot in-between shows. Like most of the other watering holes in Austin, The Side Bar has a huge backyard full of picnic tables to rest your tired legs.
Chill
Barton Springs Pool
Even though the icy waters of Barton Springs might be too cold to swim in this time of year, grab some friends and relax on the grassy hill while taking in the view.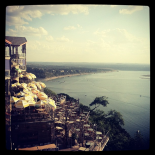 The Oasis on Lake Travis
This incredible lookout spot may be a 30 minute drive from Austin city proper, but it's worth the time spent on the road if you need a break from SXSW madness. Stay to eat or just come for a view of the sunset.
Editors' Recommendations