The easier that technology brands make it for us to stay perpetually connected to the web, the more we crave ways to disconnect. It seems like every week we're bringing you a new hotel, off-grid cabin, or (ironically) piece of tech to help you unplug. In short: We're in dire need of time away from our laptops, smartphones, and tablets. Now, one company is doubling down on that demand by offering dedicated tours to make sure its travelers stay offline while on vacation.
Off The Grid recently launched with a simple mission: to provide "phone-free experiences with inspiring people." The company facilitates group travel tours with lodging, activities, and some meals baked in. The catch is that no phones are allowed, and technology use, in general, is discouraged. At the start of each trip, tour-goers are given a pouch to store their smartphone. In return, they're given a "dumb phone," one incapable of connecting to the Internet or taking photos. Not surprisingly, the tours focus on outdoor activities and getting back nature — anything to minimize screen time.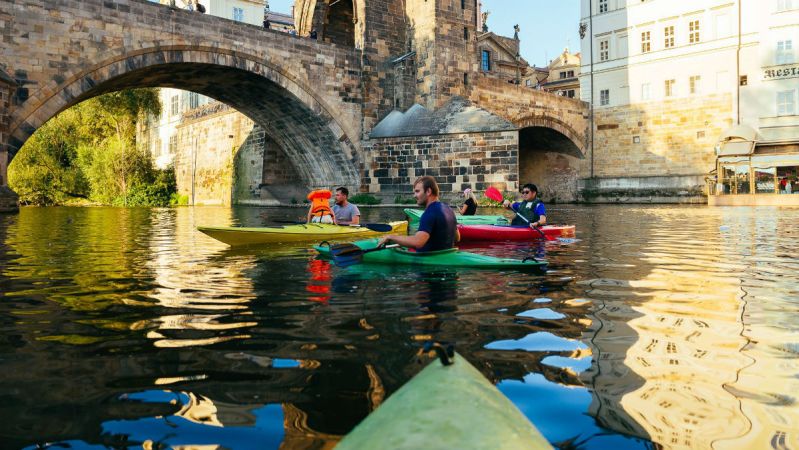 The company's founder, Zach Beattie, is a 26-year-old, self-proclaimed "former smartphone addict." His background in the tech industry inspired him to launch the intentionally disconnected tours. He notes that Off The Grid's broad demographic ranges from millennials to 60-somethings. It's clear we're all craving less screen time, and some of us are keen to do it just to see if we can. Beattie tells Business Insider, "Hopefully, when you get home, you can say, 'There was this one time I lived without my phone for a full week, and it was fine. I survived."
Of course, eco-hotels around the world have advertised as "off-grid" long before it became a marketing buzzword. But, a new wave of hotels has debuted in the last few years that appear to be a direct backlash to our always-on society. Mexico's Punta Placer, for example, is a full-featured, upscale beach resort that's completely off the grid. Other outdoor companies are using their impossibly remote locations as a selling point. OARS's River of No Return trip involves rafting an area of Idaho that's blissfully devoid of cell service. Entire websites like FreeHouse are even built on the idea of disconnecting as thoroughly as possible.
At launch, Off The Grid's tours sold out almost immediately. New itineraries have already been added for later this year. The list of options will change regularly, though Europe is a popular destination with trips to Portugal, Barcelona, Croatia, and Prague. Other trips to Tulum, Mexico, and South America are also available. Prices vary, but expect a total cost in the USD $1,500-$2,000 range for a mostly inclusive 10-day tour.
Editors' Recommendations