After stepping foot on the small Spanish island of Majorca, it doesn't take long to see why so many Europeans choose to spend their summer holiday lazing on its incredibly gorgeous beaches each summer.
With perpetually sunny weather (for the most part), amazingly warm, crystal clear blue water, and a host of generally wallet-friendly attractions and entertainment, Majorca is the definition of paradise. Perhaps what's most impressive about the island is the fact it offers something for nearly every kind of person. Whether it's a family of five just looking to get some peace and quiet alongside a calm beach, outdoor junkies looking to satiate the need for adventure, or a group of friends keen on partying to their heart's desire, Majorca has it and has it in spades. To help anyone traveling to this wonderful destination, we've put together some of our favorite Majorcan spots to have a good time, down some grub, and catch some Z's.
PLAY
Considering we spent most of the introduction glowing about Majorca's beaches, the best activity to undertake on this gorgeous island is to just simply feel its powdery sand between your toes and go for a dip. With water temperatures hovering around 76 degrees Fahrenheit during the summer, swimming in Majorca is one of the most enjoyable forms of recreation on the entire island. While the surf in most of Majorca's open beaches doesn't feature much in the way of big waves, the swell tends to be much more calm on its western coast near Torrenova.
While enjoying a nice relaxing visit to the beach, we recommend upping your adrenaline quotient by participating in either a parasailing, diving, or snorkel excursion from one of the many vendors located at nearly every beach. On the island's western coast, Big Blue Diving offers visitors a wide selection of diving and caters to all skill levels from beginners to more advanced divers.
If staying above water is more your speed, then a trip to the subterranean lakes of Cuevas del Drach is a must-see. With a boat excursion clocking in around one hour, visitors get treated to one of the most eerily beautiful attractions on the entire island. Between the live classical music concert, a float across Lake Martel, and an imitation sunrise, Cuevas del Drach needs to be seen to be belived.
To get a complete look at the island, you'll likely want to rent a car. Though Majorca isn't particularly big, it isn't the easiest island to get around on if all you got off the plane with was your feet. While there exist many bus tours of the island, a car offers visitors the best way to find the island's beautiful hikes and secluded beaches. Several rental car agencies offer rental cars at competitive rates, with most of those greeting you the second you step foot inside Palma's airport. Also, if you rent a car, familiarize yourself with how to drive in a roundabout. Majorca no doubt possesses an abundance of beautiful locales and endless fun, but it also boasts a bevy of roundabouts sure to confuse and confound you while you navigate the island. Before warned.
EAT & DRINK
Nothing screams traditional Spanish food like a good paella and Majorca has paella literally pulsating in its veins. Most seaside restaurants offer some form of this classic dish, each putting their own specific spin on the tried and true recipe. For arguably the best paella in all of Majorca, we recommend paying a visit to Sa Tasca Sa Coma. Aside from the restaurant's incredibly friendly wait staff, you won't help but be in awe of just how good its paella is. Chock full of delicious seafood and featuring a perfect balance of flavor, you'll be in paella heaven.
If you've got the hankering for some high-quality barbecue (yes, this exists in Majorca), head on over to the Zen Lounge Bar and Grill on the western side of the island in Palmanova. The menu rightfully calls its rib dish as one of the restaurant's fan favorites and is truly mouth-watering. Each day the chef serves up a few specials ranging from a colossal combination of a sirloin steak and rack of ribs, to some made-from-scratch mozzarella sticks. Not only does Zen boast some flavorful food but the restaurant features a revolving lineup of live acoustic music which fit the vibe of the outdoor eating area incredibly well. This is one of the best places to wind down after a long day soaking up some rays at the beach.
Once you've downed dinner and dessert, a local pub is the perfect place to enjoy a proper nightcap. On Majorca's western coast of Torrenova, there's no better place to order an ice cold pint and watch a beautiful sunset than from the bayside tables of The Scotsman. With an impressive selection of European beer, several flat-screen TVs for catching that night's football game, and not a bad seat in the house, The Scotsman is incredibly adept at turning late nights into early mornings before you know it.
STAY
There are literally hundreds — if not thousands — of different places to stay on Majorca, though to be quite honest, we highly recommend staying somewhere along the coast. This obviously seems like a no-brainer, but there exist a number of hotels and residences on the mainland of Majorca begging for tourist attendance. Thing is, there's nothing quite like waking up to the sound of crashing waves or to see one of Majorca's absolutely gorgeous sunrises for yourself. You go to Majorca (presumably) for its beaches and its beautiful scenery, why not soak that up every second you have?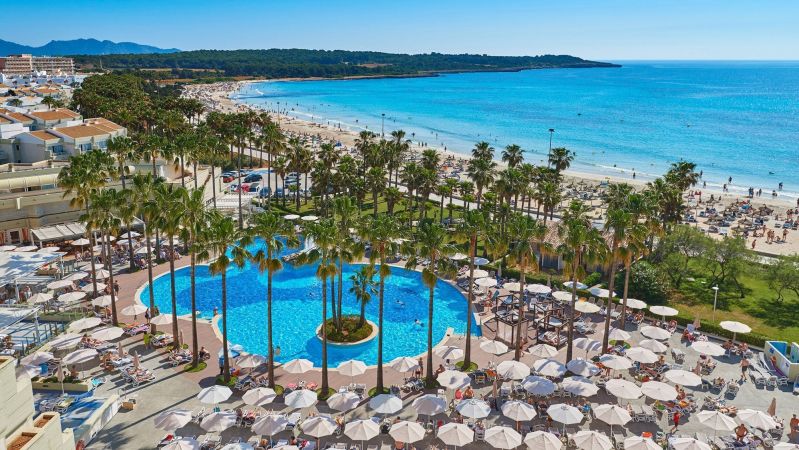 If the eastern, more relaxed coast suits your travel style well, then we recommend staying at the Hipotels Mediterraneo Hotel on Sa Coma beach. The Mediterraneo might not be the cheapest option of the bunch, but a booking at this resort not only guarantees you an ocean view room, but also access to its breakfast and dinner buffets every day. Once you take these crucial facts into consideration, the price for a room doesn't start to seem all that expensive. Plus, with the beach just a few short strides from the lobby of the hotel you won't have to go very far to let those all-you-can-eat crepes digest in peace. The Mediterraneo also grants guests access to its spa (where it offers a range of massages), a large outdoor heated pool, as well as a number of professionally run activities like rifle-shooting or aqua aerobics. We can't recommend this hotel enough.
If the party-oriented city of Palma strikes your fancy while visiting Majorca, the Hotel Comodoro Playa in Palmanova is your ticket to comfort and relaxation. Most of Comodoro's rooms face the beautifully calm ocean lining Palmanova which gives those who stay front row seats to some of the most gorgeous sunsets around. Though this hotel doesn't offer a dinner buffet to regular guests, it does offer an all-inclusive option which supplies visitors with a buffet at breakfast, lunch, and dinner, while offering a wide selection of alcohol and other refreshments. Like the Mediterraneo before it, the Comodoro is just a few paces from the beach meaning you won't have to exert much energy on those especially lazy days.
Editors' Recommendations