Dreary cubicles, fluorescent lighting, hour-long meetings to schedule other hour-long meetings — the typical corporate work environment is enough to drive even the most well-grounded man mad. If your workaday life isn't cutting it anymore — if you daydream of giving up all that free lukewarm coffee, company-matched 401k, and telling your middle management superiors to shove it Office Space-style — there may be a job opening off the coast of Ireland just for you.
On the eastern fringe of the North Atlantic Ocean lies Great Blasket Island. This, Europe's westernmost point, is rugged, pristine, and tranquil. In an interview, owner Alice Hayes told Ireland's RTÉ Radio 1, "It's a very basic, off-the-grid, sort of glamping experience. There's no electricity, no Wi-Fi, no hot showers." For some, such a tech- and convenience-free existence is no life at all. For others, as Hayes puts it, "It's candles, fires, wildlife, stars, nature. It's beautiful."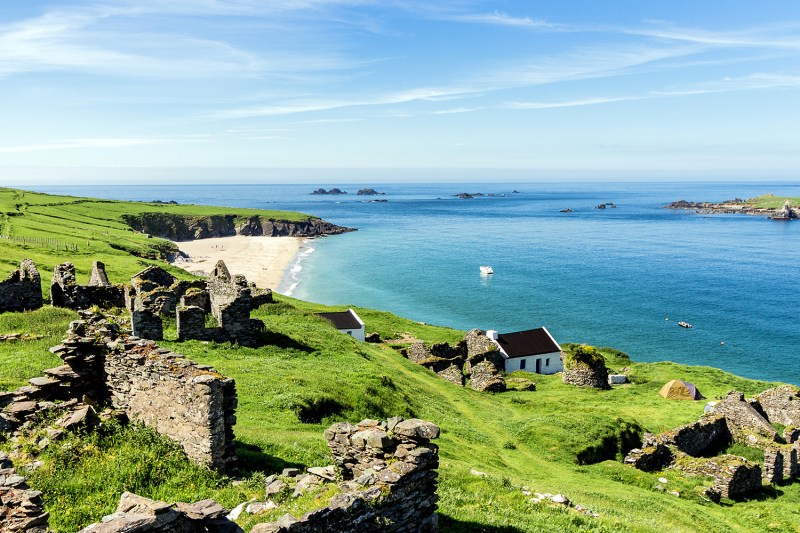 It's this second category — the adventurous, nature-loving type — that Hayes is after to fill a unique job opening. She's looking for a couple or two close friends to be caretakers for 1,100-acre Great Blasket Island over the summer. The duo would be the island's only full-time inhabitants. Daily responsibilities would include maintaining the island's three guest cottages, preparing them for up to 21 overnight guests, and turning them over each day at checkout. The island's coffee shop — its only other public structure — also does a surprisingly swift business. Up to 400 day-trippers trek over by boat from the mainland to explore the island.
It's challenging living that makes for demanding work. While there is a single, wind-powered charging port on the island, it's otherwise without basic utilities. That disconnection can be charming for a day or two, but the lack of typical daily convenience can quickly overcome the average person. For that reason, Hayes is quick to point out that life on Great Blasket Island is no relaxed island getaway. Applicants must be personable, reasonably fit, and able to adapt to challenging situations without notice. "One hundred and one things can go wrong on the island, no day is ever the same – so just being able to get to grasps with that [is critical]."
The rise in similar job postings is a sign that more of us are looking for a sense of "occupational escapism" — a job that feels worlds away from, well, actually working. In January of 2019, San Francisco's East Brother Light Station announced it was seeking a qualified lighthouse keeper. Applications poured in by the thousands. Last summer, a remote Scottish island actively sought a full-time "sheep dike warden" (yes, that's a real thing).
Interested applicants can email their qualifications to Alice Hayes at info@greatblasketisland.net. The job term runs from April 1, 2020, through October 1, 2020. In the week since the opening was made public, thousands of people from around the world have expressed interest. Should you choose to apply, be prepared for some stiff competition.
If you're ready to retire young or just escape it all for a long while, the folks on the idyllic island of Stronsay in Scotland are still looking for a few good ex-pats.
Editors' Recommendations