Every man dreams of absconding from society and "making a go of it" in some remote corner of the world with more wildlife than people. At a cabin in the woods perhaps; or homesteading on a Montana ranch; or maybe on some unpronounceable island in the Philippines. However, if you can't bring yourself to pull the trigger on such a dramatic life change, a unique job opportunity in coastal San Francisco could help you split the difference.
East Brother Light Station is a beautiful, meticulously restored Victorian-style lighthouse that was converted into a five-room bed-and-breakfast in 1979.
East Brother Light Station is a beautiful, meticulously restored Victorian-style lighthouse that was converted into a five-room bed-and-breakfast in 1979. There's a reserved, elegant luxury about the design and decor that make for a perfect romantic weekend getaway. With no telephone, TV, or Internet service, guests are encouraged to slow down and appreciate their natural surroundings. The views from almost everywhere on the island are spectacular, including panoramic looks toward the San Francisco skyline, the Marin coastline, and Mount Tamalpais. Guests receive Champagne and hors d'oeuvres upon arrival before getting a tour of the island and the light station. It's all just 30 minutes from downtown San Francisco.
For nearly 150 years, East Brother Light Station has guided ships moving through San Francisco Bay. In that time, it's been registered as a California Historic Landmark and on the National Register of Historic Places. The lighthouse B&B operates as a non-profit to help fund the island's ongoing maintenance and restoration.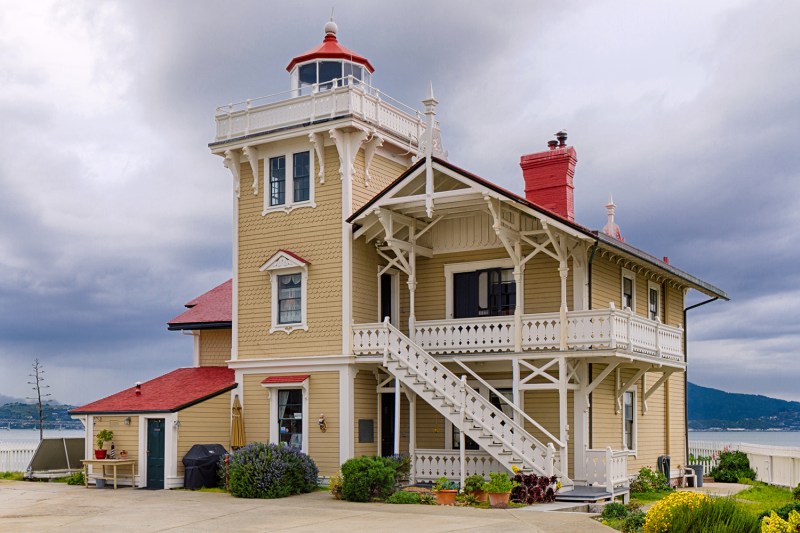 Current caretakers Che Rodgers and Jillian Meeker run every aspect of the island, from cooking to hotel operations to ferrying of passengers to tending to the landscaping. The guesthouse is open Thursday through Sunday night; Monday through Wednesday (the couple's "off days") are filled with lots of daily responsibilities. They admit it's a taxing workload, but it's also gratifying, provided you have the right mindset. Of the challenging lifestyle, Rogers told Lonely Planet:
"A deep passion for the stewardship of the island is also important. The job requires a huge commitment of time and a willingness to live in a semi-remote location away from most aspects of modern urban life. So the ability to draw enthusiasm from being stewards of the history and the ongoing restoration, and from the wildlife and nature around the island, is vital to the sustainability of the job."
The young couple has enjoyed their two years on the island, but they're excited to move on and pass the caretaker baton to their successor(s). They're helping to interview and ultimately hire their replacements.
East Brother Light Station is now accepting applications, although the flood of media attention means there's already plenty of competition. In addition to the average $130,000 annual salary, the new caretaker(s) will receive a health plan, plus free room and board for the duration of their watch. Only a Coast Guard commercial boat operator's license, some culinary experience, and an adventurous spirit are required. The next keepers' rotation begins in spring 2019.