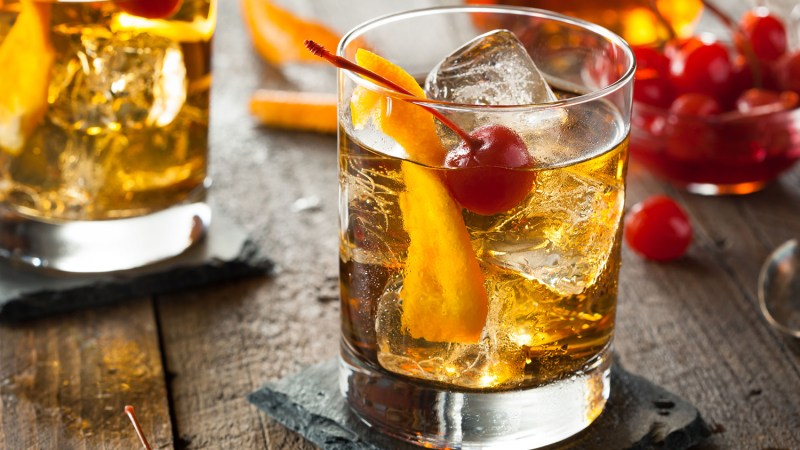 What new bourbon are we pumped about? Which hiking trail are we exploring? Why is the next supercar so cool? The Manual is a website dedicated to helping men live a more engaged life. Each week, our editors and guests get together for a round-table discussion on what's new, exciting, and unique in the men's lifestyle world. So pop open your favorite brew, step into your man cave, and start streaming. Shout out to Portland-based No Kind of Rider for our intro/exit music.
This week on Beards, Booze, and Bacon: The Manual Podcast, the round table discusses one of the best (in our humble opinions) cocktails you can order. Yes, the Old Fashioned.
Giving us the history of the Old Fashioned this week is Sam Slaughter, The Manual's Spirits Editor and drinker extroardinare. Also on deck is host and MC Greg Nibler and Editor-in-Chief Cator Sparks, with content creator Jake Rossman rounding out the mix.
Beards, Booze, and Bacon: The Old Fashioned Episode
First up, (after a brief musical interlude) Sam Slaughter gives us a quick backstory of the origins of the word cocktail, when it hit the scene, and how that paved the way for the Old Fashioned. Slaughter also discusses the first version of the Old Fashioned (which included gin) and its transition to the whiskey concoction we know and love in the late 19th century. It's a riveting ride through the long history of booze.
The group then discusses Old Fashioneds in general, including the use of ice, the use of spirits other than whiskey, and international airport lounges. Sparks adds to the conversation with a tale of boozy grooming products, including a bourbon-infused soap and an entire line of bourbon-inspired grooming products.
Further Reading
How to Make an Old Fashioned
A traditional recipe for the drink along with a how-to video.
Best Whiskey for an Old Fashioned
A rundown of the best whiskey options for this beloved drink.
How to Make a Rum Old Fashioned
The classic favorite gets a rum twist in this recipe and how-to video.
Duke Canon Bourbon Soap & Olivina's Bourbon Grooming Line
Bourbon's not just for drinking anymore. Apparently it's also for washing. Read more about bourbon and whiskey-infused grooming products and give your skin and hair a drink.
Editors' Recommendations