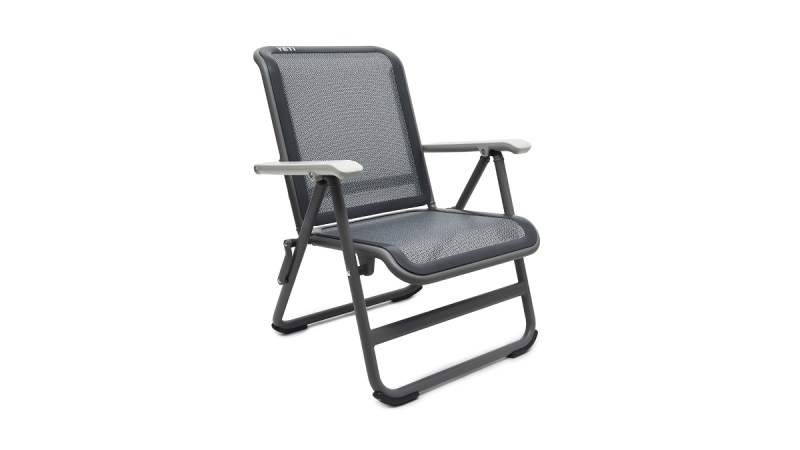 YETI, the brand most notable for its over-engineered and impossibly durable coolers, just announced a few new additions to its product lineup, including the company's first foray into the outdoor living category: The Hondo Base Camp Chair.
Make no mistake, though, this isn't your light-weight, back-country, backpacking chair. It weighs 16 pounds empty, but with a DoubleBarrel Frame reinforced with two layers of age-hardened aluminum alloy, along with proprietary EasyBreathe Mesh with FlexGrid Technology, the Hondo Base Camp Char offers both superlative strength and optimal comfort in an aesthetically pleasing package. The aluminum frame is inspired by premium mountain bike construction and the mesh fabric takes its cues from climbing harnesses, meaning this chair not only talks the talk, it walks the walk. And is pretty much wilderness-proof (if you choose to take it out into the woods with you).
"Our founding principle is to design products that solve current frustrations with durability and performance," says YETI CEO Matt Reintjes, hinting at further outdoor living additions down the line. "It all started with the Tundra, and now we're offering up solutions for comfort and durability in outdoor living. We continue to listen to our consumer and develop products that outdoor enthusiasts require before, during, and after their adventures."
Along with the Hondo Base Camp Chair, YETI is augmenting its cooler collection with its first-ever backpack cooler, the Hopper BackFlip 24, which integrates the brand's insulation technology with an ergonomic shape to more efficiently distribute weight. If you've ever tried to hike down a steep slope with a 12-pack of beer in your day pack, you know the hazards of shifting booze ballast. With the BackFlip 24, that precarious balancing act is a thing of the past.
This spring, the Hondo Base Camp Chair will be available for $300 exclusively at YETI's site and at the flagship store in Austin, Texas this spring; the Hopper BackFlip 24 can be found online and through authorized dealers, also for $300. Also new for spring 2018 are the Camino Carryall 35, an open-top, tote-style bag for everyday carry, Rambler 10 oz Wine Tumblers, and the Sidekick Dry bag, a small pack perfect for keeping your electronics safe and dry.
Editors' Recommendations