If, like us at the Manual, you love nothing more than geeking out on all things snowboarding, then you're probably up on different snowboard types. You can take one look at a snowboard's profile and tell whether it's designed to shred the whole resort or to get sendy in the backcountry. You know what camber and rocker are, understand flex profiles, and probably have a quiver in your garage to pull from.
But we also remember those days when all of this seemed a mystery to us when we couldn't quite get our heads around why people had so many snowboards — other than because we love collecting gear — and what made them pull out different boards for different days. When you first step off the rental setup and onto your snowboard, the whole winter world changes, but only if you have the right board. Like all adventure sports, snowboarding has an element of 'different strokes for different folks,' but you should at least start in the right ballpark for conditions and your riding style. These are the different types of snowboard.
All-Mountain
All-Mountain snowboards do precisely what you would expect them to; they perform all across the resort. These aren't your jack of all trades, master of none. Sure, if you want to get into a niche, there are better boards for each situation, but plenty of snowboarders spend their entire careers on all-mountain snowboards. Why? Because they're fantastic, that's why. The best all-mountain snowboards on the market can, to an extent, be a quiver killer.
Such is the popularity of all-mountain snowboards that factions have appeared even among this do-all range. All-mountain boards now have a lead or a nod toward specific snowboarding disciplines. Generally, all-mountain snowboards will be shaped by directional or directional twin. All-mountain snowboards are generally a mid-stiff flex, and though the bases come in various options, they usually feature a camber or hybrid camber bend that maximizes stability and responsiveness.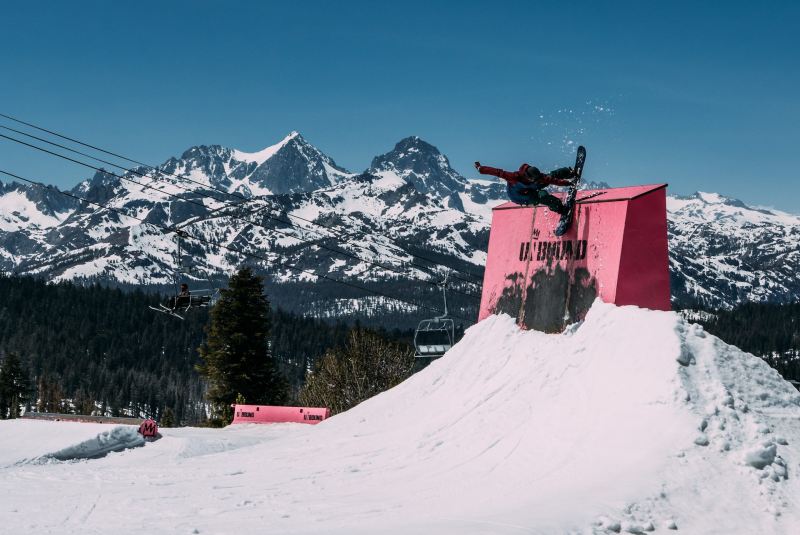 Freestyle/Park
Park rats love a bendy board for all that extra pop. By loading up these boards with all the potential energy they can muster, freestyle snowboarders can ollie higher for even greater send. These boards often have extra bend in the tip and tails for nose and tail presses and trick initiation — see nose pressing into a tamedog. This flex will make these boards feel more responsive and playful, but combine this with the fact that most freestyle snowboards are ridden shorter than an all-mountain would be, and you get less stability riding at speed.
Because these boards need to be able to land and ride cleanly in either direction, park snowboards are almost always twin-shaped, with the occasional twin-directional making its way into groomer-oriented freestyle boards. Camber profiles vary. Though traditional camber is favored by many for its extra pop, some riders opt for the more forgiving nature of a flatter or rocker-camber hybrid. Personal preference comes into play with freestyle and park boards, as does trick profile and whether you're a complete park rat or more of a side-hit trickster.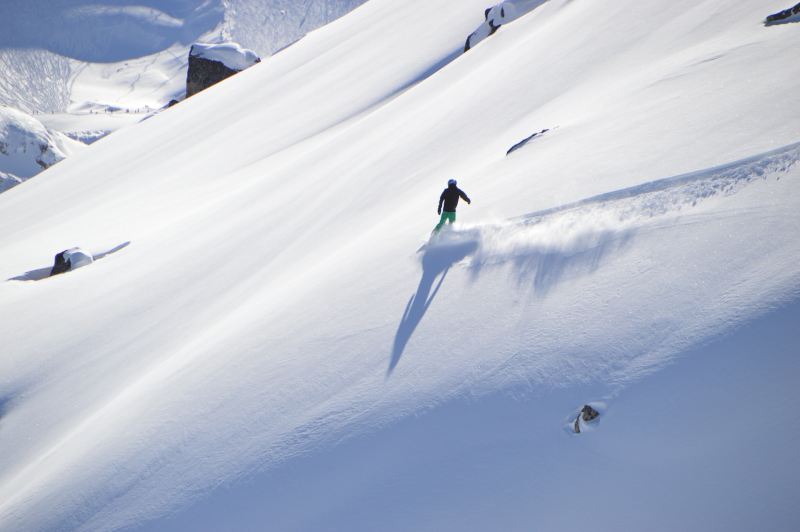 Freeride
People often mistake freeride and powder snowboards for the same thing, but it's not simple. Freeride snowboards are best considered the all-mountain machine for those who go beyond the groomer and want to make the most of the mountain's natural features. These snowboards are generally stiffer, with a directional shape and setback stance; they can handle powder, chopped-up snow, steep turns, and drops and carve huge sweeping turns where conditions allow it.
These boards excel in powder, but Freeride boards are often ridden longer than out-and-out powder boards, so that they can struggle on tight turns in trees. Equally, because these boards are built to hold a long carving edge, the nose won't have the same float and surf feel — but we'll get to that momentarily. As with other styles, Freeride boards vary in camber, but most snowboarders prefer a hybrid camber/rocker profile for the combination of edge-hold and float.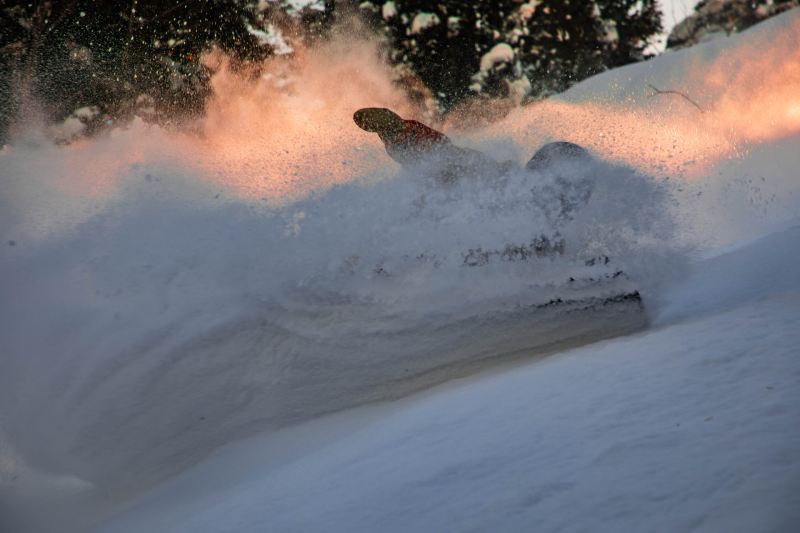 Powder
The float, the freedom, the feeling like you're riding on top of a cloud; there is absolutely nothing like riding powder — we might be biased here. A few years ago, powder boards were simple. You took a stiff all-mountain snowboard, made it bigger and broader — often unrideable — and took it off into the backcountry. But then snowboarders looked even further back to the time of snurfers and realized how much fun they were missing out on.
Nowadays, powder boards are ridden shorter, with huge floaty noses and a stance that almost sees you falling off the back of the board. These snowboards lack stability at speed and can be challenging off drops — that's what freeride boards are for — but they come alive in the steep and deep and amongst the trees. Often with a huge front-end rocker profile and directional flex that makes the scoop-like nose float, you turn these from the backfoot and put in excellent, sweeping powder turns with full-champagne face-shots going overhead. Don't forget your snorkels.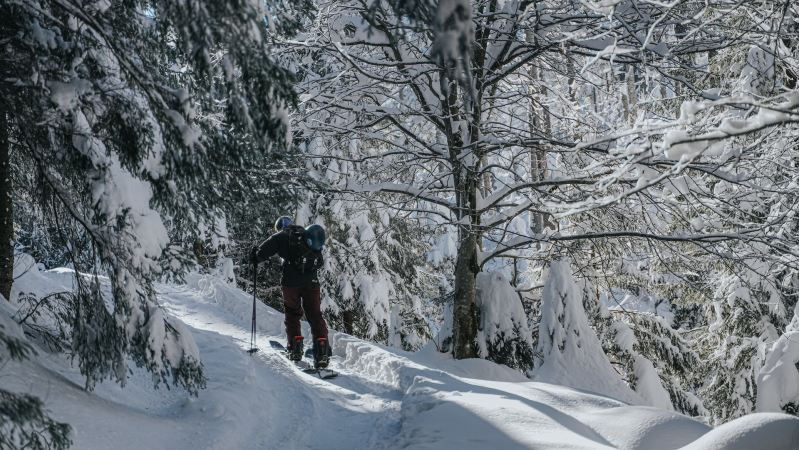 Touring/Splitboard
If you want the freshest lines, you have to work for them. Splitboards, when in one piece, tend to fall into the freeride or powder categories because, after all, that's why you're putting in the hard work. This means they are often on a mid-stiff flex and have a rocker at the nose, with various camber profiles along the length of the board. Adding two inner rails can often make these snowboards feel stiffer than their one-piece counterparts, but this stiffness is necessary when you're zig-zagging up steep climbs in the backcountry.
Splitboards come apart into two pieces that look a little like skis — shhh, we don't want them to know they came up with something useful. With your bindings removed and spun to face the front of each of these halves and with skins attached to the bases to prevent you from slipping backward, you climb out of the resort and into your paradise. Once you're at the top of your climb, reverse the process and shred downhill.
Editors' Recommendations