Snowboarders must face an inconvenient truth: Nobody will pay you to go snowboarding. No company will sponsor you, no tournaments are waiting to host you, and you won't become an "influencer" on Instagram posting your videos. Unfortunately, we're all painfully ordinary people who happen to love snowboarding.
You should snowboard because it's fun, and you have fun doing it. That's why you spend hundreds or thousands of dollars each year "falling down mountains," as we say around here.
As the snow falls again, it's time to consider how to approach another snowboarding season. At The Manual, we focus on giving you the best insights possible. And you know, maybe it's time to look inward for those insights; perhaps it's time to think deeply about how you can have more fun this season and what that means to (and for) you.
We find a lot of snowboarding content focuses on extreme terrain, aggressive park riding, and complicated tricks. It's fun to doom-scroll through Instagram and see the intense stuff, but the reality is often different for snowboarders. We're at resorts; we like hot waffle fries in a warm cafeteria between runs; we worry more about staying upright than landing big-air tricks; we are out there for leisure, even when it's hard.
Snowboarding should be fun, so this is how we'll drill down on having more fun this winter, and we invite you to come along for the ride with us. We promise more smiles and laughs.
And we promise objectivity. At the conclusion of this article, I'll make one more promise to you that may be the most important one, so read on.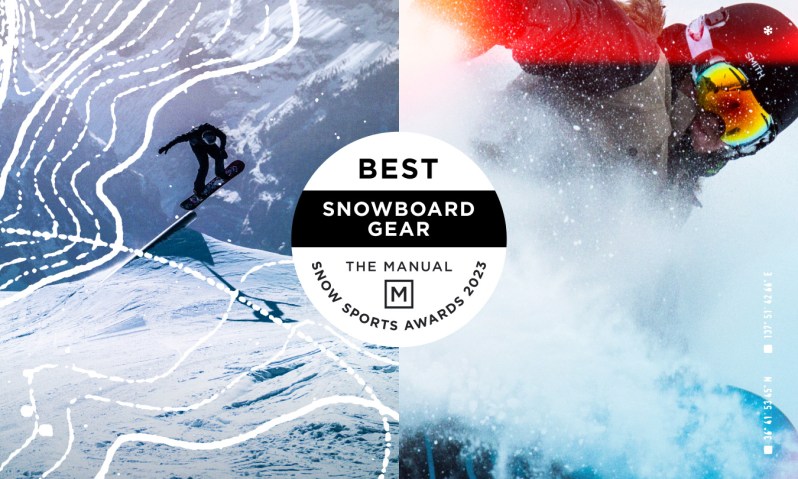 Find the right snowboarding gear for you
We end up riding various boards, tinkering with different bindings, slipping into different boots almost every time out, and testing a lot of outerwear here at The Manual. As my quiver grows and my closet becomes dense with GORE-TEX outerwear, please take my advice: find the best snowboarding gear for you.
This year, The Manual is taking a slightly different approach to product reviews. We'll be focusing on you, not the gear itself. We'll tell you who it's best for and what conditions it's right for. We believe there's a lot of parity in snowboarding gear lately. The common denominator is the most variable: you.
The Manual doesn't exist to sell you stuff. Sure, we get a lil-a commission as a treat if you click our red "buy now" buttons, but we add those to make it simpler for you. When you're ready to buy, click the button. If you need more time to research, that's cool, too.
We've thought deeply about the research and buying journey, and we believe we can help you make the best decisions with more objectivity. We're not a retailer and have no "skin in the game" when it comes to covering products. When you read our reviews or recommendations, rest assured we're giving you meaningful insights, not a sales pitch, and we'll encourage you to consider how you ride and what conditions you are in most often before buying anything.
We genuinely want you to find the gear that works best for you across the board (pun intended). And we promise a no-nonsense approach to reviews to help you make the best decision.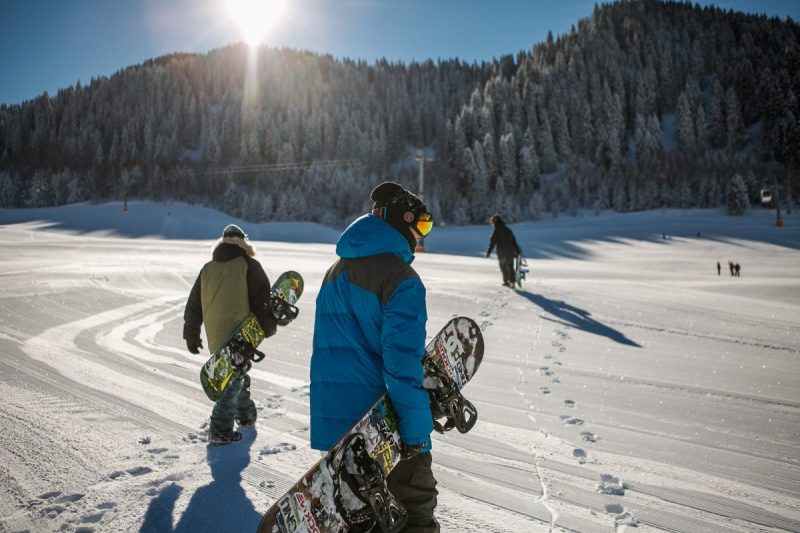 Explore blues and greens – and maybe even the park!
Only some people can rip double-black diamonds and catch big air on the halfpipe. Hell, not everybody wants to.
Many black diamond runs have moguls or are otherwise more "designed" for skiers. For snowboarding, they suck. So, we're not even going to worry about them.
We encourage you to explore the mountain fully, not just seek the extreme terrain. There's a lot of fun to be had on blue squares and green circles. (Spoiler alert: We've got an article coming that explains how ski resort ratings are low-key BS anyway.)
It's time to stop looking at trail ratings as a barometer for how good you are at snowboarding or how much fun you'll have. Trail ratings give you an idea of the slope and overall terrain on the run. Those ratings do not indicate how much fun you'll have or if the run is even "right" for a snowboarder. This applies to all runs; there's a "green" run on Mt. Hood (where I 'board most often) that is way too tight and mogul-y for snowboarding, but it gets a green anyway.
Consider the roots of the sport: surfing on snow. Let's do more of that. And there's more of that in green and blue runs. Explore the mountain, find your own fun, and enjoy the ride.
Snowboarding parks can be daunting
Take it easy when (or if – there's no pressure!) you're ready for the park. Start small, give yourself time to learn how features work and what park riding feels like, and only do what you feel comfortable with. You don't need to impress anyone. Parks are there for you to explore, tinker with, and enjoy. So do just that.
If it's your first time in the park, glide over boxes and tap rails with your board. Go off the easy jumps with enough speed to land safely. If a jump is a bit daunting, just go around it! A lot of videos make tricks look easy, but remember those people have been doing it for a lot longer than you or I. They also get paid to be great at snowboarding – and I bet you don't.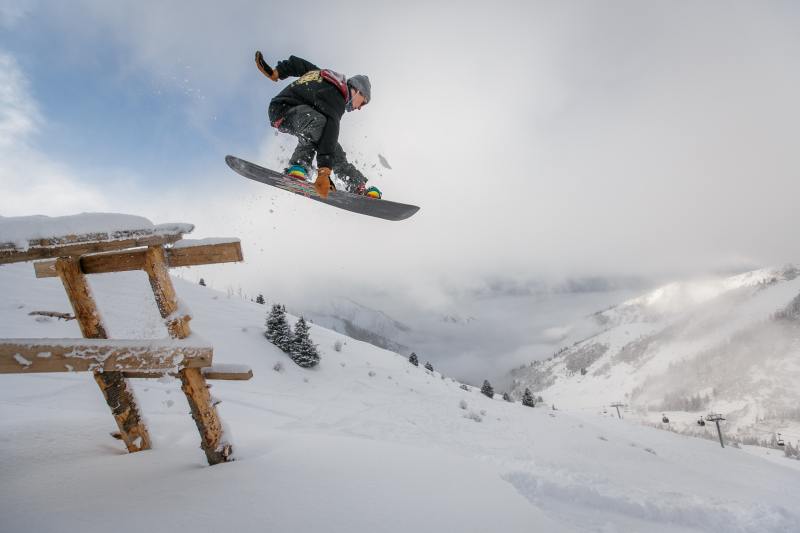 Side hits are your best friend (and a note about snowboard tricks)
We're encouraging you to explore greens, blues, and the park. We also encourage you to explore "side hits," natural features you can catch a little air on or use to do some tricks.
And while we're here, a note about tricks: Do feel free to learn tricks and their names, but don't limit your thinking to a set list of tricks. Let tricks flow from your riding. If you do a trick you don't know the name of or haven't seen before, so what – you had fun doing it. Just be sure whatever you try to do, that you feel confident you can land and not hurt yourself in the process. (Even the great Zeb Powell admits he often just does stuff and has no preconceived notion of what he's going to do; he just goes for it. Be like Zeb – but not full-on Zeb, dude is insane.)
Side hits are a great way to get some air in the middle of a run, too. When you see a side hit, give it a go and see what it brings you. We suggest taking a run or two to see where the hits are, then trying to hit them later. This helps you figure out where to approach the side hit (some are off the beaten path and require finding a trail to approach from) and what you can do with it.
Start simple with side hits, too. Maybe the first time, just do a simple jump to get the speed and landing down. There's always a next time. Don't rush it.
Travel – at least once – just to snowboard
You don't need to go far! Maybe find time to take a two or three-day trip somewhere within driving distance and explore a different mountain.
A lot of season passes allow you the opportunity to snowboard other mountains for free. Sure, there are restrictions on when you can visit those partnering mountains, but we're betting you talked yourself into that season pass last year because of this perk – and never took advantage. This year, take advantage. Go somewhere new.
Even if you don't have a pass that provides access to another mountain, do yourself a favor and explore other mountains and resorts. You'll be happy you did.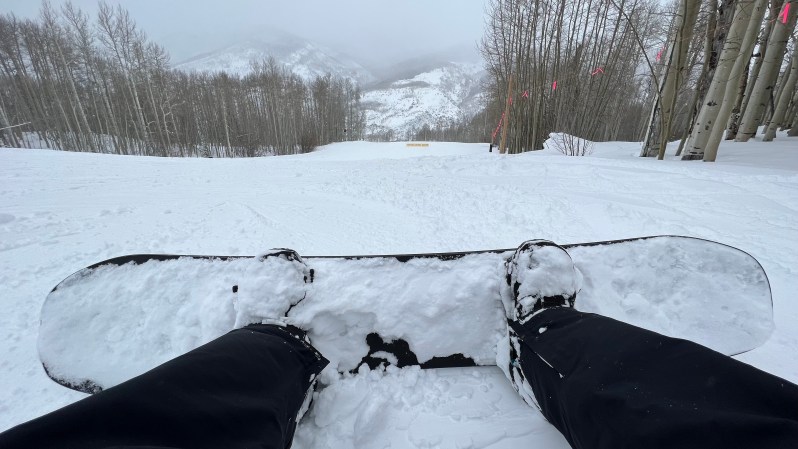 Have goals for snowboarding this year
Start your season with at least one snowboarding-related goal, whatever it is.
If you want to be bold, tell a riding buddy your goal and see if you can help each other achieve these goals. My goal this year is a frontside 720. Frontside air tricks weird me out for some reason, so I am challenging myself to get past that and learn at least one new frontside trick this year. Now the world knows, and now I have to do it.
(And I'll crash a lot doing it, too. This is why we wear protective gear when snowboarding, everyone!)
Whatever your goal or goals, make that your challenge for the year. And be supportive of your friend's goals, too. When you achieve your goals, be proud of yourself, and consider setting another before the season ends.
Keep challenging yourself to do more, and your riding will improve dramatically. And please – don't think your goal needs to be a trick. A friend of mine has a goal to not fall on at least one run this year (they're new to snowboarding), and when that happens, we'll cheer so loud for them the whole mountain will think we're nuts.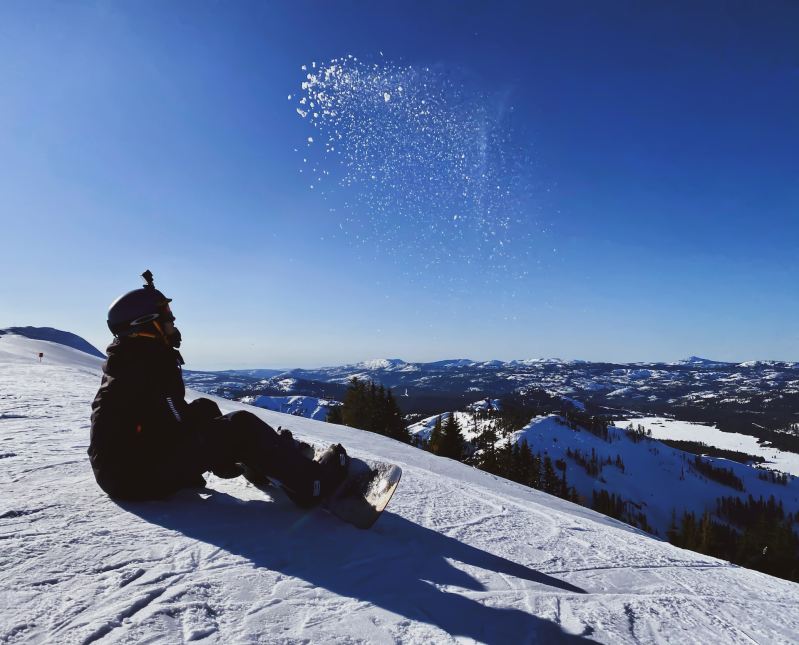 Finally, our snowboarding promise to you
Here's our promise: no BS.
The Manual is not an "endemic" snowboarding publication. I don't want it to be one. Like you, we snowboard when the cold weather hits, hang 'em up when the snow melts, and do other cool stuff until winter returns. But we never stop obsessing about snowboarding.
So, when the snow starts falling, and we have cause to start publishing snowboarding content, it's important to me we're purposeful about what we publish.
We want to provide meaningful insights. The Manual seeks to be your signal, not more noise. We'll talk about the boards, boots, bindings, outerwear, protective gear, and resorts we think have something interesting or meaningful to offer you. If they don't, we won't. It's that simple. When you read The Manual, you should feel confident what we've published is worth reading and that our insights are grounded and objective – because they are.
We're also going to talk about climate change. We're going to talk about sustainability in snowboarding, too. These topics matter to snowboarders (and skiers!) who rely on a healthy climate to enjoy the sport they love.
And if you ever feel we're falling short, email us at editorial@themanual.com. We might not be able to respond, but we read every bit of feedback. (Even the bad hot-takes.)
Now, go wax your board and pace the living room until opening day at your home mountain. Also, watch the Side Hits Euphoria series on YouTube. If that doesn't get you geeked for snowboarding, maybe take up skiing instead, as your snowboarding soul is likely lost. (And yes, we'll still playfully poke fun at our skiing brethren. Two-plankers are weird, but we still love them.)
Editors' Recommendations