Many of us remember the year 2000 quite vividly. It was a memorable year, marked by an abundance of hair gel, indestructible cell phones, and arguably the ideal configuration of digits to make novelty Happy New Year sunglasses. It also brought the launch of the Razor scooter, which left an indelible stamp on the hearts of its riders. Lucky for us, Razor is still alive and kicking, and more than prepared to adapt its classic manual scooter into the Razor electric scooter, which is one part fun to two parts powerful. Grab your helmet and juice pouch and come with us to learn more about the most Razor Icon.
Electric scooters have been increasing in popularity for years, as eco-friendly commuting solutions, ways to have fun (and keep up with) the kids, and simple tools to zip around town. The Razor Icon electric scooter is inspired by its original "A" kick scooter, which relied on human power to keep it zooming along. Equipped with a folding aluminum frame, and a battery that can charge in an ordinary home outlet, the Icon seems a lot like its smaller and simpler predecessors, but it has many nifty hidden features. Does it live up to its legend and can it keep up with adult life? Read on to find out.
Spec sheet
Speeds
Easy Mode – Up to 6 mph (9.6 km/h)
Normal Mode – Up to 12 mph (19.3 km/h)
Sport Mode – Up to 18 mph (29 km/h)
Weight
Distance
Up to 18 miles (29 km) on a single charge
Battery: 36.5-volt lithium-ion pack, rechargeable (UL2271)
Motor: 300 watts
Specifications
Intended for riders 18+
Maximum weight 220 pounds
90-day warranty
Comes in five colors
Measurements
Deck: 19.3 inches long (490 mm), 5.5 inches wide (140 mm) with oval grip tape
Tires: 8.5 inches (216 mm), abrasion-resistant, airless, flat-free
The ride
What can we say? A zippy electric scooter with this kind of power and speed is a great time, period. Speed decreases and increases are gentle, so much so that we rarely realize we're going the maximum 18 mph. Hills, naturally, put a slight damper on the Icon, but it never falters. The sturdy, airless tires take on large cracks in cement and path obstacles. such as small tree roots and sticks, with ease. Turning a tight corner is no problem at all, and the flexibility of the scooter makes it easy to do endless figure-8s wherever there is room.
Should you be running low on battery (and with a 60-minute continuous ride time maximum, this is unlikely), you also retain the option to turn off the Razor electric scooter and rely on old-fashioned manual scoot power to get moving. It's great for exercise, and the scooter's ability to pivot gracefully between two states is a nice touch.
In short, the Icon can easily accommodate just about any form of freestyle riding. Careful attention to design, durability, and ease of use combine to faithfully recapture what was so iconic (shame on us) about the original: its simplicity. Unlike a bike, the Razors lack small parts and never require multiple lessons (and nasty falls) to master. You simply grip the handlebars and kick. The Icon Razor scooter has the same intuitive feel, even with all the new capabilities.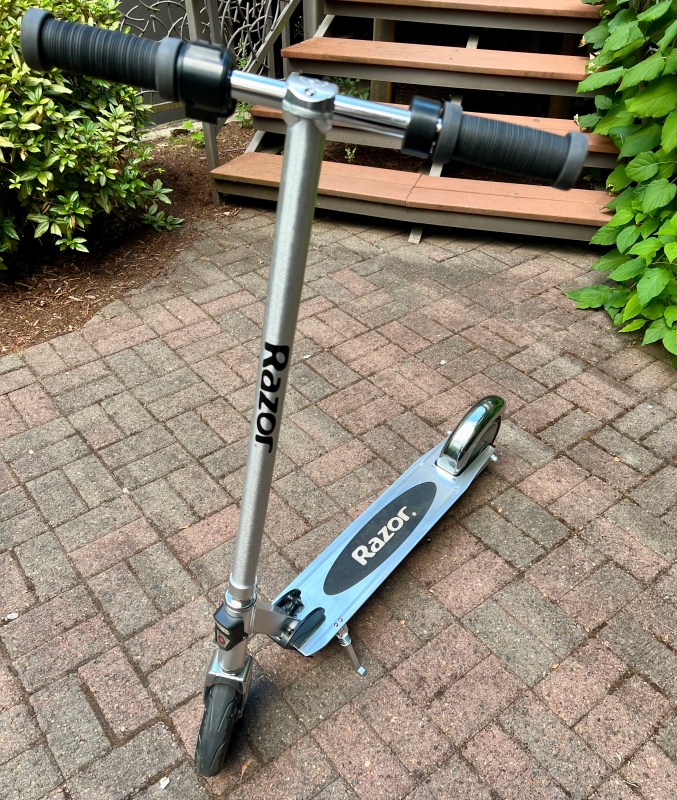 Practical pros
One of our favorite things about the Icon is that it's a ton of fun, but doesn't weigh it. When first assembled, it may strike the viewer as being taller than expected. This is probably because of the nostalgia factor — gone, too, are the soft foam handlebar coverings. However, the Razor is perfectly proportioned for an adult. It's easy to fold up and does so with a satisfying click. Weighing in well under 30 pounds, it's one of the lighter scooters on the market, and this maneuverability is a definite plus for anyone who may need to fold it each time they have to store it.
This Razor electric scooter also comes with plenty of goodies and surprises, from the airless flat-free tires and the LED light to guide you, to the locking point above the front tire (that allows you to secure it with a bike lock). A small digital display shows the rider's current mph, battery level, and speed mode. Speed is smoothly controlled with a rectangular, thumb-sized throttle on the right. A small, red brake paddle on the left easily handles sudden stops, as well as subtler slowdowns. The second brake, which activates when the rider uses a foot to depress the top of the rear fender, is a delightful nod to the original Razor braking method.
Everyday uses
The Razor Icon is a formidable method of transportation that one could fairly easily work into their commute. If you had or have room for a bike, you certainly have room for the Icon. Whether it's a good commute solution for you will come down to your climate and the state of the roads and sidewalks near you and your workplace. A helmet is, of course, always essential, as is observing local laws governing bike lanes and sidewalks. We can say that, in general, e-scooting to work will make you extremely popular with co-workers.
The Icon is also quite handy for trips to the store, saving you from lugging heavy items, provided you bring a backpack or sturdy reusable bag. Using this Razor scooter to get around town and save gas is great, but it's perhaps most delightful to ride just for the sake of riding.
Final thoughts
There are very few downsides to be had here. As with many well-designed gadgets, cost may be the biggest one. The Icon's current price tag is $600, a significant investment. Considering that one must also factor in a helmet, a bike lock, and potentially a sturdy backpack, the cost is considerable. However, given its durability and commitment to quality and safety, we consider this a fair price.
Overall, we feel the Icon scooter is a worthy heir to the Razor throne and an excellent candidate for those in the market for an e-scooter. It's worlds away from a toy and clearly designed for many years of reliable riding, uniting nostalgic exhilaration and everyday practicality.
Editors' Recommendations