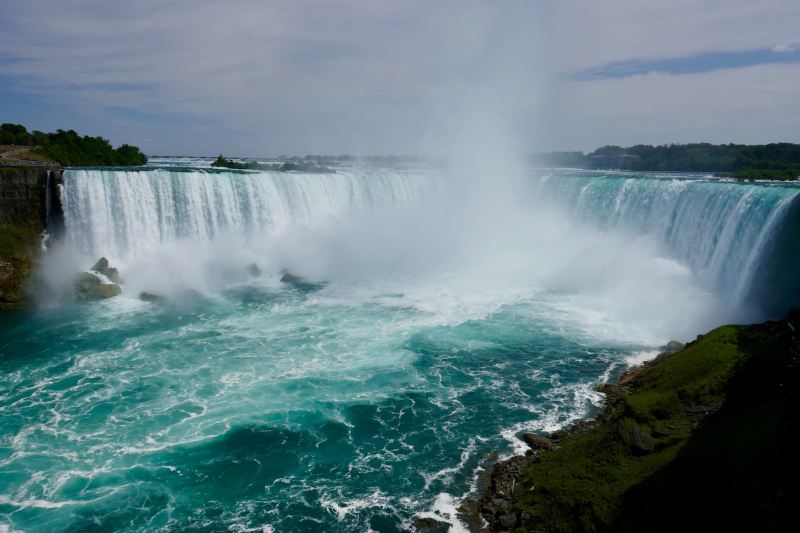 When it comes to natural wonders, few sights are as captivating as waterfalls. The United States has so many awe-inspiring cascades, each with its own unique charm. From the raw power of Niagara Falls to the majestic grace of Yosemite Falls, these natural wonders have long captivated visitors from around the world.
If you're an avid hiker or simply a nature enthusiast, here are our top 5 waterfalls to visit in America before you die.

Niagara Falls
No list of beautiful waterfalls in America would be complete without mentioning Niagara Falls. Straddling the border between the United States and Canada, this iconic wonder needs no introduction. Comprised of three stunning falls—the Horseshoe Falls, American Falls, and Bridal Veil Falls—Niagara Falls impresses visitors with its sheer power.
The best time to visit is during the summer and fall months when the weather is pleasant and the falls are at their most majestic. Entry to Niagara Falls State Park, which offers multiple viewing areas, is always free and open 365 days a year, with a small fee for parking. It's well worth it for the unforgettable experience.
If you have time and don't mind crossing the Canadian border, make sure to set aside some for the Niagara Falls History Museum, where you'll learn all about Annie Edson Taylor, a schoolteacher in the 1900's. On her 63rd birthday, she became the first person to survive a trip over the falls in a barrel.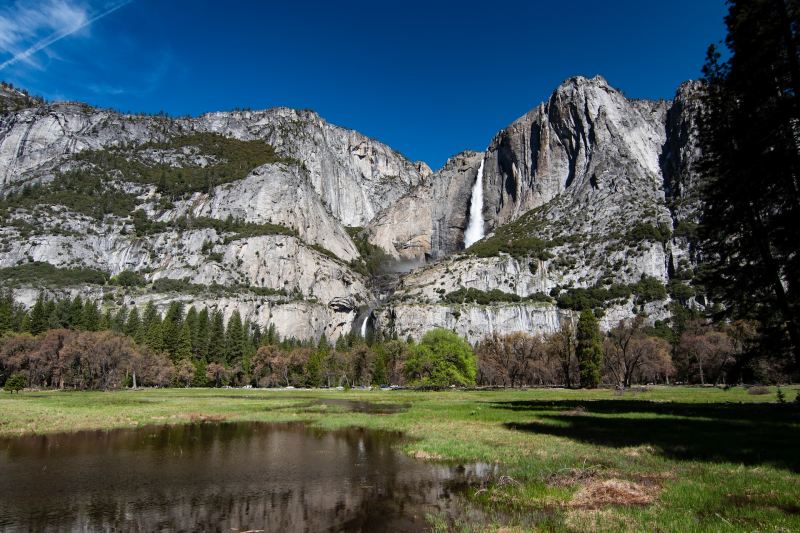 Yosemite Falls
Nestled within California's iconic Yosemite National Park, Yosemite Falls is one of the best waterfalls in the US. Plummeting in three distinct sections, this magnificent waterfall stands as one of the tallest in North America, with a total drop of 2,425 feet.
Yosemite Falls is a sight to behold at any time of the year, but the best time to witness the falls in all their glory is during the spring season. As winter melts away, the snowmelt cascades down the granite cliffs, creating a spectacular display of rushing water and mist.
To access Yosemite Falls, visitors must enter Yosemite National Park, which requires a fee of $35 per vehicle. This fee grants you access to the waterfall, as well as the park's well-marked hiking trails. If you're a seasoned hiker, consider the challenge of Yosemite Falls Trail, which is a 7.2 mile hike to the very top of the falls. That said, if you're not keen on a 6-8 hour hike, the Lower Yosemite Falls Loop Trail is a 1 mile long paved trail that will let you admire the waterfall from a close vantage point.

Havasu Falls
Havasu Falls is part of a series of waterfalls located in Havasu Canyon, which is named after the Havasupai people who have called this stunning place their home for centuries. The falls themselves are a true natural wonder, with water plunging from an impressive height of around 100 feet into a beautiful pool below. The contrast between the vibrant blue-green water and the fiery red rocks that frame the falls is simply breathtaking.
The falls are accessible through a 10 mile hike that meanders through Havasu Canyon, but it's definitely worth it. Just remember, your permits (Currently $100 per person per weekday night and $125 per weekend night) must be obtained well in advance. There is no day hiking, so make sure that you're prepared to book a camping spot by going to the Havasupai Reservation website.
Tahquamenon Falls
Located in Michigan's Upper Peninsula, Tahquamenon Falls has an impressive series of cascades that span over 200 feet in width. With its reddish-brown hue, the water plunges dramatically, creating a captivating sight for anyone looking to connect with nature.
Like most waterfalls, the best time to visit is during spring when the water flows abundantly. Tahquamenon Falls State Park charges a nominal entry fee of $9 per vehicle, allowing visitors to explore its well-maintained trails that lead to various viewpoints of the falls.
One of the most popular trails in the park is the Lower Falls Trail, which offers a picturesque 4-mile round trip through a beautiful forested area. This trail leads visitors to the viewing platform near the base of the falls, providing an up-close and personal experience with the cascades. The trail is relatively easy, making it accessible for visitors of most ages and fitness levels.
For those seeking a longer and more challenging hike, the River Trail is a great option. This 8.4-mile trail follows the Tahquamenon River and offers stunning views of the upper and lower falls, as well as the surrounding wilderness. It's an immersive experience that allows visitors to fully appreciate the natural beauty and serenity of the area.
Aside from hiking, Tahquamenon Falls State Park offers additional recreational activities. Fishing enthusiasts can try their luck in the river, which is home to a variety of fish species, including trout and salmon. There are also picnic areas and campgrounds within the park, providing opportunities for visitors to relax and enjoy the peaceful ambiance of the surroundings.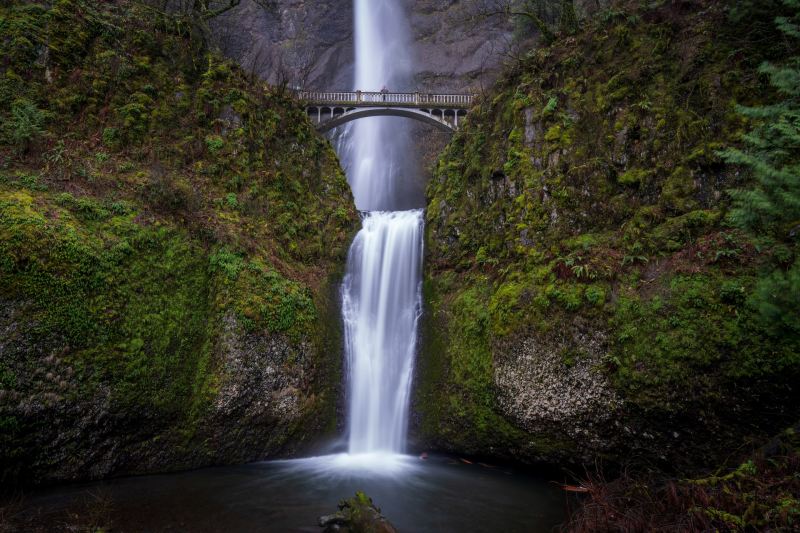 Multnomah Falls
Multnomah Falls is undoubtedly one of the most beautiful waterfalls in the Pacific Northwest. The upper falls, plunging an impressive 542 feet, stand as the tallest waterfall in Oregon. Visitors can reach the falls by driving along the Historic Columbia River Highway, which offers views of the Columbia River Gorge and its lush, forested surroundings. As you approach the falls, you'll find a dedicated parking area where you can leave your vehicle and begin your adventure, with no entry fees involved!
Upon arrival, you'll find a well-paved trail that leads you to two primary viewpoints of Multnomah Falls. The first viewpoint is located at the base of the falls, offering a close-up perspective that allows you to feel the mist on your face and experience the thundering power of the cascades.
Continuing along the trail, you'll soon encounter the picturesque Benson Footbridge. This iconic bridge spans across the lower cascade of Multnomah Falls, providing visitors with a stunning vantage point to admire the falls in their entirety.
For those seeking a longer adventure, there are additional hiking trails near Multnomah Falls that allow you to explore the surrounding wilderness. These trails range in difficulty and length, catering to both novice hikers and experienced adventurers.
Beyond the falls themselves, Multnomah Falls offers visitor amenities such as a gift shop and a restaurant where you can grab a bite to eat or purchase souvenirs to commemorate your visit.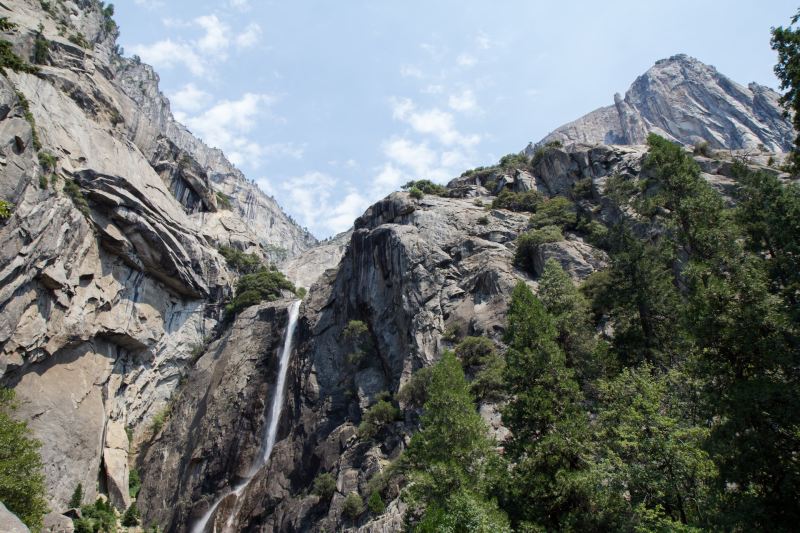 America is blessed with an abundance of natural wonders, and these top five most beautiful waterfalls are just a glimpse into the captivating landscapes that await. Make sure that you plan your trip in advance so you have all of the correct permits, gear, and attire for your hikes.
Editors' Recommendations