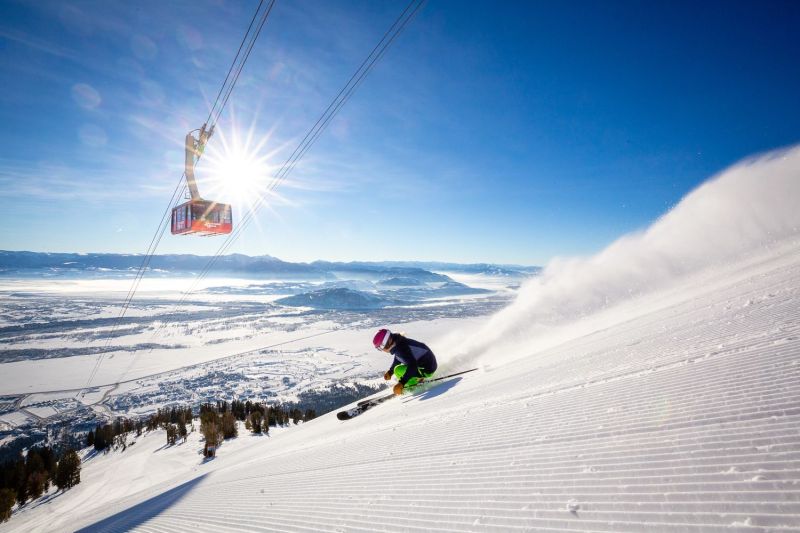 Consolidation and conglomeration. These two words have dominated almost every industry — from banks to fast food restaurants to web apps — over the last two decades as more small- to medium-sized businesses are gobbled up by large, often international corporations. In many cases, that loss of independence means putting customers second and profits first. The mountain resort industry has been no different, with massive multinational conglomerates buying up U.S. resorts for years now.
But many smaller, family-owned resorts have stood strong, vowing to remain independent despite seemingly all-consuming consolidation — resorts like Jackson Hole Mountain Resort in (where else?) Jackson Hole, Wyoming. It's a world-class, year-round playground that's been a mainstay of North American ski resorts for the better part of a century. The bad news is that it's been sold; the good news is that the buyers of the famed Jackson Hole ski resort aren't who you might expect.
Jackson Hole Mountain Resort (JHMR) has been in the Kemmerer family for over 30 years. Siblings Jay, Connie, and Betty Kemmerer bought it in 1992, and it's since evolved into one of the best ski resorts in the United States, even the world. In that time, they invested more than a quarter of a billion dollars into improving everything, from new ski lifts to a $31 million aerial tram to encouraging direct flights between Jackson and key U.S. destinations. They've also supported eco-friendly changes (switching the resort to 100% green energy in 2019) and ongoing philanthropic efforts with contributions to local hospitals, community foundations, and search-and-rescue operations.
But all good things must come to an end, and they recently decided to sell this lodge at Jackson Hole. "The time has come to transition ownership of Jackson Hole Mountain Resort. We take great pride in what JHMR has become and what it represents to the Jackson Hole community and the state of Wyoming," said Jay Kemmerer. In a surprising twist, however, he and his siblings opted to keep the resort in the hands of legit locals. "It is of utmost importance to me that the next ownership maintains the integrity and character of the mountain that we have worked so hard to build over the past three decades. There is no better fit for this ownership transition than Eric and Mike and their families, who share the same vision for the future of JHMR and its importance to our great community."
Teton County locals Eric Macy and Mike Corbat have worked as board members of JHMR on every decision that matters, so they understand the Kemmerers' vision. The good news amid this change is just how little is expected to change once the resort officially changes hands (the deal is expected to close later this year following customary closing conditions and approvals). Macy and Corbat have been and continue to be key players in everything that happens at JHMR, from daily operations to future financial planning. They've endorsed the resort's path up till now and have vowed to continue to do so. That means avid skiers and snowboarders (and every other type of outdoor adventurer, really) who love the resort will see little, if any, change after the sale. And that, fellow mountain lovers, is an excellent thing.
Editors' Recommendations