The Hypervolt massager is a cordless, hand-held massaging gun that feels as powerful as an industrial-strength jackhammer. Basically, it will unknot your tight muscles and then some.
This "first-ever high intensity vibrating roller" made by Hyperice was created with the goal of allowing a cutting-edge portable massager device to be available for recreational athletes, not just Olympic studs.
However, the intense power of the Hypervolt makes one wonder if the device really should be left to the pros.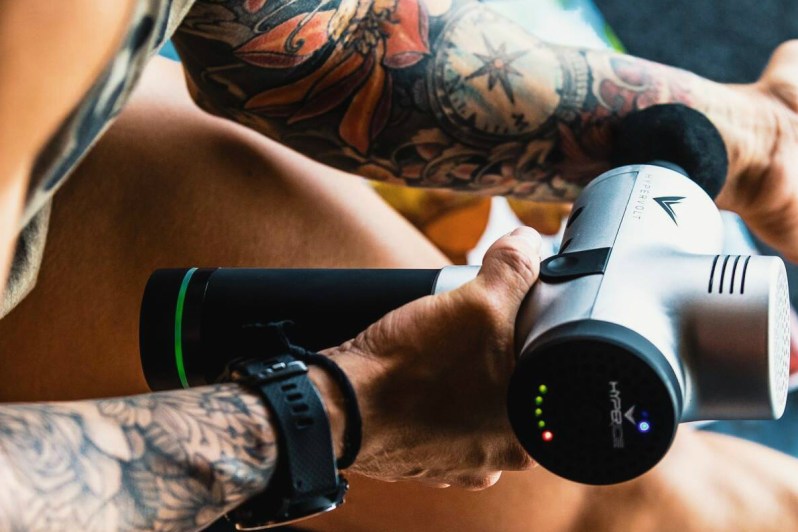 A high-torque motor powered by a rechargeable lithium-ion battery is set to three changeable speed settings, which might as well be labeled insane, mega-insane, and mind-altering. Whether using the Hypervolt on yourself or someone else, the power will make your arms, muscles, teeth, and brain vibrate … sometimes to the point of lethargy. In fact, the massager packs so much buzz, it's not recommended for those with epilepsy, migraines, recent surgeries, herniated disks, or those wearing a pace-maker.
So, yeah, this is a legitimate piece of massaging tech. Hyperice recommends it for professionals in the health and wellness space, including "personal trainers, massage therapists, and sports performance professionals who are constantly on the go," but also say wellness-minded consumers can grab this Terminator gun and use it.
The weight of the Hypervolt (2.5 pounds, according to Hyperice) feels quite heavy and is comparable to holding an electric drill. Four interchangeable heads are provided, depending on the place you're massaging and the type of focused pressure you like.
Yes, the Hypervolt does look and feel a bit like a torture device, but you'll get that "good pain" associated with deep tissue massage and foam rolling.
"We have acquired substantial knowledge relative to vibration technology. We put all of that knowledge into the development of the Hypervolt," says Hyperice Founder Anthony Katz. "Recovery and mobility tools are no longer used only by athletes, they have become essential for everyone from fitness enthusiasts to personal trainers and physical therapists. This was top of mind when developing this new product."
Hypervolt is even used by athletic stars like Olympic Track and Field athlete Charles Jock, CrossFit Games competitor Dave Castro, and LeBron James, who spends roughly seven figures on body care per year.
Hypervolt is a fraction of that price at $350, but still a substantial chunk of cash. Using the Hypervolt can increase your range of motion, relieve stiff, painful, and sore muscles, increase circulation, and allows you to massage yourself — not an easy feat when you're looking for intense pressure.
Then again, are you really training as hard as LeBron James or just whining as much?
Editors' Recommendations