Fashion or function: do you want to look steezy on the mountain, or do you want your ski gloves to stop that fresh powder from freezing your digits? Believe it or not, there is a right and a wrong way to wear your ski gloves, snowboard gloves, and snowboard mittens, and there's a real possibility that you've been getting it wrong. How do we know? Well, we see it all the time on the mountain.
If we corrected everyone we saw on the hill wearing their gloves wrong — don't get us started on backward helmets and upside-down goggles — not only would we never get any snowboarding done, but we might end up with a black eye or two. But correct ski glove etiquette isn't just about snowboard snobbery; there's a reason that gloves and mittens are designed the way they are. While everyone has nailed getting their fingers in the right holes, the cuffs — or skirt — often let them down. So here's the right way to wear your ski gloves this year.
Ski gloves with a short cuff
Short-cuff ski gloves have enjoyed a boom in popularity in recent years as skiers have gone for a modern, stylish look. Short cuffs sit underneath your jacket, meaning that you must have a ski jacket with a velcro or elasticated cuff to create a weatherproof seal. While the seal may not be as effective at keeping out snow and cold weather, short cuff gloves do have a few advantages.
They look great — short cuff gloves ooze effortless class. Tucking your gloves under your jacket, in our opinion, looks cleaner and more stylish.
Short-cuff gloves tend to be a better warm-weather option. The long gauntlet-style gloves can be opened for better airflow, but they will always retain more heat than a short cuff option. Spring riding means lightweight gear; thin gloves protect your hands without overheating.
Short-cuff gloves are often favored by backcountry enthusiasts who benefit from their lighter weight and better packability. While skinning up the mountain, many skiers and splitboarders pack away the outer gloves, wearing thin liners that allow their hands to breathe. Shorter cuff gloves fit better into touring packs and still fit the bill for the descent.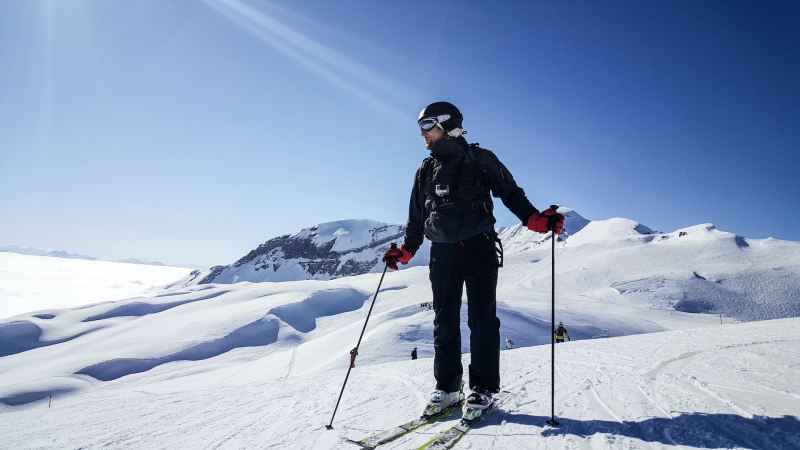 How to wear long cuff ski and snowboard gloves
Mostly, gloves with extended long cuffs are better suited to deep snow and especially cold conditions. Generally, these are heavier-duty, thicker ski and snowboard gloves or snowboard mitts designed to keep your fingers together for collective heat. By tucking your jacket sleeves inside the gaiter and cinching the cords around your wrist, you create an effective seal to keep out cold weather and stop deep snow from filling your gloves.
While short-cuff gloves were generally seen as being more fashionable, companies out there are bringing the long cuff back with designs that stand out against your jacket and make a statement. As a bonus, long cuff gloves are much easier to put on and take off, so you can whip them off on the lift and get them back on in a moment as you start to ride without having to fight your jacket sleeves.
Editors' Recommendations