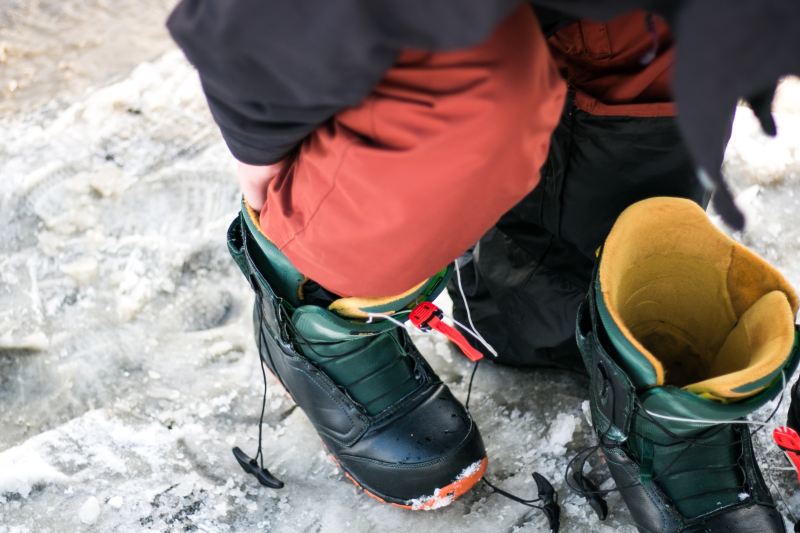 If there's one item of gear we recommend above anything else to elevate your snowboarding game, it's your pair of boots. Okay, nothing equates to buying yourself a new snowboard — whether it's your first ever board or expanding your quiver — but boots are the way to become a better snowboarder.
That's because the essence of all good snowboarding is in connection with your snowboard, and you can only achieve great connection with a well-fitted pair of boots. And that's the key to a pair of snowboard boots; they must be well-fitted. The whole issue with rental boots is that they're so unreliable. Even if luck is on your side and you get a pair of rentals that feel like a great fit, they're nothing when you compare them to a pair of your boots — trust us on this.
It's time to boot up, and here's how you should have them fit for a winter of shredding.
How snowboard boots should fit
Remember that the liners in a brand-new pair of boots won't be blown out like a set of rentals, so it's often worth going slightly tighter than usual and giving your boots room to pack out as you ride. Getting a perfect fit usually means a solid couple of hours in your local snowboard store — or, if you order online, a few hours at home — wearing your new snowboard boots before you hit the slopes.
Spending time in your boots lets you know if they're too tight — your toes will tingly or numb — and gives you time to adjust and practice the right fit. With your boots on, look for the following to check for a perfect fit:
Your toes should barely touch the end of the snowboard boots
When standing upright, you should be able to feel the end of your snowboard boots with your toes. To clarify, your toes shouldn't be squashed here but just barely brushing up against the end of the boot — you should still be able to walk around comfortably.
As you bend your knees into your snowboarding position, you will feel your toes move slightly away from the end of your boots.
Snowboard boots should grip your heel
Heel lift is a genuine concern and will impact your riding, especially those toe edge turns and finite control. Your snowboard boots should grip your heel and not allow it to lift or move without pinching and causing any discomfort.
Different boots may have heel cups that fit you better — this is often the crux of boot buying. You may also find that additional customized insoles or heat-molding your liner can reduce heel lift, and all good snowboard boot stores will help you with this.
Laces shouldn't dig into your foot
Your boots should be snug, but your laces shouldn't dig into your foot or leg. If you have to crank your laces or BOA so tight that you're reducing blood flow to your feet, chances are you don't have the right pair of boots on your feet.
Most boots have an internal and external system. Start with the internal tightening until your boot is a close fit, then tighten the shell over this to increase control and affect your boot's stiffness.
Editors' Recommendations