Man wasn't built to fly, but that little wrinkle in evolution hasn't stopped many of us from trying. If bungee-jumping, skydiving, and wingsuits are … nice, but not quite disco enough for you, the one-of-a-kind Flyride may be the antidote.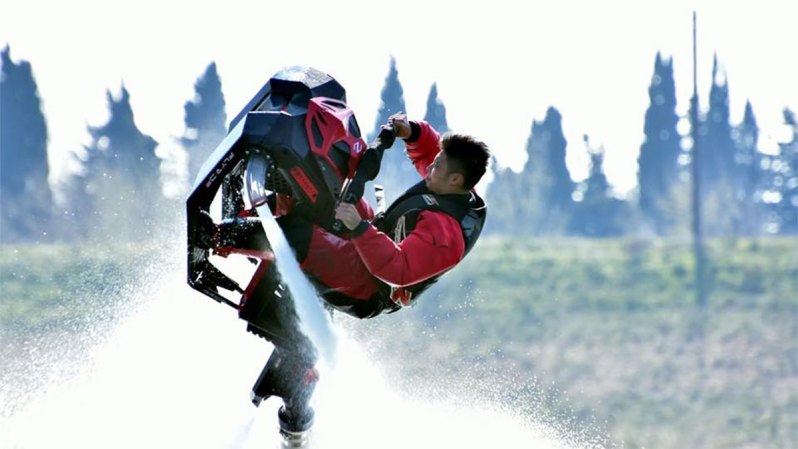 In short, Flyride is the world's first flying personal watercraft. It looks a bit like a Jet Ski, rides like a Jet Ski, and is even powered by the jetwash from a Jet Ski. Except, it has added controls for going up and down — for flying. A thick, high-pressure hose connects from a running Jet Ski to the rear of the Flyride. Water is forced up the middle of the bike, below the seat, and out two steerable jets near the front. Take-off is possible from the water or the shoreline, and it's allegedly easier than riding a bike. Allegedly.
The four ride modes ensure things only get out of control if you want them to. Most users are wise to begin their training in "Beginner Mode" or even "Child Mode." When you're ready to take the training wheels off and unleash the craft's full 300 horsepower, switching to "Advanced Mode" turns things up to 11 (complete with "Kickstart My Heart" soundtrack).
Lest you think this whole thing is an express train to a broken neck, the Flyride features automatic self-balancing sensors to ensure it remains upright at all times. A series of gyroscopes provide balance assistance, and there's even computer-assisted throttle, elevation, and take-off control. However, a dedicated "barrel roll" button deactivates many of these fun-stopping safety features. Provided you have enough altitude, depressing the button will spin you up to two times before automatically righting the Flyride.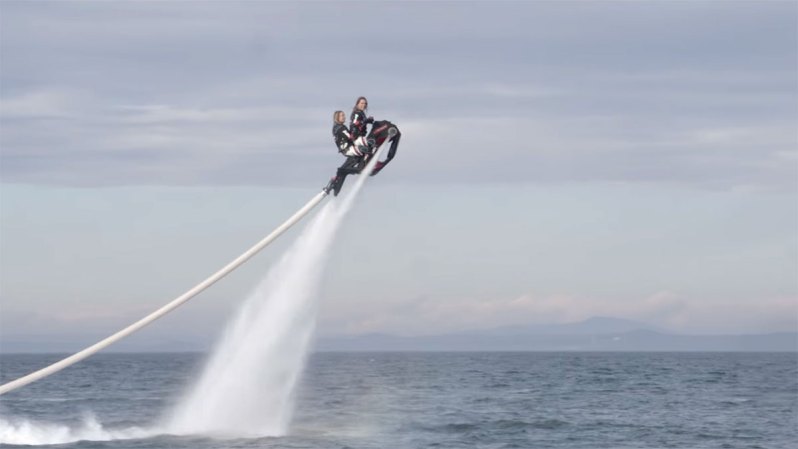 Flyride comes courtesy of Zapata, the same folks responsible for Flyboard, the Silver Surfer-inspired HoverBoard, and this insane hydro jetpack. The French brand was founded by world champion Jet Ski racer Frank Zapata. Since its beginnings in 1998, the Zapata team has continued to pioneer the most insane ways for humans to travel over water at breakneck speeds. Given their already lengthy catalog of extreme products, we're stoked to see what they're planning next.
Flyride is available for pre-order for a cool USD $6,000. Check the official Zapata website to locate your nearest dealer.
Editors' Recommendations