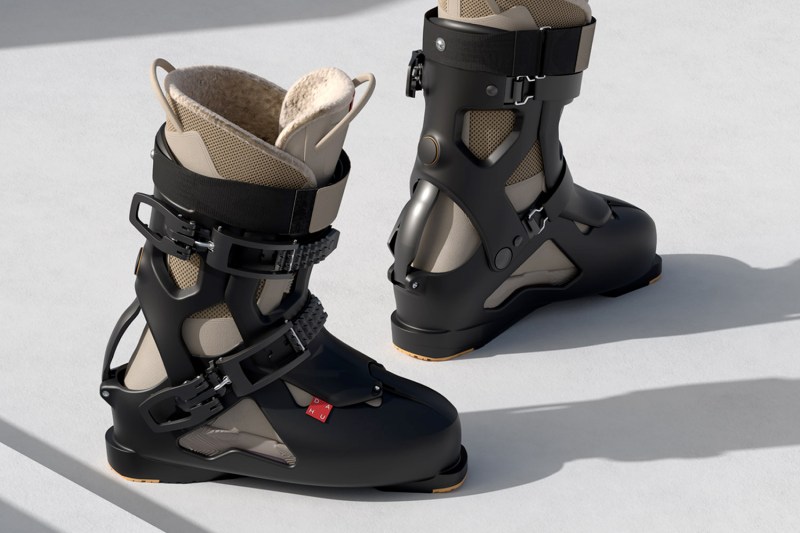 Imagine if Tony Stark designed an alpine ski boot. That's Dahu's Écorce, a completely Iron Man-worthy design that might be the biggest ski boot innovation in the past 50 years.
Dahu is calling it a new "species" and we aren't arguing. This boot allows the wearer to easily slip out of the structured alpine boot skeleton and walk around in the comfortable and stylish liner.
Made in Switzerland, Dahu is the only alpine ski boot to be produced from this notoriously powder-rich country. The brand is headed by snowsports industry veteran Clark Gundlach, a former executive of Quicksilver and Burton who worked beside Jake Burton in the '80s to essentially create the sport of snowboarding (no big deal).
"After thousands of days on the mountain, I know what an uncomfortable [ski] boot feels like," says Gundlach. "They hurt and it takes a lot of time and effort with a boot fitter to make a ski boot comfortable. We strive to eliminate the need for custom fitting by making a performance-oriented ski boot that's supremely comfortable right out of the box."
So, how is Écorce special?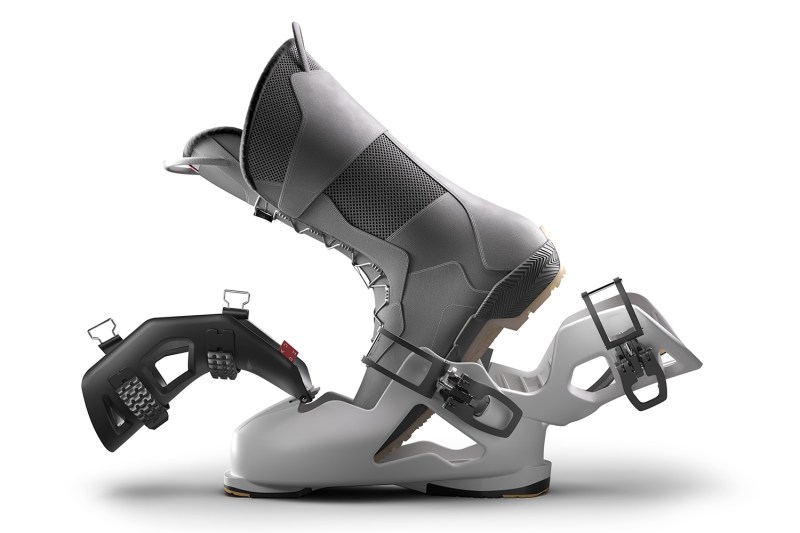 It's all in the hinge. The standout feature of Écorce is the front and back hinge structure that opens completely, allowing the wearer to easily slip the lining boot in and out. This means no more awkward walk from the slopes to your après ski plans.
The outer plastic shell is made of a Grilamid polyamide composite that provides great flexibility at all temperatures while remaining stable. This shell is jotted with strategic cutouts that eliminate pressure on the foot without sacrificing rigidity. Aircraft-grade aluminum power beams support what Dahu calls "an idea stance and power transfer."
Anatomically contoured for men and women, there are five total Écorce shell design variations with varying flex and degrees of forward (three for men, two for women). "The shell design is different, of course, and totally unique, with the added beauty of the inner boot," adds Antoine Massy, senior research and development and production manager at Dahu.
The inner boot, dubbed the Cambium, fits within the Écorce shell and is designed to act as a stand-alone piece. Made of Italian-leather, the Cambium is warm, waterproof, and feels like you're wearing a reinforced Ugg. Unlike most liner boots, this one has a lugged rubber sole so you can actually walk in the snow and Primaloft insulation to keep your dogs toasty.
At Outdoor Retailer Snow Show 2019, Dahu dropped a hint that they will eventually make interchangeable boot styles that you can fit into any of the bindings, blending style with function and making your winter footwear alpine-ready 24/7.
"It's been a long time since we've seen true innovation in the ski boot business," says Gundlach, who also enlisted former renowned Burton designer Maurizio Molin to beef up the Écorce, which has been in development for over five years. "It's an innovation that the industry deserves. I'm excited about that. A pain-free ski experience will bring joy to every vertical foot of your day," Gundlach adds.
The Écorce will be available for the winter 2019-2020 season.
Editors' Recommendations