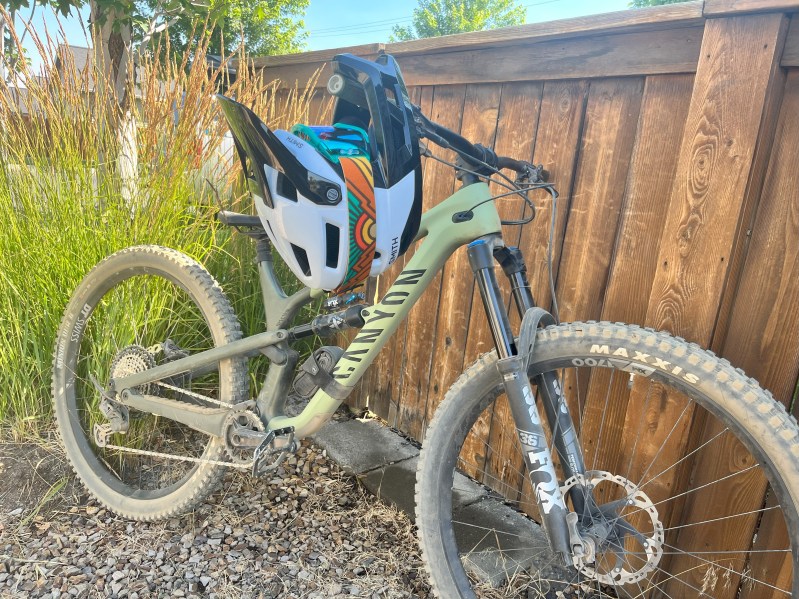 Last month, with mountain biking season kicking off, I found a large box sitting on my doorstep. Our friends over at Canyon were kind enough to send The Manual a Canyon Spectral CF 8 for me to ride and review.
I built the Spectral that day, finding myself riding mountain bike trails shortly thereafter. Now, with around 150 miles on the Spectral, I feel like I can give a proper short-term review. But before I do, let's briefly get reacquainted with the Canyon Spectral CF 8.
The Spectral CF 8 falls on the long-travel side of the "trail bike" category. With a 160 mm fork and 150 mm rear suspension, the Spectral certainly blurs mountain biking lines between trail and enduro bikes. The full carbon frame rolls on 29-inch wheels and boasts modern geometry.
Suspension is handled by Fox at the Performance Elite level and the drivetrain and brakes are Shimano XT. DT Swiss hoops and hubs complete the wheel build. With the Canyon Spectral CF 8 coming in at just above $4,000, this may be the highest spec'd bike for the price.
Having what could be mountain biking's best-spec'd bike at around $4,000 is great unless it doesn't ride well. So, with only a day or two between building the bike and finding time to ride, I hit the trails to get in my first laps on the Canyon Spectral.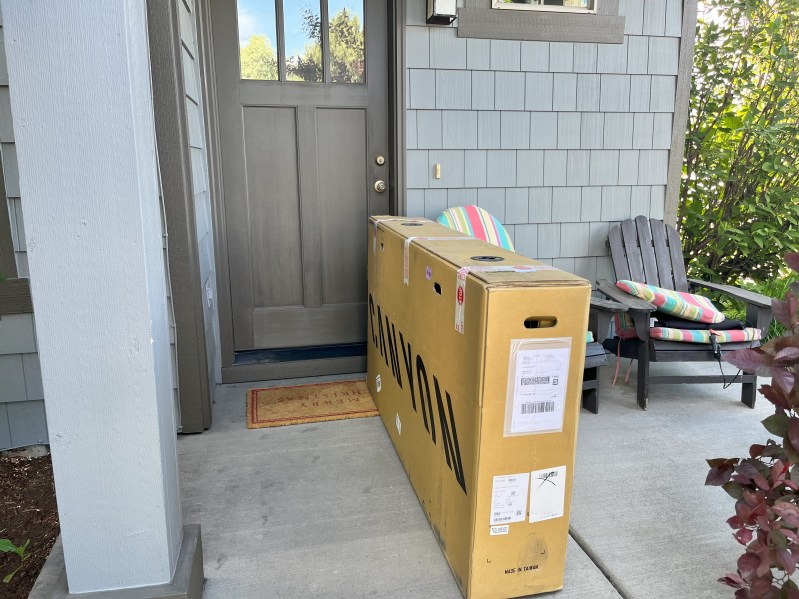 A box on my doorstep, direct-to-consumer
If you like what you see and read in this review and think you'll head to a local bike shop to check out what Canyon mountain bikes they have, you'll be out of luck. Canyon is a direct-to-consumer brand, meaning that they are only sold online. A couple of clicks, your credit card, and a Canyon Spectral can be on your doorstep, too.
As with anything, there are positives and negatives with the direct-to-consumer, or D2C, platform. The most significant benefit of buying a mountain bike from a D2C brand is the money you save. Buying D2C cuts a few steps out of the manufacturer-to-consumer process, resulting in lower costs.
One of the major steps that is left out is, of course, the bike shop. The past decade or so has seen the rise of D2C brands, especially during COVID. With mountain biking enthusiasts being loyal to local bike shops, there have been many who hold the opinion that buying D2C hurts the local bike shop.
But, with tensions diminishing over the past few years, it seems bike shops are seeing D2C brands as less of a threat and more of a way to get new riders on mountain bikes. More riders mean more bikes for shops to service.
Bike shops have become accustomed to receiving D2C bikes, like Canyon, assembling and checking them over for a customer. Having been in the mountain bike game for a little bit, I fortunately know the basics of assembling a bike, and have the tools needed to be successful. But, even if you don't, Canyon makes assembling any of their bikes easy, providing the needed tools and links to how-to videos on their website.
Assembling the Canyon Spectral bike
The Canyon Spectral was, in all reality, very easy to assemble. First, the bike was packaged really well, with everything wrapped tight and unable to move. No rattling around and getting scuffs or damage.
Three steps were all that were required for assembling the Canyon Spectral: Putting on the handlebars, putting on the front wheel, and inserting the dropper seat post after attaching the dropper cable. Throw on some pedals (bikes don't come with pedals), and I was ready to ride.
Of course, some minor adjustments, ones that are better performed while sitting on the bike, were needed. I got the handlebars and levers to where I liked them. I also raised the seat post a tad. Once I bedded in the brakes, I could hit the trails. Receiving, building, and riding a Canyon bike all on the same day isn't unreasonable.
The ins and outs of the Canyon Spectral CF 8
Knowing what type of mountain bike you need is really important. Trail bikes have become one of the most popular bike categories, and the Canyon Spectral fits on perhaps the more aggressive end of that spectrum.
The Canyon Spectral CF 8 is a long-travel trail bike, with 160 mm of front travel paired with 150mm of rear travel. This carbon-fiber frame rolls on 29-inch wheels and incorporates very modern geometry. A slack 64-degree head-tube angle is paired with a moderate 76.5-degree seat-tube angle. My size medium frame has a 456mm reach and a long, 1226mm wheelbase.
With the modern geometry that the Canyon Spectral has, this bike should go uphill nearly as well as it goes down. The suspension numbers tell a lot about the bike's capability while descending, and the Spectral's point to the fact that it will descend well. Coming in at under 31 pounds, this could be a great bike for someone who isn't afraid to put in the miles, tackle steep climbs, but does it all for the payoff of the descent.
What really impressed me was the componentry. The Canyon Spectral CF 8 comes with Fox Performance Elite level suspension—a Fox 36 fork up front and a Fox Float X rear shock. Shimano takes care of the brakes and shifting, with a complete XT drivetrain and XT 4-piston brakes. The wheelset is handled by DT Swiss. XM1700 rims are laced to DT Swiss 350 hubs. The wheels are then wrapped in Maxxis DHR II tires, front and back.
They truly weren't compromising when they were building the Canyon Spectral CF 8. Not just componentry, but top-of-the-line componentry from brands like Fox, DT Swiss, and Shimano sets the Spectral CF 8 apart, especially at $4,199. I've even seen it on sale, dropping this highly spec'd, carbon-fiber trail bike well below $4000 at times.
These components at this price make me wonder: Is this the best spec'd mountain bike in the $4,000 range?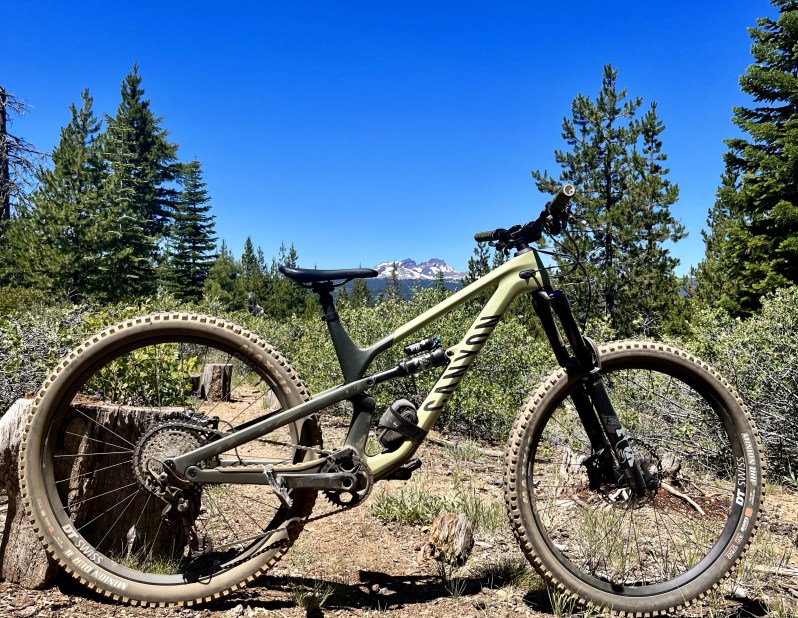 What I didn't like about the Canyon Spectral CF 8's features
As impressed as I was with the Canyon Spectral CF 8, there were a few places that I thought missed the mark.
While Canyon did a wonderful job choosing components for most of the bike, like an Ergon Enduro Comp saddle, other components were in-house, Canyon parts. The stem, handlebars, and dropper seat-post are all made by Canyon. While this isn't super surprising, it would have been nice to see Canyon use other companies for these components like they used DT Swiss for the wheel build.
My other gripe was the use of a proprietary stem, spacers, and general headset setup. Proprietary parts mean that they will only work on that specific bike model. Since Canyon is D2C and not sold in bike shops, this can make replacing these parts difficult.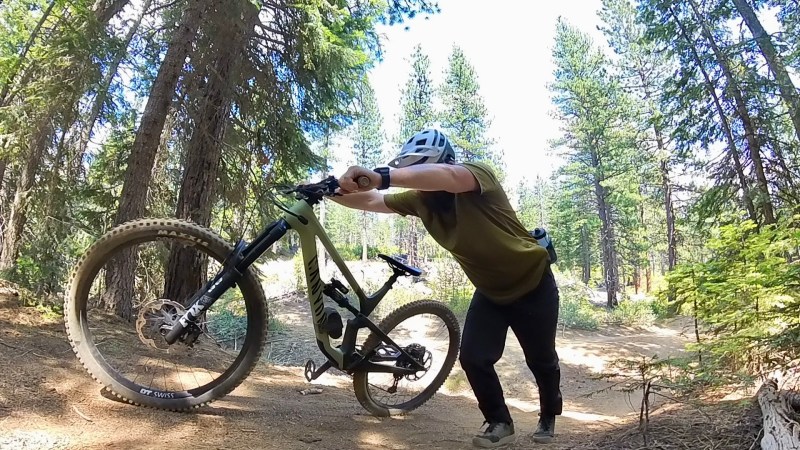 My first rides
If I'm being honest, my first few rides on the bike were not ideal. Like many things in mountain biking, getting used to a new bike is a process, and I found my process took longer than expected.
The major issue I had was a general out-of-control feeling while descending at high speeds. As soon as I hit any chunky or chattery bits, the Spectral felt as if it was going to skip out from underneath me. I diagnosed this problem as having less to do with the Spectral itself and more to do with how I set up the suspension. Rather than feeling supported, I felt bounced around by the suspension.
As I mentioned, the Canyon Spectral CF 8 came with Fox's high-level Performance Elite suspension. This means quite a few different adjustments, allowing the rider to dial in the feel of the fork and shock to exactly where they like. While I do like the concept of fine-tuning, what it ended up equaling for me was many rides at different suspension settings, bringing along a shock pump, and constantly stopping to pull up an adjustment chart.
I found that rather than enjoying those initial rides, I was fiddling with and being frustrated with my suspension. Now, I'm not saying that I don't like having all the different adjustments and the ability to fine-tune, but I did find the whole process to be a bit of a chore. If I was to do the process over, I would have checked into working with a suspension specialist.
Mountain bike suspension companies have charts to help you set up your suspension. Usually corresponding to your body weight, the charts then tell you how much air pressure to add, clicks of high/low-speed compression, and high/low-speed rebound. After setting the suspension to the factory-recommended settings, you make small tweaks and adjustments from there. However, my adjustments and tweaks weren't so small.
After releasing nearly 20 psi from the fork and major changes to rebound and compression, the front of the bike started to absorb and track much better than it had. The rear suspension started to come around, too. With a few adjustments here and there, the rear shock started tracking well, keeping me locked onto the trail much better than before. As I mentioned, getting used to a new bike can take time, and this is as true for the Canyon Spectral CF 8 as it is for any other mountain bike.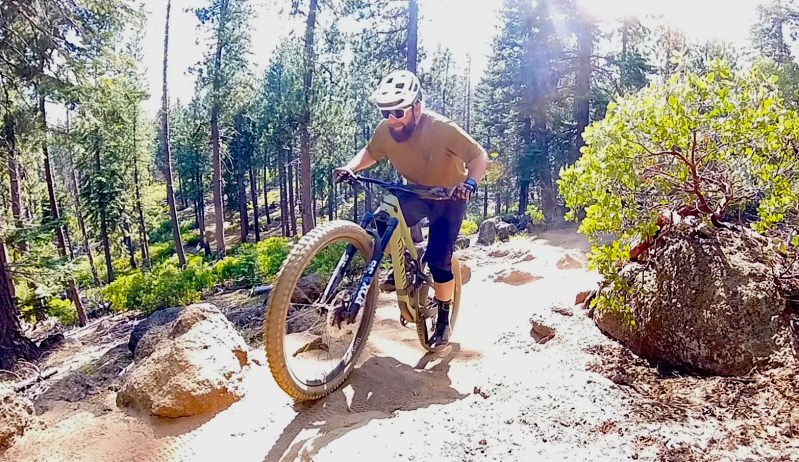 Climbing
Mountain biking has changed and adapted so much over the past decade, especially with the growing popularity of the trail bike. Trail bikes seem to be that perfect compromise of mountain bikes, where the bike can go up just as confidently as it goes down.
And that is precisely what the Canyon Spectral CF 8 did — it took off and climbed like a rocket ship. Typically, the more suspension travel a bike has, the less efficient it will be on the climbs. And while I expected this reality, the 160/150 mm Spectral blew me away on the climbs, especially after I began to dial in the suspension.
I believe there are a few factors that play into this. First is the fact that the bike weighs under 31 pounds thanks to a carbon frame and quality spec list. The bike also has modern geometry, especially the seat tube angle, which is a moderately steep 76.5 on the Spectral. This puts the rider more forward on the bike and over the bottom bracket, allowing for more efficient pedaling.
The Fox Float X rear shock felt supportive on the climbs while not wallowing down in the travel. From techy singletrack climbs to long fire roads, pedal bob was nonexistent, and I never reached for the shock's lock-out switch. And despite a longer 1,226 mm wheelbase, I found the Spectral was rather agile, but could easily plow up and over obstacles as well.
Descending
When it comes to mountain biking, climbing is just a means to an end. Descending is what we came for. With the Canyon Spectral CF 8 being a long-travel trail bike, I thought that is where it would shine. And it certainly did.
After working through the initial suspension issues on my first few rides, the bike tracking and handling were much better. Initially, getting the Spectral up to trail speeds was a bit scary as the bike danced and skipped around. But after figuring out the suspension, I found high-speed descents much more manageable. Speed wasn't difficult to come by on the Spectral. Point the bike down and it takes off. While it seems like most long-travel 29ers can monster-truck over just about anything, I found that the Spectral wants to take a more aerial route.
Rather than plowing over chunky bits as my personal bike does so well, I found that when I rode the Spectral, I tended to have the tires off the ground a lot more. Two rollers with about 15 feet of chunky roots in between them become a gap jump from roller to roller on the Spectral. Every corner, every bump, and every opportunity to pump hard into the Spectral's suspension platform resulted in fun times as I exited the corner, bump, etc. This is an active bike, and it took me riding actively to begin to touch its potential.
Editors' Recommendations