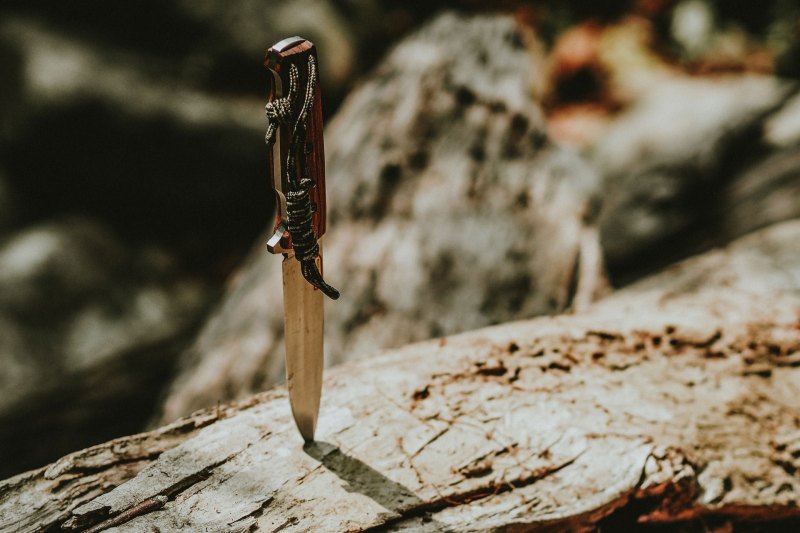 A good survival knife is a cornerstone of every outdoorsman's tool kit. While folding knives and multi-tools are often more lightweight, compact, and stashable, classic fixed-blade knives still offer the sturdiest, most versatile designs of any blade on the market. The best fixed-blade knives sit near the intersection of utility and survival. Any of these knives below would be a welcome companion were you to find yourself lost in the woods; needing to cut up some cordage to build a shelter, gut a fish, shave some kindling; or fight off a mountain lion. Bring one along whenever you camp, trek, or push for the summit because a solid fixed-blade knife is useful at all times and is precious when you're in dire straits.
Morakniv Companion Heavy Duty Knife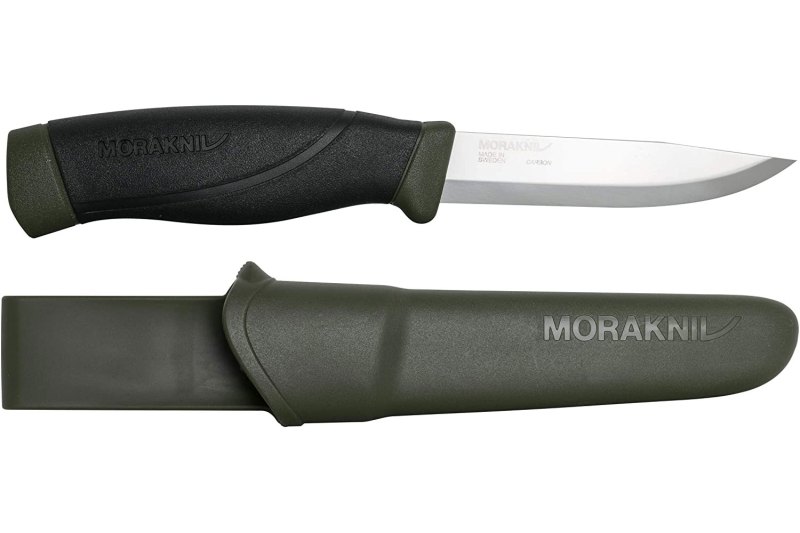 Morakniv has long been a favorite amongst survival experts. Every blade in the iconic Swedish brand's catalog is versatile, durable, and field-tested. The Morakniv Companion is a military-inspired, all-purpose blade great for everyday use and emergency survival situations. An oversized, high-friction handle and grip make it easy to wield, while the four-inch carbon steel blade maintains its edge after repeated use and abuse. The best part? It's available for around $20.
CRKT Minimalist Bowie Neck Knife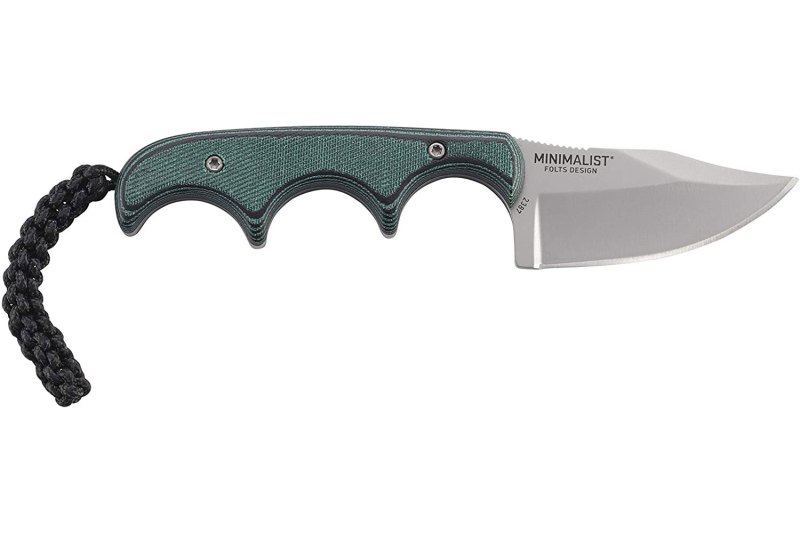 Some of the best fixed-blade knives can be large and unwieldy. As the name implies, CRKT's Minimalist Bowie Neck Knife features a pared-down design that trims the "fat" and bulk off the typical fixed-blade design. The resin-infused handle is form-fitted for a perfect grip, while the high-carbon stainless steel blade is easy to sharpen and holds its edge well. It all slips nicely into the included thermoplastic sheath with multiple mounting options.
Gerber Gear 31-003941 Ultimate Knife
It's no secret that we're huge fans of Gerber. The brand's Ultimate Knife is a basic fixed-blade survival knife that's perfect for all level of outdoorsman. With a 4.75-inch partially serrated drop point blade, it's designed to tackle a wide range of tasks. The textured rubber handle is easy and comfortable to hold with a non-slip grip for more precise handling. Plus, this version includes a ferrocerium rod that locks into the sheath, so you're always ready to start a fire in an emergency.
KA-BAR 1481 TDI Serrated Edge Knife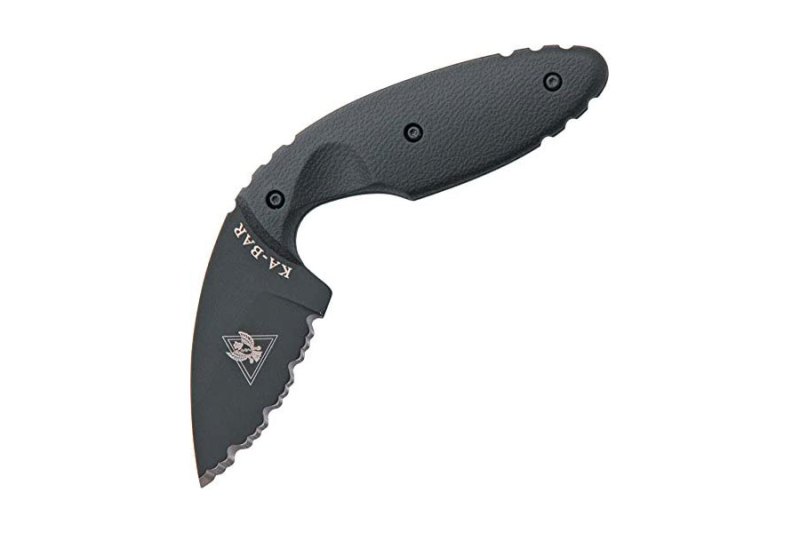 With a long history of designing knives for the U.S. Marine Corps, KA-BAR knows a thing or two about ultra-tough blades. The 1481 TDI features a unique design that's useful for a variety of niche applications. At barely 5.5 inches in total length, it's an ultra-compact design that easily wears on a belt (or in your boot if you're that kind of badass). The curved, serrated 2-5/16" blade features a non-reflective black powder coating attached to a textured Zytel handle. It conceals perfectly, ready to deploy when you need it.
SOG SEAL Pup Fixed-Blade Knife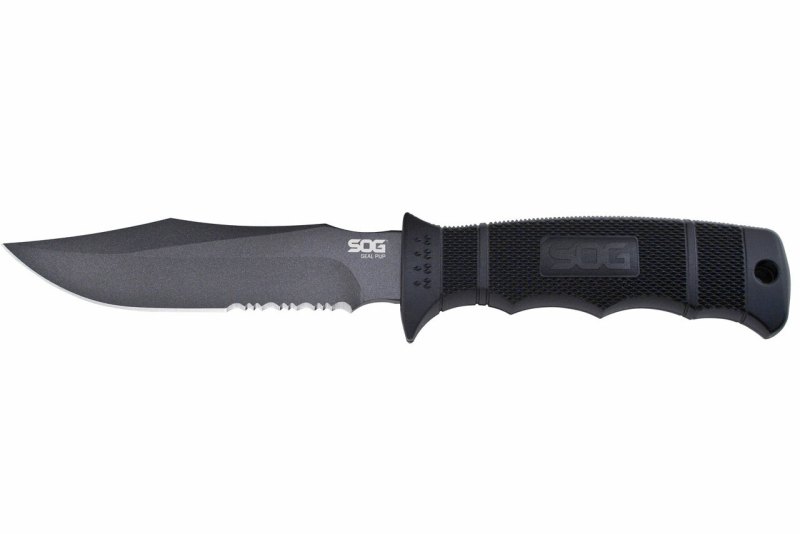 You don't need to be a Navy SEAL to use SOG's SEAL Team series of blades. But if, like a SEAL, you spend a lot of time in and around water, this is a good knife to choose. It's highly resistant to corrosion, and the handle is designed for a secure grip, even with wet hands or underwater. The blade is partially serrated, and there is a sawtooth edge opposite the cutting edge.
Schrade SCHF13 Full Tang Fixed-Blade Knife
If you're looking for a blade on a budget, Schrade's SCHF13 is a full tang, drop point, fixed-blade design that provides the cutting confidence you want at a wallet-friendly price. It's got a heavy handle, which offers great control when the blade is in your hand, and the Kydex belt sheath supplies quick, easy, and safe access.
Buck Knives 113 Ranger Skinner Fixed-Blade Knife
Buck Knives has a long history as one of the most iconic names in the game. A deft blend of its popular Ranger and classic Vanguard knives, the 113 Ranger Skinner is arguably its most versatile fixed-blade knife. It's compact, straightforward, and ready to tackle most field tasks. Plus, the beautiful new Crelicam genuine ebony handle and optional laser engraving make this an heirloom-quality, gift-worthy blade.
Uncle Henry Golden Spike Knife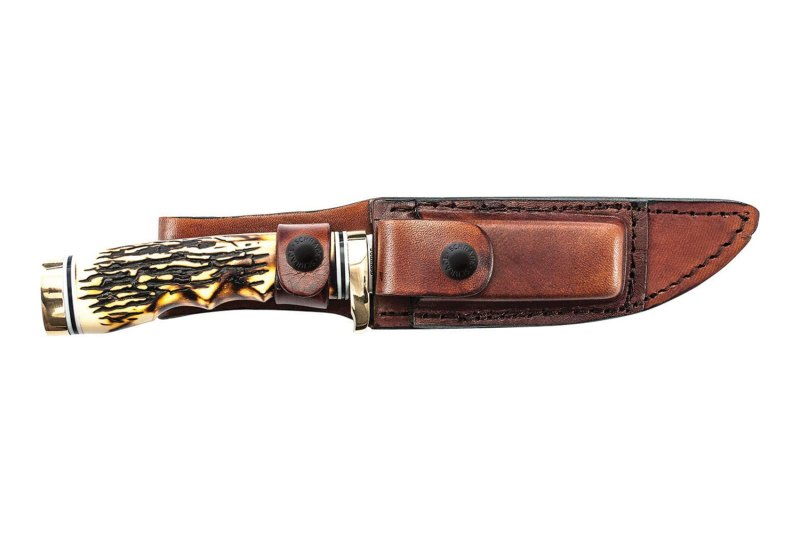 For some vintage outdoorsy style, the Uncle Henry Golden Spike Knife is a great choice. It features an imitation bone Staglon handle, a gently curved blade, and a leather sheath complete with a sharpening stone. This isn't an expensive knife, but it is decently well made. The edge dulls faster than most others on the list, but it sharpens quickly, too. For around $25, it's hard to complain.
Bubba Multi-Flex Interchangeable Set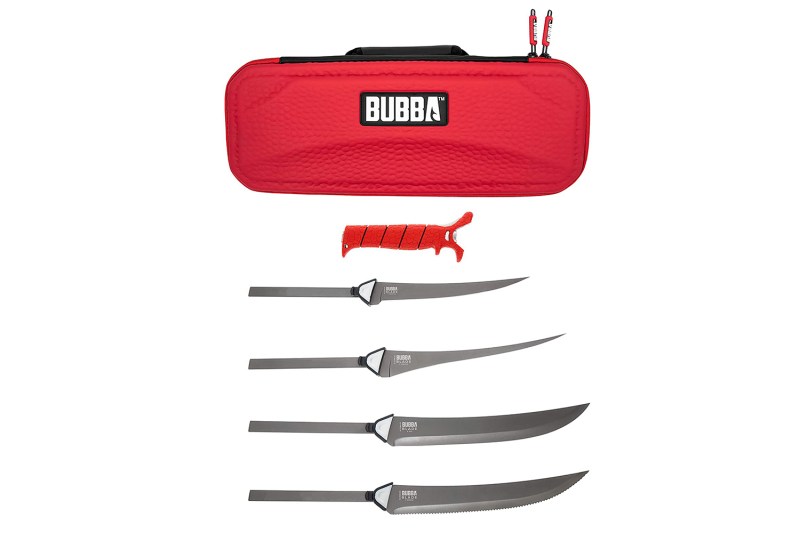 Whether you're out at sea or casting upstream on the river bend, the Bubba Multi-Flex boasts an interchangeable set of full-tang blades that covers every base for any fisherman. The set is equipped with four blade lengths (7-inch tapered flex, 8-inch ultra flex, 9-inch serrated flex, 9-inch stiff) that respectively offer their own filleting prowess and can be easily interchanged with Bubba's squeeze-and-slide mechanism, magnetized security, and Flex-Change locking system. The complete fixed-blade set is delivered in a spacious and ultra-portable EVA carrying case.
Cold Steel Safe Maker II Push Dagger Knife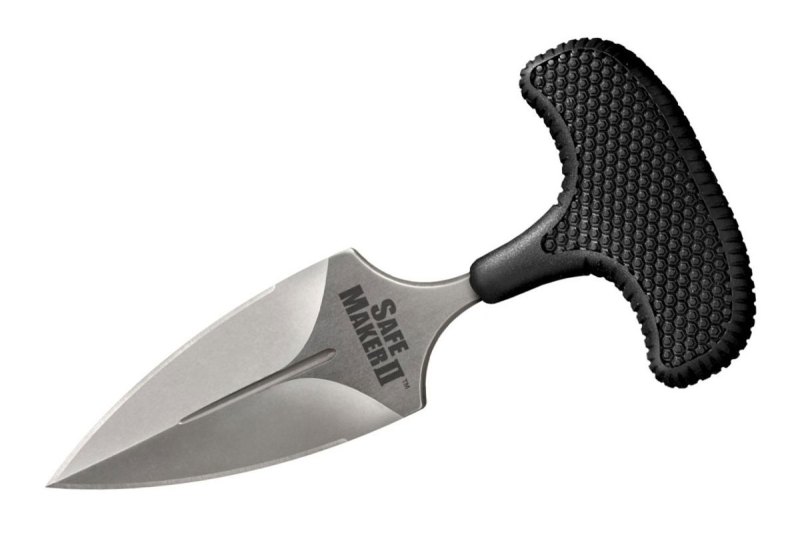 Cold Steel's Safe Maker II is unlike any other blade on this list. Unlike traditional fixed-blade designs, this push dagger is purely a self-defense tool. It's a weapon of last resort, designed to be concealed on your hip or in your boot (assassin style), ready to draw in seconds. The 2.3-ounce design is extremely lightweight, while the 3.25-inch is more than sufficient to defend yourself with.
Editors' Recommendations