Not every new line of men's hair styling products grabs our attention like the offerings from The Art of Shaving. The brand has undoubtedly proven itself when it comes to all things shaving. Trust us — they know their stuff when it comes to your facial scruff.
However, the shelves are now crowded with hair gels, sprays, pastes, clays, and pomades. So what's special about this hair styling line? We asked The Art of Shaving's managing director, Todd Brisky, for the 411.
As you may have guessed, the inspiration was born in the barber's chair. Brisky explains: "Expanding into hair was an incredibly natural brand extension for The Art of Shaving. Since opening our first barber spa in 1997, we have given millions of haircuts and shaves. While our signature Royal Shave [treatment] uses specific The Art of Shaving products to complete the regimen of the perfect shave, our barbers have historically used a variety of products to style the client's hair. The need and demand for our own line of hair styling products is something we've had on our minds."
According to Brisky, the barber-client relationship also fueled the types of products in the line. "Guys consistently look to our barbers for advice regarding products for achieving their desired look. Based on these requests, we partnered with our barbers to create and test different products for the new hair styling line."
Are you already an Art of Shaving devotee? Then you know that the fragrance of these luxe shaving creams and oils are a big part of their appeal. These new hair products all feature the scent of juniper essential oils.
"In the case of our new styling line, we selected juniper essential oil primarily because of the natural, fresh, woody aroma that would enhance the styling experience, and because juniper oil is also a natural toner associated with promoting skin and scalp health," says Brisky. So there you have it — form and function.
And now the million-dollar question: How do you know which one styling aid is right for you? "These products were inspired by the two most common attributes guys look for in hair products: hold and shine. Guys can come visit one of our many retail locations to get a one-on-one consultation and experience the products to choose the product that is best for their needs," Brisky explains.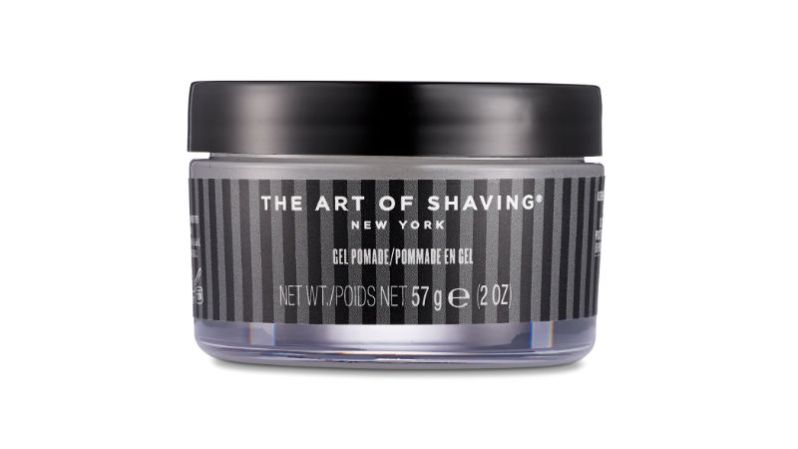 Here is The Art of Shaving hair styling lineup broken down by the all-important levels of hold and shine:
For medium hold and matte finish: The Forming Paste delivers a soft, sculpted look. This product's medium hold and matte finish is great for styles that need just a bit of styling to keep their look neat and natural.
For medium hold and light shine: The Gel Pomade has a medium hold that makes it easy to apply and restyle, providing great body and control with a light shine.
For high hold and matte finish: The Molding Clay was formulated for high style and durability throughout the day. The high hold, matte finish formula is great for slightly longer styles and provides a set style without the high hold nature of a gel & minimal product finish.
For high hold and high shine: The Sculpting Wax creates a high hold and high shine shaped style. It is best used to create sleek looks on slightly longer hair lengths.
Editors' Recommendations