When we think of "refreshing" cocktails, white spirits tend to immediately jump to mind. Vodka sodas, gin and tonics, anything involving white rum or blanco tequila…these are the libations we crave when temperatures spike and humidity levels reach unbearable extremes.
But if you're looking to break from the norm and branch out a bit, bartenders across the country love to experiment with a different lightweight spirit: Pisco, a South American specialty hailing from Chile and Peru. An aromatic, gently sweet libation, Pisco makes a flavorful substitute for other white liquors, and its versatility earns it major points among mixologists and consumers alike.
What is Pisco?
Essentially, Pisco is a form of brandy (aka a spirit made from distilled grape-based wine). In both Peruvian and Chilean Piscos, grape juice is converted to wine, then processed through a still to boost the proof and transform it into liquor. Pisco is typically clear in color, and the biggest difference between Peruvian and Chilean varietals involves the necessary "purity" of the end product — Chilean Pisco makers can dilute their spirits and can run them through the still as many times as they like, while Peruvian distillers can't add any flavorings to their product, and they can only process it through the still once per batch.
What Flavors Can You Expect from Pisco?
Pisco is popularly considered a "neutral" spirit, which can easily blend into the flavors already existing in a cocktail. However, savvy bartenders know that Pisco possesses a unique stable of tastes all its own, which set it apart from other white liquors.
"I love working with Pisco because it adds so much character and complexity to the cocktail. Unlike vodka, Pisco actually retains a lot of character from the [harvested produce] it's distilled from. The terroir of the region in which the grapes were grown and quality of production creates distinct flavors within the category," bar manager Ryan Hart of The Crunkleton Charlotte in Charlotte, NC tells The Manual.
In specific terms, Pisco contains floral and herbaceous notes that add an intriguing dimension to cocktails. "The big thing for me with Pisco is the bright aroma. There's a balanced floral bouquet that provides a great fragrance for cocktails," explains mixologist Remi Shobitan of The Surf Lodge in Montauk, NY.
What Makes Pisco an Excellent Cocktail Ingredient?
As a base spirit for a cocktail, Pisco blends a light, mixable texture with its own distinctive flavor profile. It's not a liquor to conceal behind bolder ingredients; instead, it's a liquor to highlight and celebrate in the context of a mixed beverage. "I love Pisco because it's a great vehicle for subtle flavors and refreshing cocktails. I find it to be incredibly versatile in a drink," insists John True of The Ledge in Brooklyn, New York City.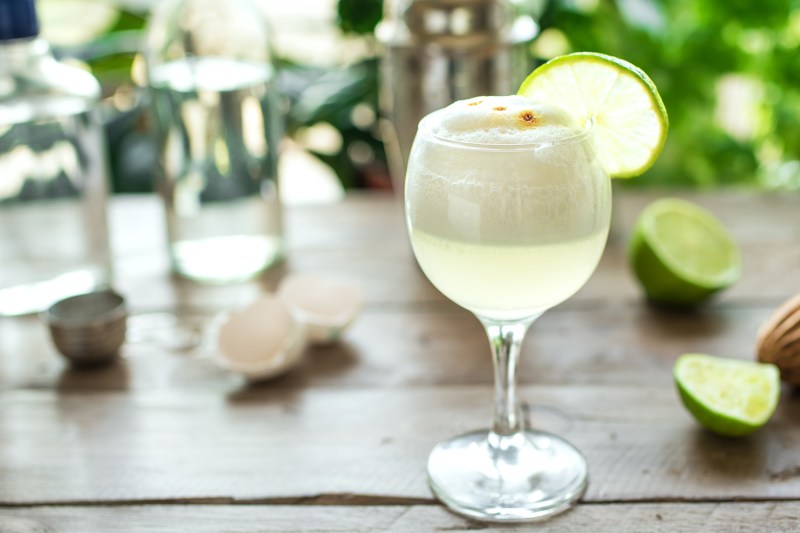 Bartender Layne Schneider of Sundry and Vice in Cincinnati, OH believes that Pisco is an ideal fit for summer cocktails, telling us that "we love working with Pisco in our cocktails. It's a wonderfully complex substitute for vodka or gin, with notes of yuzu, white pepper, vanilla, lime, and cinnamon. It works incredibly well with a wide variety of ingredients, flavors, and modifiers. Plus, it's light and refreshing — as brandies go — and it has a nice quick finish with a slightly peppery, earthy bite at the end. Perfect for summer cocktailing!"
Want to give Pisco a try? Here are four cocktail recipes starring this spirit:
Pisco Cocktail Recipes
Noche Morada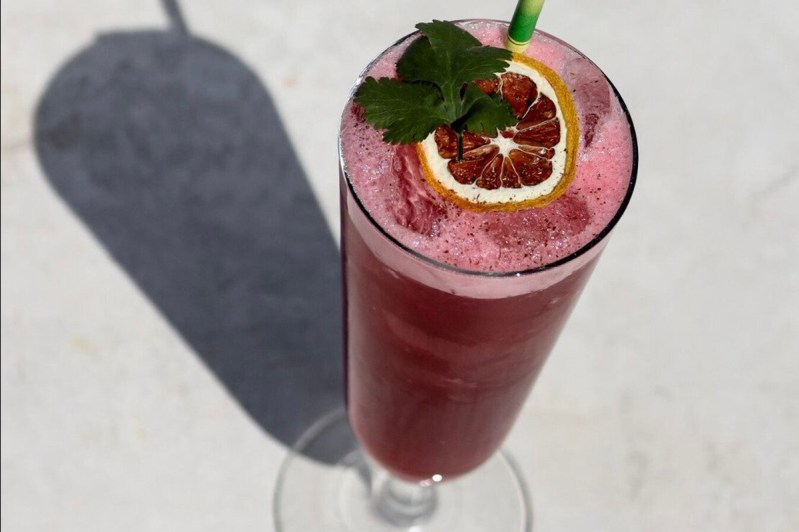 (Created by Josue Gonzalez, Seven Reasons, Washington, D.C.)
This cocktail features chicha morada, a Peruvian beverage made from blue corn. "I chose to work with Pisco for this cocktail because chicha morada is a Peruvian ingredient, so it only makes sense to pair Pisco with it in a cocktail. I took it a step further with my cocktail and added a savory element by infusing cilantro in the Pisco to make the drink refreshing and light," Gonzalez explains.
Ingredients:
1 oz mezcal (Gonzalez prefers Ilegal Mezcal Joven)
.75 oz cilantro-infused Pisco
.5 oz orange liqueur (Gonzalez prefers Mandarine Napoleon)
.75 oz pineapple juice
1 oz chicha morada*
.5 oz lemon juice
Method: Combine ingredients in a shaker and shake to combine. Serve in a footed pilsner glass and garnish with a dehydrated lemon wheel, a cilantro sprig, and nutmeg.
*Chicha morada:
1 bag of dried purple corn
3 qts water
10 cinnamon sticks
1 tbsp of whole cloves
1 star anise
Skin of whole pineapple
.5 whole pineapple, diced
1 qt white sugar
.5 c lime juice
1 green apple, diced
Method: Combine all ingredients in a pot. Cook over high heat for 20 minutes, then drop the heat to low and simmer for 40 minutes. Strain out solids and store the liquid in the fridge.
Peruvian National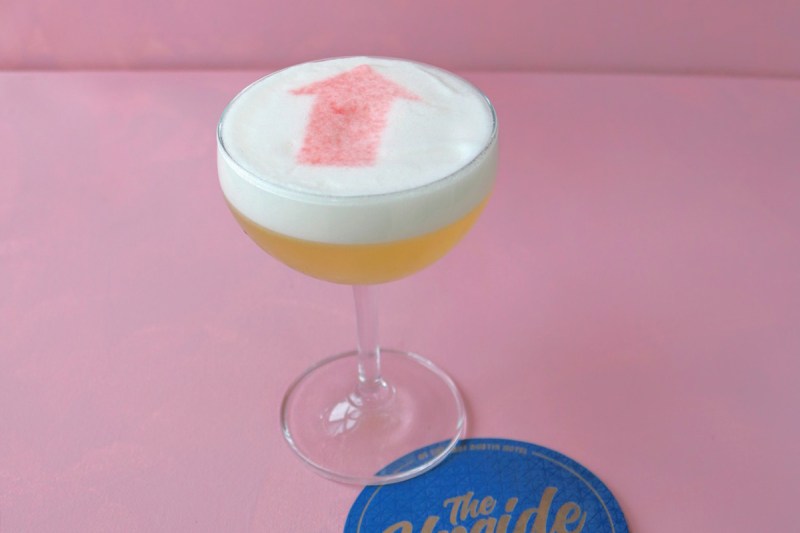 (Created by Jason Stevens, East Austin Hotel, Austin, Texas)
"Made for afternoon and early evening sipping, our Peruvian National combines floral Acholado Pisco with our favorite elements from Peruvian and Cuban classic cocktails, like pineapple, apricot, lime, and cool spices," Stevens says of the Peruvian National.
Ingredients:
1.75 oz Acholado Pisco
.75 oz apricot jam (Stevens prefers Bonne Maman Intense Apricot Jam)
.75 oz fresh pineapple juice
.5 oz fresh lime juice
1 egg white
3 drops cardamom bitters (Stevens prefers Scrappy's)
Method: Combine all ingredients in a shaker tin and immersion-blend for 6-7 seconds. Add cubed ice and shake. Double-strain into a coupe glass. Garnish with a bitters blend (50% Amargo Chuncho, 50% Angostura).
Midnight Sun
(Created by Anna Giordano, Longway Tavern, New Orleans, Lousiana)
Using Pisco in lieu of a traditional spirit in a classic cocktail is an excellent way to acquaint oneself with this mercurial brandy. Giordano insists that "this is a perfect martini for a hot day. Two types of clear liquor with sweet and dry elements. There is clean acidity from the Pisco, which makes [the cocktail] an easy and welcome [sipper]."
Ingredients:
Method: Add ingredients to a shaker and shake to combine. Serve up with an orange-zest garnish.
Flor de Pisco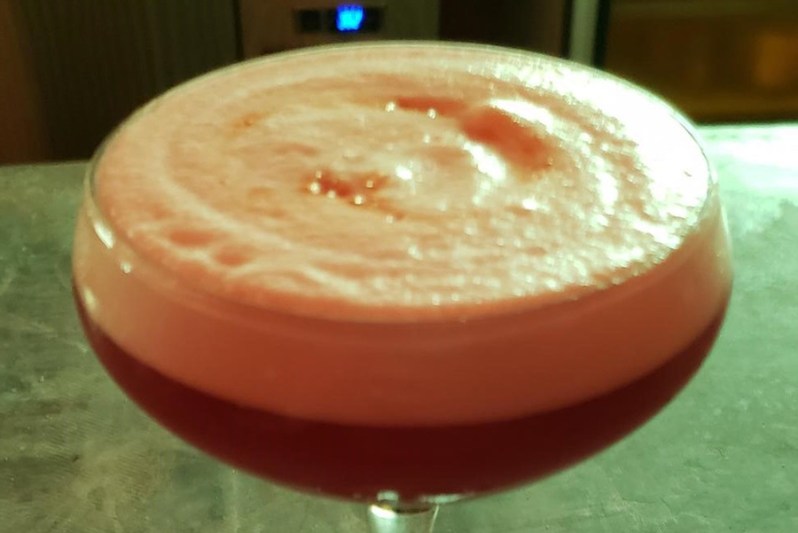 (Created by Carlina Borelli, Los Altos, Miami, Florida)
The floral undertones of Pisco give it an appealing presence in a cocktail, and Borelli likes to maximize those flavors by pairing the spirit with a hibiscus agua fresca. "In the hot summer days, Mexicans survive the heat waves by drinking Agua de Flor de Jamaica. Agua de Flor de Jamaica, which translates as 'hibiscus water,' is a typical agua fresca in Mexico. It is sweet, tart, delicious, and really refreshing all at the same time. That is why Flor De Pisco is the perfect cocktail for a hot summer day or night. Why use Pisco? Other than having a unique taste, it helps elevate complex ingredients, and it gives a smoother effect, bringing nice bright colors to life," Borelli tells The Manual.
Ingredients:
1.5 oz Pisco
1 oz lime juice
.5 oz agave
1 oz Agua de Flor de Jamaica
1 egg white
2 drops of Angostura bitters
Method: Add all ingredients to a tin and shake for 5 seconds. Add ice and shake for 10 more seconds. Double strain the cocktail over a chilled coupe glass. Add 2 drops of Angostura bitters on top.
Editors' Recommendations