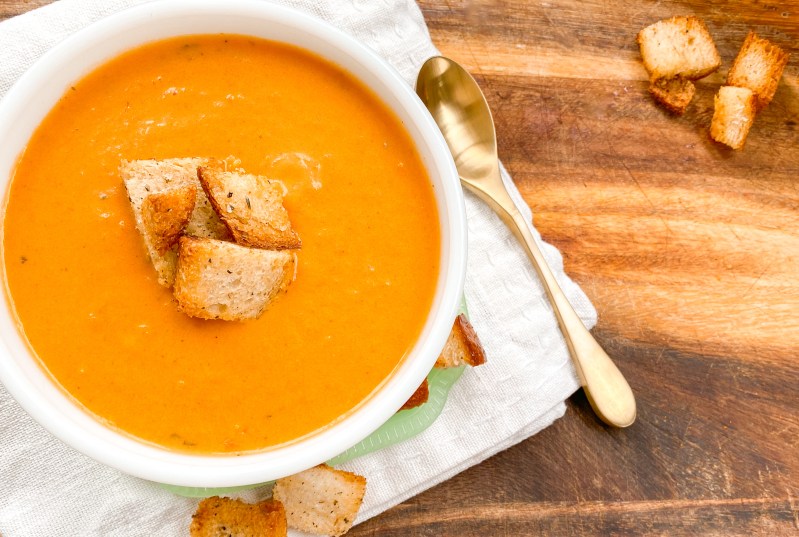 It's soup season, and when that happens, it's easy to be bombarded by all of the beautifully new and exciting recipes floating around social media and fall food-themed magazines at the checkout counter. We want to try every exquisite butternut bite spiced with all of the amazing autumnal flavors. Of course we do. But sometimes, it's the trusty classic we're in the mood for. The deliciously no-frills, perfect-in-its-simplicity soup that brings with it a cozy feeling of home. Tomato soup is that soup. Pair it with grilled cheese, and you've just served the comfort food of all comfort foods. A good tomato soup recipe brings a smile to every face, young or old, culinary disaster or Michelin-starred Chef.
So if you've ever wondered how to make tomato soup that doesn't come from a can, this recipe is the only one you'll ever need.
Tomato soup recipe
Ingredients:
3 tablespoons

olive oil

3 1/2

pounds ripe tomatoes, quartered

1

yellow onion, quartered
4-6 garlic cloves, peeled and whole
3-4 sprigs fresh thyme
1/2 teaspoon smoked paprika
1/4 teaspoon crushed red pepper
2 1/2 cups vegetable broth
1/4 cup fresh basil leaves
3/4 cup heavy cream (optional)
2 tablespoons butter, cubed (optional)
Salt and pepper to taste
Method:
Preheat oven to 425F. Line a large baking sheet with parchment paper or foil.
Place garlic, onions, tomatoes, and thyme sprigs on the prepared baking sheet, drizzle with olive oil, and toss to coat. Place the onions and tomatoes cut side up and season everything with salt and pepper.
Bake for 45-55 minutes, until vegetables are soft and slightly caramelized.
Place roasted tomatoes, onions, garlic, thyme sprigs, and juices in a large stockpot over medium heat and add broth, basil, smoked paprika, and crushed red pepper. Cook to meld the flavors together, about 5 minutes.
Remove thyme sprigs from the mixture, then, using an immersion blender, purée soup until it reaches your desired texture.
If making a creamy tomato soup, add cream and butter, stirring until butter has melted.
Adjust seasoning and serve immediately.

The one step you shouldn't skip
Homemade tomato soup doesn't always call for roasting the vegetables, but this extra step is what gives the soup its depth and richness. We really recommend taking the time on this extra step for a much more satisfying homemade tomato soup.
Tomato soup tips and tricks
Here are some other tips and tricks that will elevate your tomato soup recipe.
This soup is fresh and vibrant without the addition of cream and butter, but adding these extra ingredients can completely transform this dish into a heartier, more bisque-like soup. Both versions are delicious.
Depending on your preference, you needn't purée this soup at all. For a more rustic soup, you can leave the vegetables as they are, breaking them into smaller bite-sized pieces with a spoon while it's on the stove.
Any tomatoes that are fresh and ripe will work beautifully in this recipe. We like to use an assortment to create layered flavors, but any tomatoes will do.
You can garnish tomato soup with just about anything from pumpkin seeds to crumbled cheeses, but homemade croutons are our absolute favorite.
Editors' Recommendations