There are millions of recipes on the internet, and sometimes it can be challenging to weed through all of them and find the good ones. Who would've known our new favourite would come from – wait for it – TikTok.
TikTok is the latest social network to blow up all over the place. Users create and upload their own videos where they typically dance, sing, lip-sync, or just talk. There are tons of short recipe videos on this platform, but this one is delicious. We tried it, we loved it, and now you have got to try it too.
Ingredients
2 pints (20 ounces) cherry tomatoes
1/2 cup extra virgin olive oil
Kosher salt and freshly ground black pepper
One 8-ounce block feta cheese, drained
10 ounces rigatoni
One garlic clove, finely grated
1/4 cup fresh basil leaves, thinly sliced
Directions
Preheat the oven to 400 degrees Fahrenheit.
Toss the cherry tomatoes and olive oil with ¼ teaspoon of salt and several grinds of fresh black pepper in a 2 ½- to 3-quart baking dish.
Place the block of feta in the center of the tomatoes and season with black pepper.
Bake uncovered until the tomatoes burst and the feta has softened, which will take about 30 minutes.
Increase the heat to 450 degrees and cook until the feta and tomatoes are golden brown — 10 to 15 minutes more. (Depending on your oven, this step may not be necessary. Once the feta and tomatoes are browned, you can take them out of the oven.)
While the tomatoes and feta cook, bring a large pot of water to a boil. Salt the water liberally and cook a fat noodle (we like rigatoni) until al dente. Be sure to reserve a coffee mug full of pasta water before draining the pasta.
As soon as the tomato-feta mixture comes out of the oven, stir in the grated garlic. At the same time, use the back of the spoon to smash the tomatoes and feta into a sauce.
Toss in the pasta and half of the basil. Add pasta water a few tablespoons at a time so the mixture becomes smooth and coats the pasta.
Taste the pasta and adjust the seasoning with salt and pepper as needed. Top with the rest of the basil and serve.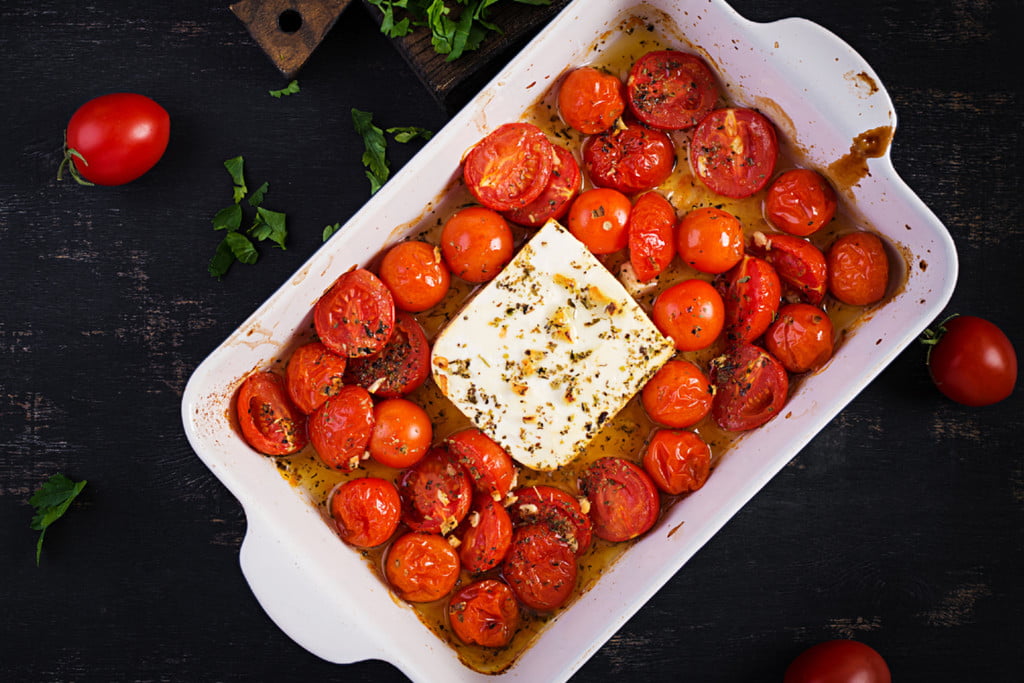 Tips
Since this recipe has been viewed, copied, and modified thousands of times, there are tons of different versions out there. As we said before, it's probably best to try the original first and then modify from there. Here are some of the better tips and modifications we've seen:
If you like spicy dishes, add a handful of crushed red pepper flakes to the oil mixture in the second step.
Thyme sprigs add an earthy touch to the dish, while quartered shallots or smashed garlic cloves will get gooey and caramelized while adding tons of flavor.
Note that the recipe calls for 10 ounces of pasta and not a whole box. The sauce will coat 10 ounces of pasta nicely, and if you use more than that, your pasta will likely be dry.

If you want to cook this dish for a large gathering or dinner party, just double or triple the recipe to keep the ratios correct. It may also be easier to make two or three small batches and then combine before serving.

Short pasta is the best kind of pasta for this type of sauce. Long, thin noodles can't stand up to the weight of the sauce and will break up when you stir. Short noodles like penne or shells will trap sauce and bits of tomato inside them, making them more enjoyable to eat.
Use high-quality feta. When a recipe has so few components, it is important to choose ingredients that shine in the spotlight. A medium or firm Greek feta made from sheep's milk will give you top-notch results in this dish.

Feta made from cow's milk is usually sourer and crumblier than other varieties.

If you want to add a few extra seasonings like dried oregano, feel free, but don't overdo it. The dish is pretty intense in the flavor department as it is.

Avoid adding parmesan cheese, lemon juice, or vinegar since adding any of those will send the flavor over the edge and be too powerful.

Don't forget to season with salt at several phases of this recipe. Though you don't want to over-salt, it is important to salt the tomatoes, the pasta water, and the dish once all of the ingredients are combined.

Be sure to taste your sauce before adding salt at each step, so you know how much to add.
Not all internet recipes are worth trying, but this baked feta TikTok pasta is the real deal. Give it a try for your next simple weeknight meal or whip up a batch for family dinner this weekend. Follow the recipe and tips above, and you'll have a delicious single-pan meal that everyone will love.
Editors' Recommendations