When your wine cellar is set on a remote private island and vintage bottles are flown in, you know it's special. That's the case at Tavaru Tower, home to a stunning wine cellar in Velaa in the Maldives.
The impressive wine room is home to some 500 bins of wine, including rarities like a 1956 Domaine de la Romanée Conti. Thousands of bottles live there, and if guests still desire something else entirely, select bottles can be flown in from elsewhere (the island has its own fleet of aircraft). It's like room service for the wealthiest wine fanatics on the planet.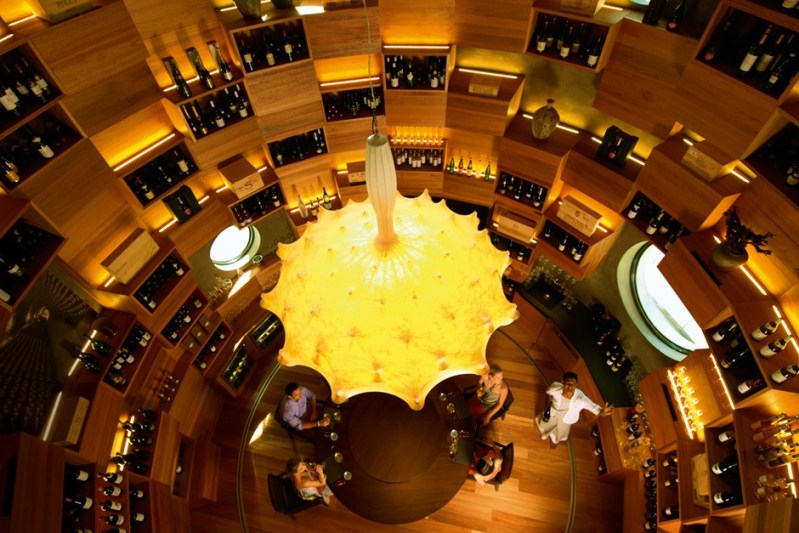 The tower is a feast of architectural delight, built in 2014 and resembling a post-modern version of a castle's lookout tower. It wears a cool transparent curtain on the exterior and, at its core, has an amazing spiral staircase, incredible bars and lookout areas, and the tube-like wine cellar. Wine storage has never looked so good.
Winos would kill for a few hours in this expansive cellar. Not only is it overseen by a crew of sommeliers, but it also comes with cool built-ins like nautical-themed windows and an elevator that can transport you to the wine bin of your choice. Visitors are surrounded by 360 degrees of bottles, making for a supremely immersive cellar experience.
You may be in the tropics, but the cellar is kept nice and cool. The two-story facility is not huge and is home to quality over quantity. Some of the rarest vintages call this cellar home, with offerings dating back to the late-19th Century. Yes, it's the largest collection of wine in the Maldives, but that's not saying much. More importantly, it's home to vintage Champagnes and Madeira more than a century-and-a-half old.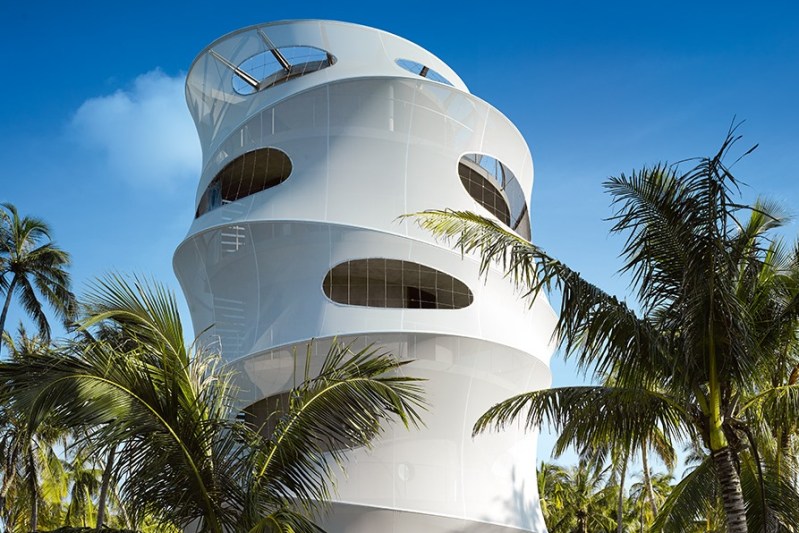 The wines tend to join the work of a Michelin Star-awarded chef who commands the kitchen of the private island's main restaurant, Aragu. Chef Gaushan de Silva, formerly of Noma, leads the way and will even create personalized tasting menus based on guests' preferences.
It's no wonder the island has such a coveted wine cellar. The island is owned by a billionaire and caters to the super-wealthy. Fine wine tends to follow this crowd like a moth to the flame. The wines themselves are sourced from all over the world, targeting lauded regions like Bordeaux, Alsace, Burgundy, and more. The restaurant wine list spans 30 pages, with tons of famed French houses as well as iconic Italian labels such as Dal Forno Romano. There are hard-to-find wines from other noteworthy nations, like Austria, Australia, and Germany. Some great American wines are featured too, hailing from Oregon and California.
Some of the best rooms are rumored to go for about $30,000 a night, so we don't blame you if you never make it to the tower. That's alright. You can always visit Hawaii or just whip up a resort drink from the comfort of home. That way, you won't even have to get dressed.
Editors' Recommendations