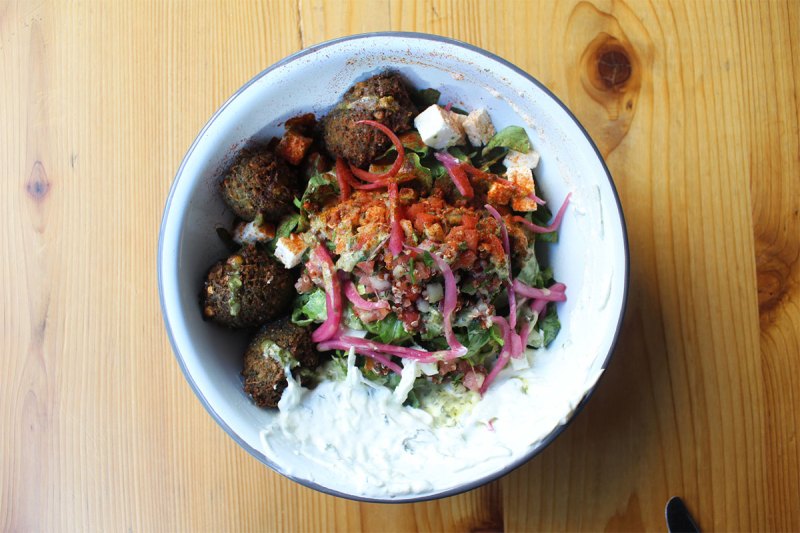 In the days after Thanksgiving you just might find yourself a bit tired of turkey, stuffing, potatoes, and crescent rolls. We have the perfect Turkey Day detox, which is destined to become a year-round favorite: Spread Kitchen.
It incorporates the best of Mediterranean, Middle Eastern, Greek, Lebanese, and Israeli cuisine, creating bold, deliciously flavorful meals that taste way better than anything that healthy should reasonably be.
Opened by two lifelong friends, Brandon Parker and Dan Coury, Spread has already become a neighborhood favorite in its downtown location. Neither Parker or Coury, who is part-Lebanese, come from traditional culinary backgrounds, but they cleverly saw a gap in the market and created what Parker aptly calls, "fine casual" dining: fine dining food with a relaxed, friendly, almost hole-in-the-wall-type-restaurant attitude. During the day, this is the perfect spot for a fast, healthy lunch at the counter. At night, you can get table service where you share small plates and get the benefit of a full bar.
Parker and Coury got a uniquely qualified chef in Brandon Weaver. Maybe that name doesn't scream Middle Eastern or Mediterranean, but Weaver spent five years as sous chef at the famous Peninsula Hotel in Beverly Hills where he learned at the elbows of the private chefs who traveled with the hotel's Middle Eastern royal guests. From these highly skilled chefs of incredibly discerning employers, Chef Weaver learned the intricacies, secrets, and nuances of creating the perfect falafel, hummus, and so many other dishes whose simplicity demands perfection.
The lunch menu is build it yourself: pick your base (flatbread wrap, basmati rice, hummus, or salad), pick the good stuff to go on that base (falafel, grilled chicken, braised beef with harissa, roasted mushrooms, or lamb meatballs), then choose the style (think Traditional), which would be hummus, Israeli salad, pickled red onion and Tehina sauce, or Smooth and Cool, which is Tzatziki, quinoa tabouli, feta, pickled red onion and herb vinaigrette… the list goes on. There's something like 80 different combinations for building your own lunch, which means it'll be hard to get tired of eating at Spread.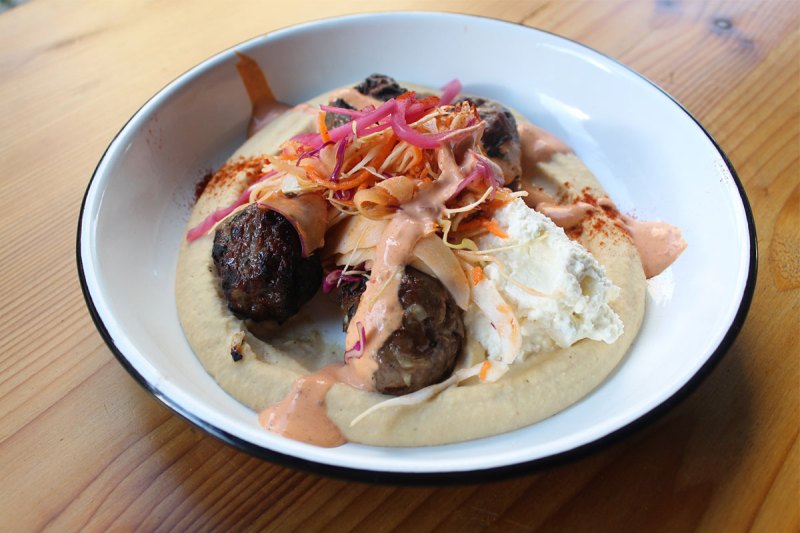 Dinner, starting at 6 pm, has an incredible array of plates to choose from. Broken down into a "Cool" category (like watermelon salad, crispy haloumi, or Turkish style hummus), the "Hot" column (think braised beef, Za'atar fried chicken, and Falafel hash), as well as sides, which include the classics like hummus and quinoa tabouli. Many of their menu items are vegetarian and vegan by default.
And we haven't even mentioned the cocktails yet. Thanks to award-winning bartender Raul Pool, Spread Kitchen offers Mediterranean-inspired cocktails that not only compliment the food, but also will be unlike anything you're likely to find elsewhere. Try the Hibiscus Rum Punch, which is light and dark rum, tropical juices, hibiscus tea, and blackberry and thyme demerara. Or give the Harissa Margarita a try, which is so deliciously, weirdly perfect: Blanco tequila citrus juice, Harissa spices, Brovo Orange Curacao, and Harissa tincture.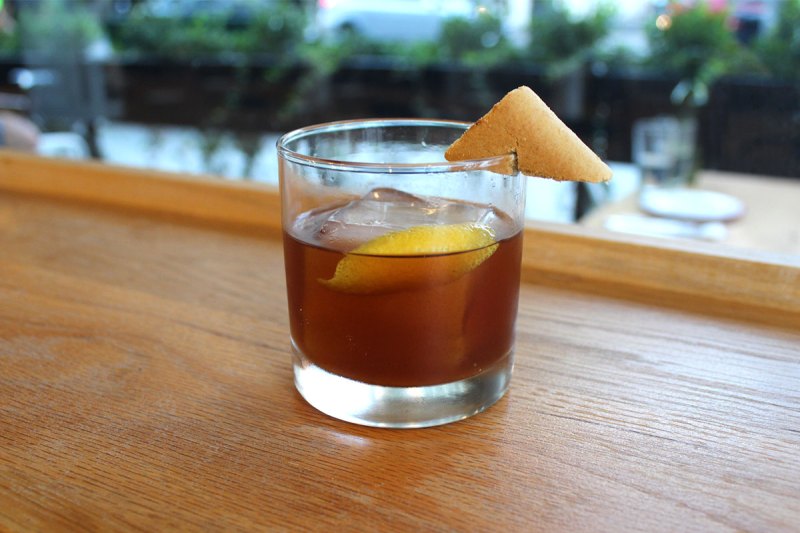 Each morning, the kitchen is bustling with activity, hand rolling and baking flatbread for the day, prepping the beef that was braised overnight for 12 hours, tossing the salads, and mixing the hummus. It's a labor-intensive process full of dedication to locally sourced ingredients whenever possible and delicious, homemade food. As Parker puts it, "Part of the whole idea is that you could eat this food all the time."
Trust us, you'll want to.
Editors' Recommendations