With March Madness just around the corner (Selection Sunday is March 16), it's never too early to start thinking about a watch party. Do you think your team is going to make it all the way through to the end? Are you going to be cheering for the underdog of all underdogs, a team that will rewrite the college basketball narrative? Wherever you fall on the college basketball spectrum, we can agree on one thing: there are a lot of things worse in this world than having friends over for a party while sports plays in the background.
When planning your party, you'll need food, and when it comes to finger foods we are particular fans of stuffed mushrooms. With a stuffed mushroom, you get portability as well as the chance to stuff it with whatever you can dream of. For this recipe, we're heading to the Southwest and stuffing the mushroom with vibrant bell peppers, salsa, cilantro, and more.
This particular recipe comes to us from Andrés Dangond, executive chef of Lynx Grills (creators of the Asado Cooktop and the Napoli Outdoor Oven). This recipe calls for the use of the Napoli Outdoor Oven, but if you don't have one, don't fret — you can always use a regular oven.
Finally, if you want to kick it up, don't forget about picking up some hot sauce. You also probably want to stock up on cheap beer (and maybe even some cheap boxed wine for those that don't want beer).
Southwestern Stuffed Mushrooms Recipe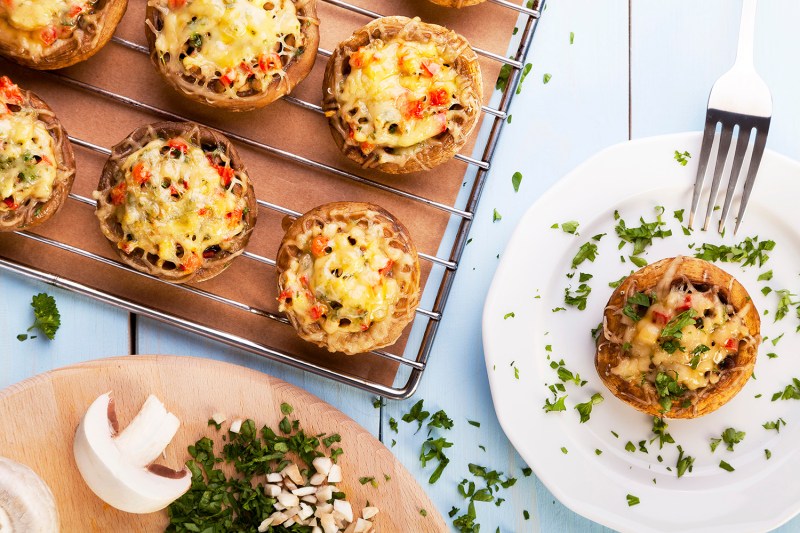 Ingredients:

18 baby 'bella mushrooms,
1 tsp olive oil
1 clove garlic, minced
2 tbsp red bell pepper, diced
2 tbsp canned black beans, drained
.25 cup brown rice, cooked
1 tbsp minced cilantro
2 tbsp salsa
2 tbsp jack cheese, shredded, plus for topping
Vegetable oil spray, as needed
Method:
Preheat Napoli oven on low for 30 minutes with the door on. If using a regular oven, pre-heat to 350 degrees Fahrenheit.
Remove the stems from the mushrooms.
Coat a baking sheet with vegetable oil spray. Lay the mushrooms, cavity side down, on the baking sheet and bake until the mushrooms are just tender, about 5 minutes. Turn over the mushrooms so that the cavity is facing up.
Heat olive oil in a medium sautée pan set over medium heat. Cook garlic and red bell pepper stirring frequently, until bell peppers are soft, around 4 minutes.
Remove the skillet from the heat and stir in the black beans, brown rice, cilantro, salsa, and jack cheese.
Divide the mixture between the mushrooms, gently stuffing it into the open cavities.
Sprinkle the remaining cheese over the stuffed mushrooms.
Bake the mushrooms until the cheese is starting to melt and turn brown, around 8 minutes.
Serve immediately.
Editors' Recommendations