While every normal man needs an apartment bar cart, a real baller needs a Sand & Birch Wine Tower.
The Tower is a wine cellar divided vertically into three climatized zones that stores a total of 72 wine bottles. (You best start learning the difference between merlots, chards, and Pét-Nats if you're going to try and fill it up.)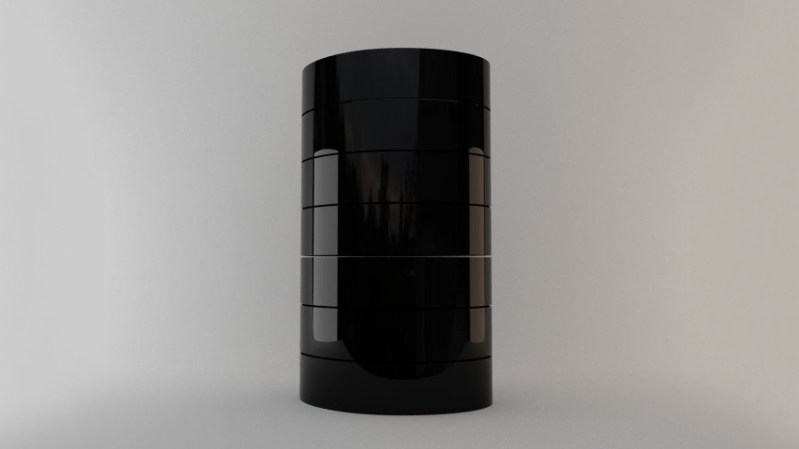 Created as a collaboration between Sand & Birch design and the Italian leader of climatized wine cellars, Cantine Ellemme, the Tower doesn't just keep your bottles cool — it's a handmade piece of unique furniture and vino science.
The three different compartments are conditioned for white, red, and sparkling wines to assure the optimal temperature and humidity for each type (yes, humidity matters, too). Within a compartment are four retractable stainless steel shelves that fit about six bottles each.
The specific humidifier unit for the Tower was developed according to inside cellar volume to maintain a humidity between 65 percent and 70 percent. The inside temperature range can be set between 6 degrees Celsius and 20 degrees Celsius (42.8 degrees Fahrenheit to 68 degrees F) while the insulated structure of Ellemme cellars allows them to function perfectly between –4 degrees Celsius and 32 degrees Celsius external temperature (39.2 degrees Fahrenheit and 89.6 degrees Fahrenheit , aka the lowest energy consumption possible).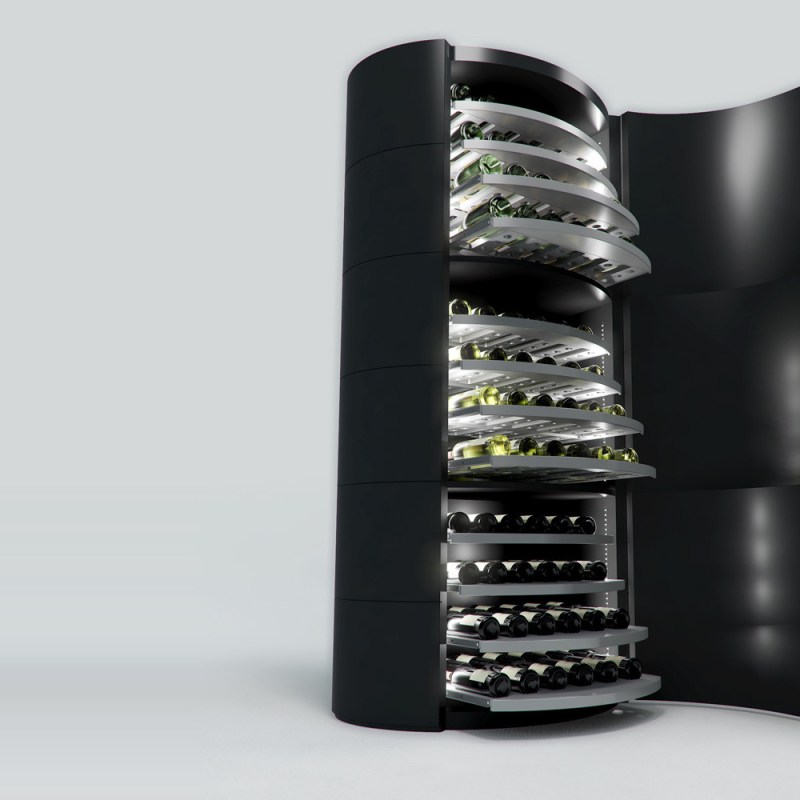 Dramatic internal LED lighting allows you to read the labels and pretend you have any idea what they mean. The LED system also means long-lasting energy so you're not replacing the lights every Sunday morning.
Outside, the shape of the Tower is dark, dominating, and grandiose. (We also think it's designed much better than Sand & Birch's interestingly-shaped Opale cellar.) Bent external walls are made of thermoformed maple and solid oak wood then lacquered in black polyester. The goal was to create a "tower of a futuristic fairytale," says Sand & Birch, "preserving a precious treasure-chest made of 72 bottles of wine."
I'm not sure how "fairytale"-esque the Tower is, but it's small enough to rival an underground wine cellar and big enough to function as a second, wine-only fridge.
Both all-Italian companies created this and their other modern standing wine cellars to bring innovative design to amateur wine aficionados. But even if you don't drink wine, you could use the Tower to start collecting wine for when you hit your forties.
Editors' Recommendations