For many, following a recipe from a cookbook or digital food magazine is easy. Following the step-by-step instructions can help you become a better cook because you can hone specific techniques and learn how ingredients work together.
However, if you're a visual learner, reading a recipe can turn into a tedious, confusing chore, especially if you're just starting out and need to see a method in action to truly understand it. Luckily for all the visual folks out there, a brand-new app is here to show you how to cook rather than tell you. Project Foodie is a video-driven app that demonstrates a dish, from prep to finish.
It all started because one of two brothers desperately wanted to learn how to make his favorite salmon dish. Meet Daniel Holzman and his brother, Eli. Daniel is the chef of New York City's famed The Meatball Shop, and Eli is an Emmy-award winning producer living on the West Coast. Eli is really good at making television shows, but he can't cook worth a damn. So, when Daniel's written recipe for Eli's fave salmon wasn't enough to help him make it, Eli sent a professional film crew to Daniel's NYC home to film him making the dish — from chopping the ingredients to plating the finished product.
"It captures that nuance and that detail of being in the same room with somebody," Daniel says in a video promoting the app. "The next step was 'let's builda cooking app.' People want to cook, and the only thing holding them back is the confidence to actually learn how."
A marriage of the Holzman bothers' professional talents, Project Foodie is easy to use and designed so the home cook doesn't miss a single beat. The recipes are divided into categories based on difficulty (beginner, intermediate, advanced) and include classic, crowd-pleasing dishes like tomato-braised shrimp, chicken Parmesan, and huevos rancheros. Once you choose a recipe, it'll ask you how many people are eating (between two and 10), and the ingredient list will adjust to that number. You can add each ingredient individually — or add them all at once with the touch of a button — to your grocery list. The app even details the necessary kitchen tools so you know what to expect from the get go.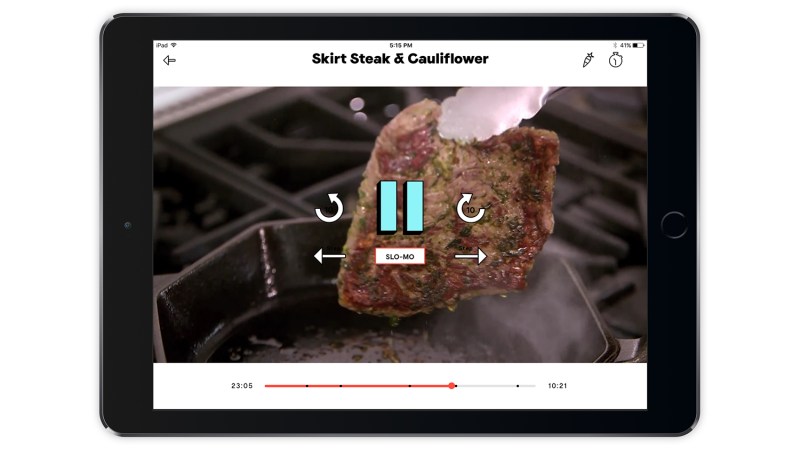 Each recipe features two sections of videos. In the prep portion of the video, Daniel walks you through all of the equipment and ingredients, and demonstrates techniques, like the proper chopping method or how to pound a chicken breast into a cutlet for frying. After you've prepped your equipment and ingredients, Daniel walks you through the recipe, demonstrating how finished ingredients and dishes should look while timing out different aspects of the process so you're not scrambling to get anything done. You can follow or disregard as many steps as you'd like, as the video includes options to skip ahead or go back if necessary. You can also put the video in slow-mo if the pace is too quick. There are even options to view your ingredient list or set a timer while you're watching the video, so there's no need to stray from the screen.
It's like having a chef in the room giving you a private cooking lesson. Not only is Daniel a great teacher, he injects humor into his videos to keep them fun and interesting.
"The goal in life is to teach these folks how to cook and give them this amazing gift," Eli says. "And, as a result, there's no stress, it's fun, it's interesting, the meal turns out great, and I don't have to bother my brother anymore."
Whether you're a seasoned home cook or are just starting out, Project Foodie is a great tool to sharpen your skills and learn new techniques. The app is available via free download for Apple users.
Editors' Recommendations