This week, the PGA hits the links at the historic Augusta National Golf Club for the first of four major tournaments this year, but plenty of other golfers will get their season started this month as well, so Natural Light is celebrating by giving away free beer in their new Natty Birdie Sweepstakes.
A lot of beer brands are talking about low calories, but at 95 calories, few are able to go lower than Natural Light. The brand is celebrating by taking a shot at fellow light beer Miller Lite, which clocks in a full calorie above Natural Light, by emphasizing that the lowest score wins in gold. With that difference in mind, the beer brand will give away a full year's supply of beer each time a golfer shoots a birdie during Sunday's final round of the Master's.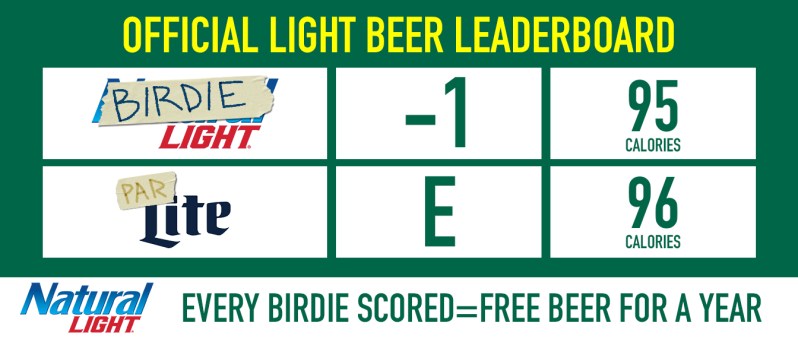 To win, aspiring winners need to tweet #BirdieLight and #Sweepstakes on Sunday. Each time a golfer shoots one-under on a hole at Augusta, Natural Light will select a participant to wi a full year of beer. 
Last year's tournament featured plenty of golfers reaching well below par. The top four golfers all shot 10-under or better, including Patrick Reed's 15-under to win the tournament. Reed only shot one-under during the final round, but third-place finisher Jordan Spieth shot eight-under on Sunday, so there's a good deal of promise for those hoping to win a full year of Natty Light.  Along with their giveaway plans, Natural Light will also display the "Official Light Beer Leaderboard" around Augusta during the weekend's tournament. 
For those who decide tweeting for free beer isn't really their thing, Natural Light is also running a competition to pay off $1 million in college loans. And Natty Light isn't the only beer brand to offer up a year's supply of beer in 2019. Earlier this year, Goose Island Beer Company offered the reward up to any fan who could nail a 43-yard field goal, the same distance missed by Chicago Bears kicker Cody Parkey during the NFL playoffs. No participant won that prize — partially because they rescinded the gift in favor of NFL tickets, airfare, and hotel rooms, but also because no one kicked the field goal. Out west, Denver's Wynkoop also offered up the prize for Beer Drinker of the Year. Last year, Busch partnered with the National Forest Foundation for a scavenger hunt with a year of free beer on the line.
What we're trying to say is that if you want a ton of beer, keep your eyes open because sooner rather than later, it'll be your time to shine (and all you might have to do is tweet something).
Editors' Recommendations