If you're craving a decadent cocktail that'll have you feeling rich, The Billionaire's Row is precisely what you're looking for. Served at Darling, a rooftop bar and lounge perched on the 47th floor of the Park Lane New York in Manhattan, this drink is best enjoyed with a view of the New York City skyline in the background.
"Inspiration was the space itself. I wanted to create a cocktail that would match the sophistication and capture the luxuries of the location," said Adam Baca, head of bars at Bond Hospitality.
With a price tag of $100, this is not a cheap or economical drink recipe by any means. Rather, the whole point of The Billionaire's Row is to convey a sense of opulence, providing customers a feeling of being — figuratively and literally (by virtue of being on the 47th floor) — on top of the world, ready to embrace luxury and grandeur. So what goes in a $100 cocktail? Each order of The Billionaire's Row includes a Cincoro Blanco tequila cocktail, a bump of Petrossian Caviar, and a shot glass of Nicolas Feuillatte champagne. Enjoy everything while peering over the epic skyline of Manhattan. You'll be feeling on top of the world in no time.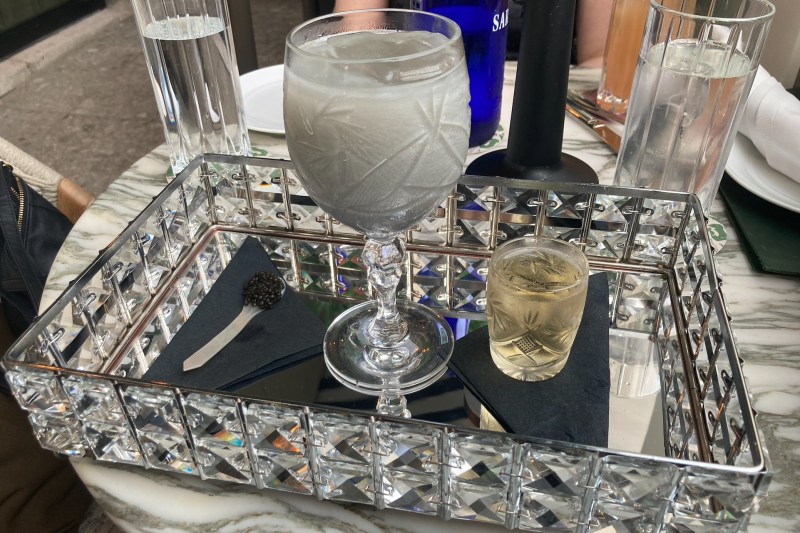 The Billionaire's Row
The combination of all three components to The Billionaire's Row was inspired by a classic pairing — champagne and caviar. "It actually created itself as when I dine with caviar, I always have champagne to accompany followed by a cocktail," said Baca. "I wanted to create an experience that encapsulates all of those flavors as a unique experience."
As per Baca's recommendation, the best way to enjoy The Billionaire's Row is first to eat the spoonful of caviar, followed closely by the shot of champagne. This classic pairing perfectly accentuates the intense salty umami of the caviar. Lastly, sip the Cincoro tequila cocktail, and if you are befuddled by the cocktail's curiously milky silverish-gray color, don't be. The gray color masks a decidedly spicy yet tart and fruity cocktail recipe. This milky silver color is courtesy of the addition of silver luster dust, another ingredient that ups the luxury of the whole experience. Baca experimented with several different spirits before deducing that Cincoro Tequila paired perfectly with the flavors of caviar and champagne.
Ingredients:
For cocktail:
1 1/2 ounces Cincoro Blanco Tequila
1 ounce Carpano Bianco Vermouth
3/4 ounce lime Juice
1/2 ounce habanero reduction
3 dashes rose water
Pinch of silver luster dust
For garnish:
Spoonful of caviar
Shot of brut champagne. Darling uses Nicolas Feuillatte champagne.
Method:
Add all ingredients into mixing glass and stir.
Slightly chill cocktail.
Strain into everything into a goblet with a sphere ice cube. Serve with spoonful of caviar and shot of brut champagne.
Editors' Recommendations