Our/Vodka is a revolutionary concept and revolutions must be fought for.
There were many who couldn't see how a vodka brand could be both global and local at the same time, but six Swedish entrepreneurs knew it could be done and fought tirelessly to create Our/Vodka.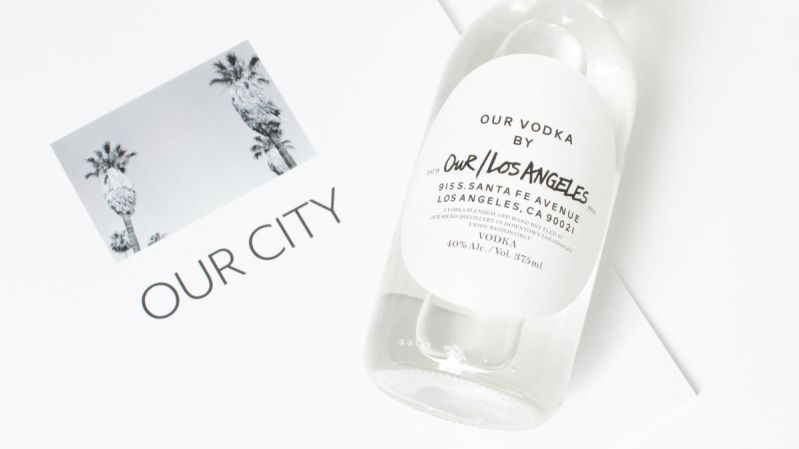 Since 2011, the brand has opened micro-distilleries in a handful of major cities worldwide: Berlin (the original), Detroit, Amsterdam, London, New York, Los Angeles, and, soon, Miami. The idea is radical yet simple: a global brand with distinctly local partners. The basic recipe of vodka is the same, but each city's product is unique, using local ingredients that express the character of its home.
We caught up with Anton van der Woude and Rupert Runewitsch, who run the Our/Los Angeles micro-distillery, to learn more.
The Manual: What inspired the team to get into the vodka game specifically? Why did it feel like a great option for the global/local goal?
Our/Vodka: The parent company, Pernod Ricard, works with local partners in the various cities where they launch the brand. So each "partner" for OUR/Vodka is unique in their own sense, meaning that they understand their city, they love their city, and they know what the locals want. In every other city, the partners are originally from that city. Although we [Rupert Runewitsch and Anton Van Der Woude] are from London originally, we both have experience in the alcohol industry and fell in love with Southern California when we moved here. We were thrilled Pernod Ricard took a chance on letting us lead the Our/Los Angeles brand. We're two Brits who truly know and love L.A.
In terms of the global/local goal, traditionally alcohol brands are either craft and operating out of a micro-distillery or mass produced before being shipped around the world. Our/Los Angeles is different in the sense that we have both a local and national identity at the same time. We operate under the Our/Vodka family of six distilleries worldwide, but each city is run independently as its own brand with their own micro distillery that distills conforming to the same global recipe but using locally sourced ingredients. This means people can resonate with the brand around the world but drink locally in each city.
The Manual: How do you decide on the cities? How do you decide on your location within that city? Is there anything in particular you're looking for?
Our/Vodka: All cities are selected because they're trend-setting cities and always one step ahead of the curve. They're also major destinations or industry hubs because we want travelers to be able to recognize the brand but be able to drink locally under a trusted name. For instance, they can recognize that iconic small little bottle, but they drink locally in every city since each Our/Vodka brand contains a local ingredient, which is the way the market is going.
Positioning is also completely different in each market. The Londoners have gone for the "vodka for wine people" approach. Our/Berlin is very fashion-oriented and they do very well in department stores and they also align with the German music scene as well. The difference comes because, as mentioned, each brand is run by local entrepreneurs from different backgrounds in each city, so the locals can resonate more with it. Our/Los Angeles is more about a celebration of the city, exploring and doing stuff since not every major city has the destinations that SoCal offers.
In terms of the physical location inside of each city, that's also up to the entrepreneurs. Our/Los Angeles is based in the Arts District in downtown L.A. We chose this location because the Arts District is an up-and-coming, trend-setting neighborhood. The new members-only SoHo House is actually being built directly across the street!
The Manual: Does each location actually distill the vodka on site? Who are your distillers?
Our/Vodka: Yes, each location actually distills the vodka on-site! Our/Vodka is made by local people in cities around the world (Our/Detroit, Our/New York, Our/Amsterdam, and more) that believe in the power of supporting the local neighborhood. Our/Los Angeles has one distiller on-site, Samantha, who distills the vodka and has a passion for SoCal and knows this city very well.
Our/Vodka ferments a non-GMO strain of yeast that is traditionally used in winemaking and vineyards. It is incredibly sensitive and is exclusive to the Our/Vodka brand. When this yeast is fermented, it releases specific fruity and flowery aromatic molecules which are what give Our/Vodka and Our/Los Angeles its unique flavor. The double wheat blend is what makes the vodka so smooth.
Ingredients are sourced as locally as possible without compromising quality. We distill our special wheat-based yeast onsite, then we blend this with an organic wheat sourced from Idaho specifically for Our/Los Angeles. Our/Detroit, for example, would not have access to this organic wheat. We also use Los Angeles water that has been purified, demineralized, and deionized in the distilling process as well.
The Manual: Aside from the local ingredient infusions, what sets your vodka apart?
Our/Vodka: Our/Los Angeles really tries to feel as local as possible. The brand is furthering ties with the city by launching the Our/Los Angeles podcast and zine, which will be available late summer to early fall. It will feature interviews with local tastemakers, artists, entrepreneurs, activists, and more who represent the vibe of Los Angeles. This way, hotel guests, locals, and visitors can get the full Our/Los Angeles experience! They can sip locally, listen locally, and read locally. It's full circle.
Editors' Recommendations