The whiskey world likes to throw around words like "rare" and "limited" like it's going out of style. But it's not often that we, the drinkers, get a taste of what those terms truly mean. Such is not the case with Old Blowhard bourbon, the second unique release from Orphan Barrel Whiskey Distilling Company, which is made from barrels of the sweet Kentucky brew that are both rare, limited, and pack an interesting history.
Related Reading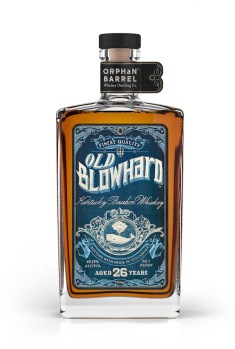 The Orphan Barrel Whiskey Distilling Company name is, in fact, a bit of a misnomer. Orphan Barrel, which is owned by spirits giant Diageo, doesn't do any of its own distilling at all. Instead, the bourbon in bottles of Old Blowhard and Barterhouse Whiskey, Orphan Barrel's other bourbon offering, come entirely from "forgotten" barrels "discovered" at the Stitzel-Weller warehouses in Louisville, KY, a famous distillery founded by Julian "Pappy" Van Winkle, and now owned by Diageo.
"It's every worker's dream of finding that forgotten barrel of delicious whiskey and sharing it with their friends," Ewan Morgan, Master of Whiskey for Diageo, said in a statement. "That's exactly what we're doing."
Aged 26 years and bottled at just over 90 proof, Old Blowhard bourbon is a sippin' whiskey, meant to be enjoyed neat (or with a bit of ice, if you must). Your first whiff of Old Blowhard offers hits of dark fruit notes, sandalwood, and a touch of ripe banana. Take a taste, and you'll immediately notice an extra-dry hit of spices acquired during its decades spent in oak barrels, and the sense that this dram is downright old – which, of course, it is.
This bottle of Kentucky history won't come cheap or easy, however: the suggested retail price for Old Blowhard is $150. And because the whiskey is made from a small selection of found barrels, its supply is so limited that you might have to do some searching to find a liquor store with a bottle in stock. That said, Old Blowhard should be available now – if you can track it down. Happy whiskey hunting!
Editors' Recommendations